Search Tools
Franchise Research
| | |
| --- | --- |
| | Swimtastic Swim School |
Business Type
Franchise
Total Investment
$56,925 to $92,150
Number of Units
3
In Business Since
1996
* For Current Info See:
Franchise Disclosure Document

Overview
Swimtastic offers unparalleled training, technical, and business support programs. If you are looking to get out of the gate running you'll find the tools necessary to do so. You can also experience the benefits of a different philosophy on franchise support. Our number one priority is your success, not collecting the next franchise fee. We are dedicated to finding the right people to join our team. Our franchisees have a very diverse background in both education and work experience. There are, however, certain traits and qualities they share.

Swimtastic is also one of the few franchise organizations that will provide you with financial information on our franchise system to assist you in your evaluation of our business model from a financial perspective. Under the strict guide lines of the Federal Trade Commission, will provide you with this information (Item 19) in our Uniform Franchise Offering Circular. We can discuss this further when we have an opportunity to have our first conversation.

We are the foundation upon which you can build your dream. We have demonstrated our success at our company owned locations for the past 10 years and are now sharing that success with our franchisees. There is a need for our services in every market in the United States and we are committed to continued growth in the coming decades.
Products & Services
Susan Wainscott, Swimtastic's Founder and CEO, brings to you an extensive background in human resources, office management and teaching swimming, along with experience as a mom and a B.S. in Education. Her love of children and the water has led her to own and operate two schools in the Waukesha and Fox Cities areas. Susan and her husband, Barrett, have now founded Swimtastic Corporation where they are leading others in franchising. Each Swimtastic location provides the same consistent Swimtastic experience — classes to meet the parent's schedule and fun for the children while they learn to swim.

Susan and the Swimtastic staff have over 10 years of teaching success, teaching thousands of infants, children and adults proper swim strokes. Swimtastic teachers are highly trained and qualified professionals who love children and the water. Each teacher is certified in CPR and Swimtastic Swim School's 30-hour training program. Swimtastic Swim School is trained in infant/toddler swimming through the United States Swim School Association - the leading organization on the cutting edge of the swim school industry. Our experience and tested teacher training programs mean that you'll have peace of mind from knowing that your child is learning from the best teachers in the business.

At every Swimtastic location you will find a building that was created for the convenience and comfort of parents and children. Easy parking, convenient changing facilities, viewing areas for the parents all designed just for teaching swimming lessons. Warm, 90° 20' X 50' indoor pool — specially designed with steps along one end for comfort during lessons. Shallow 31/2 foot at one end to 41/2 foot at the other to accommodate baby classes and the water slide. This pool is designed to make children feel safe and secure while providing an optimal environment for teaching lessons.

Our large water slide at one end of the pool provides a "reward" for the children at the end of a lesson. It is also a fun attraction for our birthday parties and family swim. One of the necessities of swimming in a public pool is taking that shower at the beginning. Swimtastic even makes this fun with a warm palm tree shower located right on the pool deck.

We make it easy for you to register. No confusing forms to complete and mail in, no lines to wait in. Just call and talk to us so we can give you the personal attention you deserve. Our office staff will ask you a few questions to find the right level and then find a time that works for your schedule. If you have more than one child, no problem. We will find a time where your children can have lessons at the same time — even if they are different ages and in different levels. We have 4 sessions a year — but you can start at anytime. Our small class sizes and unique curriculum allow the teacher the flexibility to adapt lessons to the individual needs of each child in the class.
Training & Support
Some of the tools we provide for your success:

Design, Site Selection, and Building Specifications and Support

Pre-Opening and Opening Support

Propriety Curriculum

Propriety Software with Ongoing Support

Comprehensive and Ongoing Training

Operational Support

Inside Sales Support

Marketing and Advertising Strategy, Creative and Execution

Vendor Management/Visual Display

Experienced and Proven Business Model

The comprehensive training you will receive as a Swimtastic Franchisee will completely prepare you for all you'll need to know to operate your business. We not only train you on our learn to swim program and the operational aspects of running a swim school, but also on how to maintain a healthy P&L and to understand the power of marketing your new school.
Why Swimtastic Swim School?
Our Swimtastic franchise discovery process will assist you in learning more about our company as well as allow us to learn more about you. Our objective is to provide you with enough information to allow you to make an informed business decision. Together we will determine whether the opportunity is right for you. As you proceed through the discovery process and learn more about Swimtastic, you will find that our real strength is found in our franchisees, corporate staff, and customers. Swimtastic is about family, integrity and trust.

We value healthy communication with all of our franchisees. We believe, in order for everyone to experience success, this must be our foundation. We strive to put people first, as we know these relationships are our most valuable assets. It's about doing the right thing and loving what you do. If you are looking for a business that can make a difference in your community and in your life, our opportunity is worth your strong consideration.
Are You a Good Fit for Swimtastic Swim School?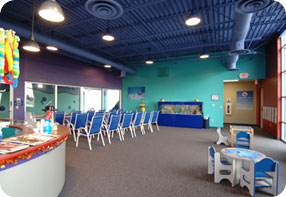 No experience necessary - You don't even have to be a swimmer. The skills and qualities we are looking for in a franchisee are not swimming skills. That is what we teach. Our passion is for children and the love of water. We want franchisees that are motivated to learn and follow a system that provides the tools for their success. You don't have to be a swimmer or love the water to enjoy owning and operating a Swimtastic Swim School. But it might just happen. If you love to be around happy children, you'll find owning a Swimtastic Swim School the perfect way to fill your days.

In the crowded world of franchise offerings we stand out as a family oriented business that provides a valuable community service. When compared to other children's service franchises it is important to consider that most parents consider teaching their children to swim a necessity and not a luxury. A business where clients have to look for your service because they know that they must have it for their children. The Swimtastic business model of teaching swimming on a year-round basic had been proven successful with little or no competition. We have differentiated ourselves from crowded, cold pools - outdated, rigid curriculums - long lines and complicated processes of registration. The service Swimtastic provides to communities has a lifetime value. Children who learn to swim at Swimtastic develop a life-long love of the water. Our parents become loyal to the brand. The Swimtastic brand character will help you create emotional ties to your customers, creating immeasurable value for your business.