Search Tools
Franchise Research
We're Rolling Pretzel Company

Giving Soft Pretzel Making a Whole New Twist



Business Type
Franchise
Min Liquid Capital
$30,000
$30,000
*
Total Investment
$65,000 to $154,000
Required Net Worth
$100,000
Number of Units
53
In Business Since
1996
* For Current Info See:
Franchise Disclosure Document

Overview
We're Rolling Pretzel Company was founded in October 1996 with the opening of it's first location, a 168 square foot kiosk in Alliance, Ohio. Our founder, Kevin Krabill, worked in the store himself to refine our systems, products and ensure customer satisfaction. He realized during the busy holiday season that he had created a concept that was fun, easy to operate and that customers enjoyed.

Though We're Rolling Pretzel Company started in a small community shopping mall, the system has rapidly grown to include locations in larger regional malls and non-traditional locations such as retail supercenters and amusement parks.

The Company maintains a commitment to serving the highest quality products, properly training and supporting employees and franchisees and building bright, attractive stores.
Products & Services
We're Rolling Pretzel Company has taken the traditional hand-rolled soft pretzel to a whole new level. Our delicious fresh-made product is featured in many unique ways on our menu. Each store features menu selections best suited for their market including: hand-rolled twist pretzels available plain or in a variety of flavors, tasty pretzel rods with delicious toppings for dipping, our unique Knot Sandwiches™ loaded with fresh deli meats and cheeses, and our one of a kind Pizza Pretzel™ filled with pepperoni and mozzarella cheese.



Original

- The one that started it all! Our delicious original twist pretzel, available salted or unsalted. Try it with your favorite topping!


Raisin

- Our original unsalted twist, loaded with plump, sweet raisins and topped with our cream cheese icing!


Cinnamon Sugar

- A warm and tasty treat! Our delicious twist pretzel coated in scrumptious cinnamon sugar! Try it with cream cheese!


Coconut Almond Crunch

- Crunchy, sweet and delicious. Our original twist pretzel coated with our special coconut almond crunch topping makes a wonderful treat any time of day!


Garlic

- Our original twist pretzel covered with zesty garlic butter!


Garlic Parmesan

- Our original twist pretzel topped with a blend of garlic seasoning and parmesan cheese. Try it with pizza sauce.


Sesame

- Our original twist pretzel coated with yummy sesame seeds and baked until golden brown. A unique, nutty taste. Try it with honey mustard!


Jalapeno

- Our original twist pretzel kicked up with fiery jalapeno peppers. For extra kick, try it with nacho cheese.


Pretzel Rods

- Served in packages of 10, 15 or 20, our homemade pretzel rods are perfect for snacking or sharing. Toppings accompany these packs, so pick your favorite or try something new! Our fresh pretzel rods and toppings are sure to please!


Toppings

- Our tasty toppings vary by location. Choices include: Cheddar Cheese, Nacho Cheese, Caramel, Chocolate, Cream Cheese, Pizza Sauce, Icing, Strawberry Cream Cheese, Honey Mustard and more favorites.


Pizza Pretzels™

- Our secret recipe pretzel dough stuffed full of pepperoni and mozzarella cheese and served with a delicious side of pizza sauce for dipping. This unique item makes a great meal or a snack for sharing!


Over the Top Pretzel Rods™

- Our freshly baked pretzel rods covered with generous portions of toppings make a great meal or hearty snack! Flavors include: Pizza, Garlic and Mozzarella, Cheddar and Bacon, Nacho and Jalapeno, Cheddar and Cajun, & Cinnamon Sugar!


Knot Sandwiches™

- This is "knot" your ordinary sandwich. Fresh made pretzel "knot" buns surround a wide variety of delicious sandwich fillings to create a truly unique sandwich!


Beverages

- We're Rolling Pretzel Company is proud to serve Pepsi® products!



Also try our real old fashioned lemonade!
Training & Support
When you purchase a We're Rolling Pretzel Company franchise, you are joining a company that places the highest value and priority on its franchisees. It is our mission to make We're Rolling Pretzel Company the soft pretzel company of choice across the nation. We can only accomplish this by providing thorough training and support to our franchisees.

Training

One week at an operating store

Operations manuals to supplement training

Trained individuals to instruct you and your staff

Employee recruitment and training programs

Customized forms and paperwork

Inventory control systems

Marketing

On-site promotional materials

New store opening advertising and promotion

Federally registered names and logos

Merchandising techniques

Specialty products

Store Opening Support

On site grand opening support

Approved vendors and suppliers

Site selection assistance

Lease review assistance

Store design and layout assistance

On-Going Support

Weekly newsletter

Franchisee Meetings

Toll-free franchisee assistance line

New product development

Sales performance recognition

Field visits by Corporate Staff
Why We're Rolling Pretzel Company?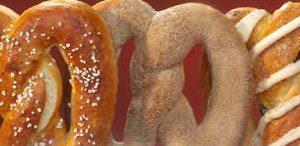 The product is GREAT! Customers often comment that our products are superior to our competitors' products.

The operation of the store is simple. Systems are in place to help employees and franchisees serve their customers efficiently.

We're Rolling Pretzel Company has an established name and image. The Company has secured a number of Federally protected trademarks and servicemarks.

Franchisees are an important part of our success. The Company strives to work with franchisees to build their business.

We're Rolling Pretzel Company offers many unique products that traditional retail pretzel stores do not offer.