Search Tools
Franchise Research
Videomasters

Nationwide Video Production Services



Business Type
Franchise
Min Liquid Capital
$10,000
$10,000
*
to $20,000
Total Investment
$20,000 to $46,950
Required Net Worth
$75,000
Number of Units
80
In Business Since
1981
* For Current Info See:
Franchise Disclosure Document

Overview
If you are interested in starting a fun, creative, and profitable home-based business... then you have come to the right place.

Videomasters has been helping people just like you start and run their very own video production companies since 1981. We are the leader in starting video production businesses and our successful affiliates prove it. Our comprehensive system gives you the knowledge, the tools, and the support you need to succeed. Videomasters is the best video business opportunity in the nation. We are not a franchise. Make money producing DVD videos.
Products & Services
Our program targets the eight major markets you see here and numerus additional income areas. You don't have to offer every market in your Videomasters business, only the ones you like. Our affiliate network is always trying out new markets and improving the current ones. We report those results back to you. The potential income in each of these markets is impossible to predict as some of you will do this business on a part-time basis. We offer you some very conservative pricing samples that were provided to us by our active affiliates, therefore your potential income may vary.

Weddings & Other Events
Create beautiful remembrances of those special moments in peoples' lives. Today, most weddings and other memorable events are video taped. We do more than that, we create a finished production that is a pleasure to watch for years to come. Our affiliates report to us that a single wedding production can range from $1,200 to over $2,500. Other additions such as montages, copies, or DVDs can add extra value and profit for you.



Photo & Film Transfer


This is one of the hottest markets today. Customers bring you photos, slides, and other memorabilia for you to create a video that is complete with music and maybe even some narration. Once they show your finished video, the audience can't wait to make a similar video for a special occasion of their own. Transferring home movie film to video is still going strong and we give you the ability to offer this to your customers. Average orders retail in the $100 to $600 range for each finished video. Transferring home movie film to video is still going strong and we give you the ability to offer this to your customers as well as other vendors through our third party transfer program.



Live Productions


This market includes; Dance Recitals, Plays, Graduations, Sporting Events, and more. You can shoot these events with one or more cameras and either live mix them together or edit the footage together afterwards. Affiliates tell us they sell multiple copies of the finished video, sometimes by the hundreds of copies at $20 to $35 each.



Duplication


The video format revolution has consumers shooting with one format and watching it on another, which has really opened up this already profitable market. The average consumer has no idea how to make a copy of their videotape or they are too busy to fool with it. So they bring it to companies like Videomasters to have it copied. We also can convert videotapes from Europe to the American TV system or visa versa. Additional copies are a welcome add on to every market and keeps your customers coming back again and again. An average price for a two hour videotape duplication retails for $15.95 to $19.95 each with a discount added for multiple copies. Now DVD is adding another level of excitement to this market. 13 million DVD players were sold last year and this market is exploding. The average DVD copy is $29.95 to $39.95.



Legal


Depositions, Day in the Life, Editing, Accident Recreation, Last Will, Demonstrative Evidence, and Mock Trials are potential areas of income in the legal video market. We include a certification training program for this market so you can feel confident offering your services to attorneys. Rates for video depositions average $75 to $125 per hour. A single deposition can last for days.



Commercial


By commercial we mean videos produced for businesses. Product demos, employee training, sales videos, etc. are all videos businesses use everyday. Affiliates pursuing this market, offer a variety of creative services such as concept development, scripting, taping, directing, producing, editing, graphics, narration, and duplication. An average business video will sell for $250 to $2,000 per finished minute. That means a ten minute finished production could range between $2,500 to $20,000.



Broadcast


Thirty second TV commercial spots yield our affiliates $500 to $2500 each. Companies have also found the infomercial an economical way to reach their target audience. Our affiliates also produce showcase type shows that can highlight several businesses during the airing. Pricing for these types of productions vary with the length and complexity of the show. Rates for these services are similar to those charged in the commercial market.



Internet & Technology


The World Wide Web has created a new need for our video services. We create productions or take existing productions and convert the footage for use on the Internet as a downloadable movie or streaming video. It's no secret that everyone is getting on the web and the Internet is booming. Videomasters helps you take advantage of that market by offering web hosting services. We provide the server space and you provide the customer. This web hosting service is provided at a reduced cost to you and can be retailed to your client providing another source of on going income.
Training & Support
We all know the importance of having proven techniques and know how to move your business forward. The core of all of our packages is the Videomasters Training System. Our system is designed to get you up to speed fast by utilizing a comprehensive set of training manuals, videos, classroom instruction, home study projects, and a mentoring program.



Pre-training


Our training begins before you ever arrive at our training school. We give you a two-week home-study course to complete. This helps maximize our hands-on time at our training school. This pre-training is mostly foundational reading, watching videos, and some hands-on with your new camera.



Post-training


Once you return home from our training school you'll continue to review, study, and practice what you have learned. We provide you with sample projects to learn from and to use to practice editing. We also give you a practical project you must complete and submit within six-weeks of your training school. We evaluate this finished production and continue to guide you to give you the confidence needed to attack the real world.



Mentoring Program


During your first six months we are in direct communication with you. We set target goals specifically for you and follow-up to make sure you are meeting those goals. Getting your new business off to a great start takes hard work and dedication, and we are there to guide you to success.



Continuing Education


On our member's only website you will also have access to additional recourses. We publish articles to improve your video knowledge, improve your marketing, improve your business skills and improve yourself. Past articles are archived so you may access them as the need arises. Annual conferences are held so you may learn from other affiliates and guest speakers. These conferences are a great chance to meet the other affiliates, learn from them, and share your knowledge with them.
Why Videomasters?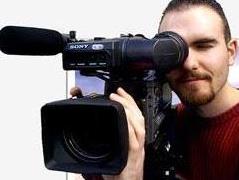 Your chances of succeeding in business are tremendously improved by going with Videomasters' proven program. The cost to duplicate the marketing and training materials alone would be well over the purchase price. Videomasters has over 20 years invested in its marketing and training programs. New equipment is evaluated on a regular basis, saving you costly errors of buying the wrong equipment. Being recognized as part of a national affiliation gives you instant credibility. Unlimited support is available through the Videomasters' corporate office and our affiliate network stands ready to assist you in any start-up, technical, and marketing questions that you might have.
Are You a Good Fit for Videomasters?
As a Videomasters affiliate your business can be designed with remarkable flexibility. And since you control your own schedule, you can design it to fit your busy lifestyle. Home-based businesses are on the rise and no wonder, with two-career families and hectic lifestyles, bringing the job home is making a lot of sense for many people. While there are many office front examples in the affiliate network, most of our affiliates prefer to run their business, either full or part time, from their home.

People come to this opportunity from many walks of life, each bringing a whole new set of life experiences. Let's say, for example, that you come from a strong sales background. Through our system you may follow everything step by step until it came to marketing. Because of your background, you may want to adjust some of the methods to fit your preferred methods. With our system, you can take the part that strengthens you, apply it and adjust the rest. This fact is very attractive to most people looking at the opportunity.

Videomasters offers the ultimate in freedom, creativity and expression. The VM system sets you up with all the equipment, marketing savvy, support, and business knowledge you'll need to succeed. How you implement that information is strictly up to you. You are in business for yourself, but not by yourself. You are truly your own boss.