Search Tools
Franchise Research
| | |
| --- | --- |
| | Uno Chicago Grill |
Business Type
Franchise
Min Liquid Capital
$700,000
$700,000
*
Required Net Worth
$1,000,000
Number of Units
210
In Business Since
1943
* For Current Info See:
Franchise Disclosure Document

Overview
Uno began in 1943 when Ike Sewell opened a restaurant at the corner of Ohio and Wabash Avenue in Chicago. Ike defined pizza by creating a deep dish crust and filling it with huge quantities of only the finest meats, cheeses, spices and vegetables.

We have built on the widespread popularity of this product, broadening the appeal of our concept with a full range menu, and Chicago style bar.

Uno has carved out a unique niche in the $20 billion a year casual dining segment of the restaurant industry. We are the only full-service casual theme franchised restaurant company with a brand-name, signature product - Uno's Original Chicago Deep Dish Pizza.

We are seeking prospective franchisees with experience and resources to develop multiple unit operations in both the United States and Internationally.


Products & Services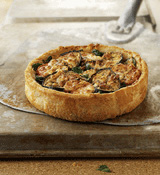 In 1943, when Ike Sewell opened a restaurant at the corner of Ohio Street and Wabash Avenue in Chicago, Americans ate pizza primarily as a snack. Ike figured that if you combined some of Italy's old, authentic recipes with impressive quantities of the finest meats, fresh cheeses, ripe vegetables and flavorful spices, pizza would become a hearty meal. It was the start of an American tradition - the Chicago Deep Dish Pizza. Ike's Original Deep Dish Pizza has been imitated many times, but never quite duplicated.

In the mid-1990s, Uno® broadened its concept to encompass favorite dishes that diners expected from a high quality, full-service restaurant. To expand the menu and meet increasing customer expectations, Uno completed a multi-million dollar kitchen upgrade in its restaurants, installing sauté stations, grills and fryers, and invested heavily in the training of its front and back of the house staff.

The new Uno Chicago Grill locations are larger and feature a "Chicago warehouse" look that creates an inviting dining environment. These new prototype restaurants continue to generate above-average sales volumes.

The new Uno Chicago Grill menu, introduced in fall 2005, offers hip and intense new tastes that are built on Uno's history of artisanal fare.

Regular guests experiencing Uno Chicago Grill's new menu for the first time will be excited to see a variety of creative dishes not previously available on the restaurant's regular list.

Although there are many food changes underway, loyalists need not be concerned. A number of Uno Chicago Grill's specialties, such as its world-class Chicago Deep Dish Pizza, will remain as signature dishes on the new menu.

True to the traditions of Chicago's famous speakeasies, more attention is being paid to the bar area. Uno's drink list features 12 wines and a number of fun specialty drinks, including frozen, mixed and nonalcoholic options. Incredibly priced appetizers during Uno's new Snack Hours will be a welcome treat for those looking for a relaxing break.
Training & Support
REAL ESTATE


Uno's® Real Estate team aids in restaurant site selection and approval for each unit in a franchisee's development agreement. Franchisees see cost benefits and avoid site selection mistakes thanks to Uno's real estate analysis data. Retail demographic reviews, site referrals and on-site experts are just part of the full package.



DESIGN AND CONSTRUCTION


Uno provides fully-engineered designs based in Computer Aided Design (CAD) to ensure all restaurants have the Uno feel and to keep design fees extremely low.

The in-house design team developed a concept that blends high-tech components with classic style to deliver a stunning restaurant atmosphere. To drive the project home, Uno's Construction department makes at least three pre-opening site visits at different times during the construction process to make sure construction schedules stay on target and mistakes are corrected quickly, minimizing extra costs.



TRAINING


From Uno's MIT (Manager In Training) program, to mobile opening teams and ongoing operational support, the corporate team helps franchisees train their staff for success and efficient operation. The MIT program is an 8-12 week course tailored to the needs of managers in the system. Each manager must graduate from this program, and franchisees are not charged for the training.

Training teams come to new locations pre-opening, teach the staff and help make the first days of operation smooth and successful. They don't leave until the system is perfected.

Uno also utilizes live web casting, bi-weekly, open-mike, conference calls with franchisees, a vast video library and online training manuals as part of their training system for continued success.



FIELD SUPPORT


Regional Directors of Operations are field-based resources who make sure operations remain smooth, consistent and profitable. The Directors also conduct reviews of operating locations to make sure that each location is upholding Uno's high standards.
Why Uno Chicago Grill?
CULINARY DEVELOPMENT


Uno employs a full-time staff of test chefs and maintains an expansive test kitchen where new dishes and flavor combinations are scrutinized. The company also has its own Nutritional Advisory Board and works directly with accomplished nutritionists.

Franchisees and their staff go though meticulous testing to prove they're able to deliver the same fresh, tantalizing dishes that were perfected after hundreds of tastings in the Uno test kitchen.



MIS


Uno developed a number of proprietary programs that take much of the guesswork out of running a restaurant. For example, franchisees benefit from a system that computes theoretical food costs telling them how far from perfect their COGs are. This gap analysis helps ensure strong margins.

Uno has developed a breakthrough kitchen ordering system that tells cooks when to begin preparing each dish ordered for a particular table based on the estimated cooking time of each item. Uno food finishes cooking at the same time insuring hot, fresh entrees at every table.

Uno also utilizes technology to improve the customer experience. Restaurants now feature a Nutrition Information Center where guests can access specific nutritional details regarding Uno's menu from a digital kiosk.

The Uno Management Information Systems department stays on call 24 hours a day, seven days a week to provide franchisees constant support for their point-of-sale systems.



MARKETING


At the heart of any great marketing campaign lies a great product, and Uno's menu does not disappoint. From legendary Deep Dish Pizza to delicious salads, burgers, steaks and seafood, Uno's menu offers a mix of items that provide guests with a variety of options to satisfy any appetite, helping to fulfill Uno's promise to be "Best in Class."

Uno has developed turn-key Local Store Marketing (LSM) programs that can be implemented in any market. Components range from school outreach kits and movie theater partnerships to charitable programs and hotel promotions.

Plus, an in-house agency is available to develop custom materials for franchisees on a case-by-case basis



PURCHASING


The group that handles national partnerships with food suppliers such as U.S. Foods is able to leverage economies of scale and future value strategies to deliver franchisees some of the lowest bulk-food prices in the country.