Search Tools
Franchise Research
United States Seamless

The Possibilities are Endless



Business Type
Franchise
Min Liquid Capital
$49,500
$49,500
*
to $147,000
Number of Units
104
In Business Since
1992
* For Current Info See:
Franchise Disclosure Document

Overview
As you page through our Franchisee section you will become familiar with available products, marketing support materials, training sessions, our annual franchise meeting, and other benefits of becoming a United States Seamless Franchisee. You will also find helpful information on general parameters for starting your own franchise and the continued support after your purchase. We hope that you take the time to become familiar with our program and enjoy the contents we have provided.

United States Seamless is in the business of developing and franchising businesses that sell and install seamless steel siding, seamless gutters, soffit, fascia, windows, storm and entry doors, other siding, insulation, accessories and, other products and services for new construction and existing homes, apartment buildings, and commercial buildings in an exclusive franchise territory.

United States Seamless has found great success and steady growth throughout the Midwest since they began franchising back in 1992. Today, United States Seamless has earned the rank of the fastest growing Seamless Steel Siding Franchise in America.
Products & Services
Whether remodeling contractors, new construction contractors or homeowners, more and more people are selecting seamless steel siding for their exterior finish. Modern, Contemporary, Colonial, Victorian, Rustic, and Log Cabin — it's all possible with seamless steel siding from United States Seamless.

Our on-site roll-forming machines are manufactured by a sister company to meet our stringent standards in manufacturing the siding panels. Our seamless steel siding coil is made to our exact specifications in the USA, which produces a quality product that sets the standards for the industry. Our installers are trained quality control experts to ensure a perfect installation. And, to prove all this, we back it up with the best warranties in the business.

When it comes to warranties, United States Seamless® is second to none. We offer a Lifetime Non-Prorated, Transferable Limited Warranty, and a Lifetime Transferable Non-Prorated Hail Warranty, along with a labor warranty. We also offer and unprecedented Lifetime No Fade Warranty on our Platinum Series™, Mountain Cedar® and Northwoods Collections™. You won't find a better warranty or a better product guaranteed! Both laboratory and field tests have confirmed the rugged characteristics of our product. United States Seamless® Steel siding warrants against rusting, blistering, chipping, peeling, or flaking better than any other vinyl or painted products.

United States Seamless® offers homeowners more options than ever before in terms of siding profiles, colors and accessories. Our siding is the #1 choice for the homeowner who wants durability and beauty along with the timesaving benefits of low-maintenance siding with no unsightly seams.

Our Platinum Series,™ Designer Series,™ Mountain Cedar,® and NorthWoods Collections™ are all available exclusively by United States Seamless. These collections offer a full palette of designer colors in a textured wood grain finish, along with an exclusive product that has captured the look of natural stained cedar in steel, to a revolutionary product that has successfully captured the look of real log cabin siding, in seamless steel, making your home's exterior virtually maintenance-free.
Training & Support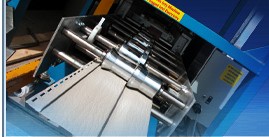 United States Seamless offers three different training courses to better prepare your installer crews and sales force to step into the seamless siding industry with confidence and pride in the fact they are selling and installing the best siding product on the market, for the #1 seamless siding company in America. They are your quality control department.

At United States Seamless no franchisee leaves our facility without an intensive three to five day training session for the entire installer crew that will be handling your seamless siding machine. Because of your commitment and the investment you have made, we want you to be assured your installation crew is fully trained in seamless siding application and seamless machine adjustments; we even test your installers to ensure proper machine adjustment to produce a perfect panel.

Advanced Applicator Training is held on a periodic basis and is intended for seamless installers who have been in the field and have hands-on experience in the installation of seamless steel siding. At our Advanced Applicator Training sessions your installers will meet with corporate application trainers and seamless siding machine assembly staff, learn about the cross-selling techniques, improve customer relation methods and hear guest speakers who are industry experts. They will also be able to share their ideas and techniques in round-table sessions. The intent of Advanced Applicator Training is to provide your installers with a well-rounded information session, better preparing them for field situations and improving your bottom line through increased efficiencies and expanded sales. After completing this course your installers are certified seamless steel siding applicators — they even receive a certificate to prove it!

How do you train a sales person who knows it all? Put them in a room full of fellow seamless siding sales experts and provide leading industry speakers along with a moderator to control the conversation and the results can be startling. We encourage informal discussions where everyone can communicate what is working for them and what is not. In-home sales methods, calculating take-offs and how to improve them, and inexpensive marketing methods a sales person can do on one's own. These training sessions are not tightly structured; the session leader can mold each individual session to meet the needs of the majority of sales trainees. This flexibility allows the hottest topics to be discussed in detail.

With the purchase of a United States Seamless Franchise, you will receive an 80 minute video taped demonstration of the proper use of doing an in-home sales presentation using the United States Seamless Pitch Book & Atteche Case. At United States Seamless our training philosophy is simple; superior people and superior training provides your customer with a superior product.
Why United States Seamless?
Exclusive Products


Our Platinum Series™, Mountain Cedar®, NorthWoods Collection™ and Designer Collection™ are all available exclusively to United States Seamless Franchisees. These collections offer a full palette of designer and natural wood colors in a variety of profiles. Our Mountain Cedar is available in seven nature-inspired two-tone shades, our Platinum Series offers four beautiful earth tones and five rich colors, and our Designer Collection PVC finish is available in a full spectrum of colors. United States Seamless also offers a revolutionary product that has successfully captured the look of real log cabin siding in seamless steel, known as our NorthWoods Collection. Our NorthWoods Collection makes achieving a virtually maintenance-free log cabin exterior easy. But we don't stop there; our Platinum Series, Mountain Cedar and NorthWoods Collection finishes are all fortified with a Durapon 70® paint finish enhanced with a rigid DuPontTM Teflon® surface protector. You won't find a better seamless steel product on the market. Guaranteed.



Superior Warranties


Being a United States Seamless franchisee gives you the strongest warranties in the business. No other siding company offers a better product, and they don't come close to offering a comparable warranty. United States Seamless' Platinum Series, Mountain Cedar and NorthWoods Collection are all backed with a lifetime fade warranty. Our Designer Collection warranty is the best in its class, offering an unprecedented 25 year fade warranty. United States Seamless also offers a hail warranty and an optional labor warranty. The labor warranty is warranted at the franchise level, where as the other warranties are manufacturer warranties.



National Recognition


As part of the United States Seamless franchise organization, you'll receive immediate recognition for your association with a national franchise. United States Seamless has been recognized by Entrepreneur Magazine as the #1 Home Improvement Franchise In America a number of times. In addition, United States Seamless has been recognized by Income Opportunities Platinum 200 Top Affordable Franchises, Entrepreneur Magazine's Best Of The Best and Entrepreneur's Top 101 Franchises You Can Run From Home. Did you know United States Seamless holds a world record? We sure do. On November 9, 1999 Guinness Media, Inc. recognized United States Seamless, for installing the world's longest piece of seamless steel siding measuring 236' 9".