Search Tools
Franchise Research
United Check Cashing

Simple Cash Basis



Business Type
Franchise
Min Liquid Capital
$104,000
$104,000
*
to $275,000
Number of Units
150
In Business Since
1977
* For Current Info See:
Franchise Disclosure Document

Overview
United Financial Services centers provide a wide assortment of vital services to consumers seeking an alternative to traditional banking relationships. Our franchisees operate clean, bright, safe retail centers designed to create a community-bank atmosphere and they build strong customer relationships by providing the type of friendly service not usually associated with today's banks.
Products & Services
CHECK CASHING: We cash a variety of checks including payroll, government, tax refunds, insurance, commercial and more. No bank account is required and our rates are very reasonable!

MONEY ORDERS: Safe, convenient and reliable payment devices – money orders cost less at United.
MONEY TRANSFERS: United centers are authorized agents for Western Union® Money Transfer™. With Western Union, you can send cash anywhere in the world, and with more than 196,000 agents, there's bound to be a convenient location nearby for the recipient to pick it up.
BILL PAYMENT: Pay your bills electronically! No need to write a check or buy a money order and stamp. Just bring in your statement and cash and we'll process the payment with the biller. Hundreds of billers accepted. Most items post in two business days or less. It's safer, faster, more convenient and less expensive than the mail.
Training & Support
Our Development Team of franchise professionals will evaluate the demographic potential of the area where you wish to establish your business and guide you through the due diligence process. United's criteria for site selection is based on a number of key demographic factors and on-site evaluations. Our Real Estate team and network of brokers will help you to find a location that meets our specifications.

The Project Management Department will oversee the design and construction of your center including architectural drawings, permits, evaluation of contractor bids, procurement of all furniture fixtures and equipment, networking of POS workstations, software installation and all the necessary requirements to obtain a certificate of occupancy. During this phase we will provide a pre-opening marketing plan with tips and tools to help you to create awareness for your new business in your community.

United's Training Group will teach you the business. You will be provided with two weeks of practical, classroom-style instruction at our National Training Center in Philadelphia. The training includes all aspects of check verification, the Point of Sale system, bookkeeping, security, and marketing. In addition, we'll be on-site during the first week of your opening to assure you a productive start and we'll make two additional follow-up visits to your center during your first year.

Your training will be supplemented with a copy of United's comprehensive Operations and Training Manuals and audio-visual tools to assist you in training your staff. This material is licensed to you as a part of your franchise agreement and is updated on a regular basis to assure it is current with industry trends and technology developments.

To help you stay focused on serving the customer, United provides you with a comprehensive system that simplifies the accounting of transactions and creates useful reports to help you to better manage your business. This package includes a tested technology platform consisting of a local area network, customized point-of-sale and accounting software, proprietary store management software and on-going hardware and software support programs.

Our toll-free help desk is available during business hours to assist you in cashing checks, processing transactions, or any other operational functions. United's staff accountants can also assist you or your accountant with all aspects of your reconciliation and financial reporting.

United maintains a professional marketing department responsible for the design and creation of marketing programs that help you grow your business. You will be provided with "how-to" guides, in-store merchandising materials and an interactive catalog of on-line promotional tools that are continuously updated and expanded. To help you grow your sales volume, you are assigned a Field Representative to act as a consultant on a variety of tried and true New Business Development techniques.

United's marketing strategy is centered on local store marketing. In addition to knowing who our consumer is and why they use our services, transaction data mining has revealed that there are various customer segments that can be defined by their usage patterns. POS data captured during transactions provide our franchisees a powerful marketing tool that helps them to better understand these various customer segments and how to target the appropriate marketing program to each. Various promotions have been created and are accessible to franchisees on-line 24/7 to customize, print and ship to their individual locations. These promotions are designed to focus on each customer segment to positively impact the growth of new customers as well as the retention and frequency of use of existing customers.
Why United Check Cashing?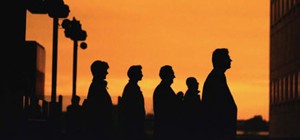 It is estimated that about two-thirds of the check cashing outlets in the U.S. are independently owned and operated, while large national or regional chains operate the remaining segment. As in any other retail business, there are pros and cons to each of these business models.

Chain retailers bring economies of scale, best practices, superior technology tools and professional marketing services to their categories, while their independent competitors will usually provide more personalized customer service, customized product offerings and a stronger commitment to the business.



United's system offers the best of both worlds.


As a national chain, United offers established operating procedures, proven products and services, solid training and support, a well-founded technology platform, a professional brand identity and marketing program, and the advantages that come from years of experience. In fact, United's management team is comprised of industry professionals with over 100 years of cumulative category experience. This experience is accessed regularly by franchisees to assist them on an on-going basis.

As a franchise, the consumer interacts with an independent business owner who has a vested interest in the success of his or her center. Unlike the chain store environment, the quality of service provided by our franchise owners is much more akin to that of the independent business. Couple this commitment with the physical environment, service offerings, processes and procedures provided by the franchise affiliation and United delivers a significant competitive advantage in this business category.
Are You a Good Fit for United Check Cashing?
United franchisees come from all types of careers and professions ranging from executives to entrepreneurs, technology professionals to retail backgrounds, financial specialists to skilled trades.

Our most successful operators understand the value of operating within a franchise system. They appreciate the fact that they are in business for themselves but not by themselves. United franchisees value working in a community-based retail business. They recognize the need for local marketing in their neighborhood and enjoy interacting with other business people in their community. They understand their customers and their needs for a full array of vital financial services. Just as important, they have the financial resources to properly fund the start-up of their business as well as the resources to support it as it grows.

United requires a franchise candidate to have a personal net worth of at least $350,000 and a minimum of $85,000 in liquid cash to get started.

If this sounds like you, then you are ready to take the next steps. Your Development representative will guide you through your due diligence process. Work with that person. He or she will answer any questions that you may have and will put you in touch with existing franchisees for you to contact. Research the industry and study our UFOC. Schedule a Discovery Day at our Corporate Office in Philadelphia and meet with the key members of our management team.

Get to know us and we will get to know you. When everything feels right, get united with our success and discover this unique way to build your financial future by managing cash transactions with your own United Financial Services center.