Search Tools
Franchise Research

Overview
Tiffany Marble Molds Intl., Inc. sells molds to customers worldwide and assists in establishing Tiffany Marble factories in their respective areas. Complete in-factory training is included with mold package purchase at our training facilities on the East and West coasts of the U.S. and Canada. There are various mold package programs which cater to the needs of the housing, industrial, commercial and construction industries. Tiffany Marble Molds Intl., Inc. also offers molds to produce hundreds of gift-ware items that can be wholesaled to many types of retail outlets.

Tiffany Marble Molds are not only guaranteed for 18 years but can regularly produce elegant products every 1 to 2 hours or a minimum of 4 times during an 8 hour shift. Producing elegant Tiffany Marble products in 1/4 (one forth) the time required by competitive molds, you will require approximately one forth of production space, cutting down your overhead costs tremendously.

Tiffany Marble Molds International Inc. offers award-winning molds, formulas and complete factory training to get you started in the world of Tiffany Marble manufacturing.

The many molds and formulas offered by Tiffany Marble Molds Int'l, Inc. are designed to produce a complete line of elegant Tiffany marble products for the new construction and remodeling industries. Products include wall paneling, bathtub and shower surrounds, bathtubs, window sills, fireplace mantels and facing, custom durable kitchen counters, and bathroom vanities of various styles and sizes, as well as floor and wall tiles. Our molds also produce many additional elegant marble products such as fine quality marble wastebaskets, three sizes of planters, assorted marble, onyx, or granite tables including conference tables, and desks.

Products & Services
The Tiffany manufacturing process is based on the technology developed by Tiffany Marble Molds International, Inc. T.M.M.I. will obviously not release the confidential details of the process or their formulation for the manufacturing of Tiffany Marble and other formulations until the potential manufacturers have been approved, purchased their mold package, and have completed their training. However, to assist you in understanding this industry, a few of the basic raw materials for our ten basic formulas are as follows:

Polyester Resin (casting)

Ground Calcium Carbonate Filler (marble dust or limestone in aggregate sizes from 20 to 200 mesh or grit)

Peroxide Catalyst (MEKP)

Titanium Dioxide Pigment (a whitening agent)

Assorted Paint Pigments (dry or wet)

Gel Coat (A type of material used in fiberglass manufacturing)

With Tiffany Marble, seventy to eighty percent of the raw materials used is calcium-based filler (marble powder or ground limestone). Twenty to thirty percent of the materials are resins, coating, pigments and waxes, all of which are produced in the industrially developed countries, and are readily available in most every country worldwide. Factories producing elegant Tiffany Marble in the various countries of China, The Philippines, Europe and Africa actually import less that 5% of their materials from the US.

After you have completed training, Tiffany Marble Molds Int'l, Inc. will provide the name and nearest source of the supplier for these materials in your area or country. Limestone or marble fillers have an infinite shelf life and can be purchased from rock quarries and companies that grind gravel and other stones for roads and cement. Actually, the filler you need is their waste material. In Florida, limestone costs $150 per ton. In California, about $100 per ton or 5 cents per pound. Yet in some countries overseas we have seen it as low as $40 per ton or 2 cents per pound. It really does not matter, as a ton of limestone will produce a tremendous amount of Tiffany Marble.

Important! Color of limestone or rock filler can vary from medium gray or brown to almost white. We will train you how to whiten any color. However, your filler must be dry, not wet. Size of ground rock or limestone can vary from 20 mesh (or grit) to 200 mesh or grit.
Training & Support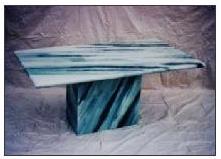 The executives of Tiffany Marble Molds Int'l., Inc. conduct regularly scheduled training classes at international training centers in the U.S., Canada, and China, with a training center planned for Africa. One full week (Monday through Friday) of training is included with all mold packages. Training includes manufacturing, factory set-up, maintenance of your molds, and production. If various languages require translation during training, a second week of training is available at no extra charge. We invite you to bring video cameras for use during the confidential training programs.

With the many advances that have been made by the executives of Tiffany Marble Molds Int'l., Inc. since 1969, the Tiffany Marble training program is extremely thorough. The mold customer and foreman should attend our informative training program. The mold customer may send two persons for training. If you wish to send more than two people for training, there is no additional charge for training, but there is an additional $200 per person for additional materials used during the training procedures (2 persons are included, the third is $200, etc.) In addition to the training provided, a complete and concise set of video training tapes (totaling 20 hours) is included along with two very thorough training manuals.

Tiffany Marble Molds Int'l., Inc. also makes available to the manufacturer, at the manufacturer's expense, a training director, whose expertise and assistance may be reserved for on-site overseas training after the manufacturer's molds and equipment have been received. Airfare, lodging, and food, plus $400 in U.S. funds per day must be paid in advance to the training director by the manufacturer. Cost of International Training Directors will vary depending on the International Mold Package purchased.

If a manufacturer hires a new foreman or manager a year or two from now, he may attend any regular scheduled training class at one of Tiffany Marble training centers at no additional charge. We have offered training classes one or two times each month for almost 30 years! Ordinary unskilled laborers can easily be trained to manufacture Tiffany Marble. Skill is actually acquired by continuous exposure to the job under the direction of a Tiffany Marble trained supervisor or foreman (trained by a Tiffany Marble Training Director during our Training Program). A good employee, male or female, can be producing our elegant product with just a short amount of training. As mentioned above, Tiffany Marble International, Inc. will supply training manuals and 20 hours of video training tapes to aid in training new employees.

Base your employees wages on an hourly rate. Many marble plants work with state or federal programs, which will sometimes pay a portion of salaries for minorities or certain individuals with disabilities. We recommend that you apply to these agencies after you are trained and have your plants ready to start production. This is covered quite thoroughly in your training program.

Various marketing procedures include:

Construction Bulletins

Local governments in most countries worldwide offer information regarding permits issued for new construction and remodeling. This information is often available through building associations and the government agencies. Many factories which purchase molds from Tiffany Marble Molds Int'l., Inc. in the U.S. subscribe by county to the "Dodge Report". In Canada, a similar publication is available, named the "Southam (CDN) Bulletin". These weekly bulletins list every start, pre-bid, and plan, and furnish you the name of the contractor, the architect, and the owner's name and address, even before ground is broken! This is a fabulous source of potential customers who need Tiffany Marble. Remember, you will manufacture the finest quality products in the industry. Contractors, Architects, Interior Designers, and others will recognize the quality immediately.

Trade Shows & Exhibitions

Trade Shows are another great source of prospective customers. Many factories participate in Home Shows, Fairs, Shopping Centers, Bath/Kitchen Shows, and similar exhibitions.

Presentation Materials

Many steps are taken to insure a new Tiffany Marble manufacturer's success. In addition to complete and thorough in-factory training, you will be furnished with two comprehensive training manuals, a presentation manual, photo presentation show boxes which displays up to forty full color photographs showing beautiful installations of Tiffany Marble all over the world, and twenty hours of step-by-step video training tapes. And now, 6 hours of Video Training Tapes in Mandarin Chinese.

Four Color Brochures

Tiffany Marble Molds Int'l., Inc. furnishes newly appointed factories their initial supply of four color brochures, featuring elegant Tiffany Marble products. The brochures are left blank for local name, address, and telephone number.

Tiffany Marble Marketing Program

The Tiffany Marble Marketing Program is part of the extensive Tiffany Marble Training Program and will show you how to contact hundreds of potential Tiffany Marble customers in your area, many of whom are not yet aware of our exquisite Tiffany Marble products.

Press Parties

Newly appointed factories often invite contractors and architects to a press party to display the impressive quality of Tiffany Marble in their planning rooms. Planning Rooms do not have to be elaborate to be absolutely stunning. The quality of the gorgeous Tiffany products is more than enough to impress your visitors.

Presentation Video Tapes

Professional 15 minute customer presentation video tapes are given to you to present your Tiffany Marble products. This presentation is given to potential customers and users, including contractors, architects, interior designers and customers who are remodeling their homes. This video is available in English, Arabic, French, German, Spanish, Russian, Mandarin Chinese, Korean, Japanese, Vietnamese, Tai, and even an African Namibian language.

Factories producing Tiffany Marble often report that up to 80% of their business is realized from repeat business from their satisfied customers. It is very common for factories producing Tiffany Marble to keep their contractor customers for many years since they are producing the finest quality of marble, onyx and granite in the industry.
Why Tiffany Marble Molds International Inc.?
A dramatic article stated the marble industry exploded from $25 million dollars to over $500 million in sales within a 7 year period. A 20 times increase in seven years! And now the marble industry is enjoying sales in the Billions of $!!

Hundreds of contractors and architects designing, building, and remodeling thousands of homes, apartments, condominiums and office buildings in your area and its surrounding communities provide a strong market for Tiffany Marble Products. And remember, your customer the contractor does all the installation so you simply produce the elegant Tiffany Marble line and wholesale your needed products to the ultimate user.

Sinks and vanities featuring one to six integral bowls, whirlpool bathtubs and other construction products are sold wholesale through contractors, architects, plumbing supply houses, lumber companies, hardware stores, building supply outlets do-it-yourself and remodeling stores, cabinet manufacturers, etc. Marble planters, tables, wastebaskets, and specialty items are usually wholesaled through nurseries, furniture stores, and numerous retail outlets.



Substantial Mark-Up at Wholesale


If a manufacturer wholesales standard modular size sinks to stores, he will often use the cost of material, or material plus labor cost, and multiply by four to arrive at the wholesale price. A sink costing $15.00 to produce will often wholesale to a building supply store, lumber company or plumbing supply account for $60.00. A 300% profit at wholesale! And custom sizes offer an even greater profit. It is not uncommon to enjoy a 5 to 10 times mark up when you wholesale custom sizes including custom two tone sinks with fashionable inlays. We feature custom products. Companies like Koehler or American Standard only sell standard sizes! And they produce ordinary ceramic and porcelain sinks, not elegant Tiffany marble, Tiff-Onyx or Tiffany granite.
This company does not exist on FranchiseGenius.com. Click
here
to search the FranchiseGenius.com listings.