Search Tools
Franchise Research
| | |
| --- | --- |
| | Tasti D-Lite |
Business Type
Franchise
Min Liquid Capital
$70,000
$70,000
*
to $200,000
Total Investment
$230,870 to $440,350
In Business Since
1987
* For Current Info See:
Franchise Disclosure Document

Overview
Deciding to go into business for yourself requires careful consideration. If you seek entrepreneurship—but as part of a team and with training, tools and support to help you—a Tasti D-Lite franchise may be just what you're looking for. In addition to general business skills and sufficient investment capital, we're looking for people who share our enthusiasm for helping others enjoy a healthy, active lifestyle.

Tasti D-Lite is offering multiple-center franchise and Area Development licenses in all states where it currently offers individual franchises. The multiple-unit opportunity enables entrepreneurs to own and operate two or more centers in a particular territory. The Area Developer opportunity is available to more experienced entrepreneurs. Their license is to work with us in developing the franchise network across a much larger region. Area Developers are responsible for recruiting additional franchisees and providing local support to them. In return, they receive a portion of both the new franchise fees and ongoing royalties from their territory. Both the multiple-unit and Area Developer opportunities also give existing franchise owners options to scale their Tasti D-Lite businesses over time.
Products & Services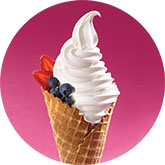 Eating right is not a new idea. But sometimes it's pretty hard to do. For more than 20 years, Tasti D-Lite has been making it easier to eat less and still feel completely satisfied. We're serious about our purpose. We're even more serious about having fun doing it. We hope you'll join us.



A short history of Tasti D-Lite


More than a hundred years after ice cream was invented, somebody finally got it right. In 1987, the first official Tasti D-Lite serving swirled into history, and an unprecedented phenomenon came to be. With Tasti D-Lite, shape-conscious New Yorkers could enjoy dessert every day. With fewer calories. Less fat. And none of that pesky guilt. Today, Tasti D-Lite serves its creamy delicious, dairy dessert in more than 100 flavors to thousands of devoted customers every day.

This waist-watcher's dream began in the kitchen of a New York woman. She didn't ask for much: she just wanted to enjoy frozen treats like everybody else. But without the worry. And, she thought, maybe other people felt the same way. Experimenting with different ingredients and flavors, she enlisted the help of her food technologist father. Together, they perfected the proprietary formula that satisfies like no other frozen dessert in the world today.

This lower-calorie frozen dessert, Tasti D-Lite's popularity quickly soared, and it soon became Gotham's favorite guilt-free indulgence. Where's the nearest Tasti? Just ask the nearest New Yorker. Tasti D-Lite is now sold through a network of more than 60 independently owned and operated centers, most in the greater New York City area. But soon … Tasti D-Lite will be available everywhere.



The future looks light, indeed


In 2007, the company was acquired by a New York private equity firm. The new company, Tasti D-Lite LLC, is led by new CEO Jim Amos, who grew Mail Boxes Etc. to 5,000 units before selling to UPS in 2001. Until now, only New Yorkers and a handful of others could enjoy the flavorful benefits of Tasti D-Lite. His goal (and it's a good one) is to make Tasti D-Lite the number-one "good-for-you" frozen dessert in the world.

The company plans to build a 500-center franchise network in just five years, including two new flagship centers in Manhattan, slated to open in early 2008. With a world-class operating team, the company is undertaking a continual program of product and service improvement, flavor innovation, and customer involvement.
Training & Support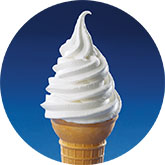 On average, a two-week training program is offered, one week in a classroom environment and the other week in a Tasti D-Lite center. Leveraging best practices from over 20 years of operational experience, Tasti D-Lite's two-week franchisee training will do more than make you a world-class Tasteologist; training is structured with the business owner in mind. That's why our classroom training focuses on marketing, customer service, operations, human resources, finance and management. Then you get hands-on practice behind the controls of a real center through the in-store phase of training. A complete set of operations manuals will be provided to you during training.

After you have opened your center, you'll be invited to participate in live and online continued training programs—so you can continually sharpen your skills and learn new and improved methods for making your business even better. Specialized training is provided for multi-unit franchisees, Area Developers and Master Franchisees, to address other aspects of these business models and the practices that will grow them effectively.

You'll receive ongoing support from our vendors and the Tasti D-Lite Technology Institute team. That's why we're here. The Tasti D-Lite franchise support team is exceptionally experienced in guiding and supporting franchise and food service environments. Even before you finish training, a support representative will be assigned to help you get the most out of your ongoing relationship with Tasti D-Lite. In addition to visiting you on-site, our team is also available by phone and e-mail.

We also provide continual support through marketing and product development. Our goal is to make you as effective as possible at creating awareness in your local market and attracting customers to your center. Our marketing team will provide you with tools and know-how. Over time, as we build Tasti D-Lite into a national and global brand, you'll also be able to participate in regional and national marketing initiatives.
Why Tasti D-Lite?
Tasti D-Lite is creating an entirely new segment in the restaurant business by providing customers delicious frozen desserts and other treats to help them live a healthy and active lifestyle. Our products use nutritional science so our customers can enjoy a guilt-free indulgence. And just like our customers, each new Tasti D-Lite location is fun and vibrant, making the Tasti experience one they want to come back to often. Tasti D-Lite has over 20 years of experience serving great-tasting, good-for-you frozen desserts in New York and beyond. With new ownership, a new vision, and a highly experienced management team, Tasti D-Lite has entered a new phase of growth and professionalism.
Are You a Good Fit for Tasti D-Lite?
The initial investment for an individual center franchise in the U.S. is estimated between $230,870 to $440,350, including the franchise fee and a provision for some working capital. If you're interested in using small business financing to support your franchise investment, expect your lender to require a cash investment of $70,000 or more, depending on the total estimated investment amount. The franchise fee for an individual franchise center is $30,000. The franchise fees for multiple units decline on a progressive scale. Area Developer and Master Franchisee franchise fees can be considerably higher—in proportion to the size and opportunity in a large territory.