Search Tools
Franchise Research
Submarina

The Best Subs Under the Sun



Business Type
Franchise
Min Liquid Capital
$50,000
$50,000
*
to $70,000
Total Investment
$200,000 to $300,000
* For Current Info See:
Franchise Disclosure Document

Overview
A franchise is not a product that is sold like a car or a house. The potential franchisee makes an application, and when the application is accepted by the franchisor, the franchise is granted, or awarded. The franchisee is purchasing the right to participate in an established business concept, thus eliminating the need for costly market research, development, copyright and legal services which are associated with independent start-up businesses.

Franchising is a business strategy that requires a close alliance between franchisors and franchisees working together toward semi-independent but mutually beneficial goals. In this alliance there are non-interchangeable roles. The franchisor formulates and guides a system-wide marketing plan, while the franchisee carries out that plan at a local level.

To become a Submarina® franchisee, you must qualify. You must meet our standards and go though our process and agree to follow our system. Typically, companies spend much of the early years of their business getting all the "bugs" out of their system before the business is completely successful, and offered as a franchise. Therefore, the franchisor does not want the franchisee to encounter the mistakes that they made in the formative years. Herein lies the underlying formula for franchising, and the reason that franchise operations are so successful; the business model has been proven, and when duplicated efficiently, will certainly produce success.
Products & Services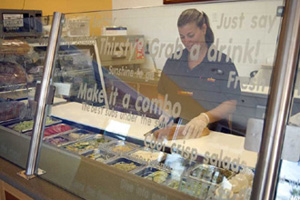 When Submarina founders Les Warfield and Ron Vickers moved to San Diego in 1976, one of the first things they did was try to find a sub-sandwich shop. The sunny days in San Diego were enough to lure the two U.S. Postal Service workers to request transfers from their Reno, Nevada, postal carrier routes. It wasn't long, however, before they missed one of their favorite work-day lunch stops. As their sandwich search continued in San Diego without success, they started talking about opening their own shop. How hard could it be?

As Warfield said, "We had no experience, no capital and by every rule of business we should have failed. We didn't know an avocado from prosciutto, but we were willing to learn."

Submarina secured its place by producing hearty sandwiches made from quality ingredients. Today the generous helpings of meat and cheese are still sliced in front of the customer, ensuring freshness. All breads are still made from scratch by a baker and delivered to the stores seven days a week.

Californians are a little different. That's why there's Submarina®. We do things a little differently, too. Like using California vine-ripened produce, real avocados, pepperoncinis, and of course, if you want, sprouts. Get a little taste of California in your sub. Only at Submarina®. Unwind and savor the flavor at your local Submarina®.


Training & Support
Once you qualify as a franchisee and become a licensee of the Submarina franchise system, we put our efforts into teaching you the Submarina® system. Since the success of your franchise is mainly dependent on how well you follow our system, we are committed to you every step of the way. Our effective system of operation will give you the edge necessary to create a thriving business. The Submarina® franchise program provides you the following support and assistance:



Financing

– Submarina® is able to introduce you to financing sources that are familiar with our operations and have worked with us in the past. This includes equipment leasing companies, SBA (small business administration) approved bank lenders and other private lenders.



Site selection and lease negotiations

– We provide professional assistance in helping to locate and identify suitable retail locations for the new franchise location. Submarina® and its franchisees usually contract with Michael A. Scott and Associates, Inc. for purposes of locating and securing suitable locations. Scott and Associates is one of the leading franchise real estate companies in North America. They will assist you in site evaluation and lease negotiations. This process takes considerable effort and expertise and is best handled by the experts, who will have your best interests at heart throughout the process. It has been said that the three most important ingredients of a successful business are "location, location, location." Add to this formula proficiency in operating the Submarina® system and you have a proven winner.



Restaurant Design and Construction

– Complete sets of custom floor plans are developed for each location. Proper customer traffic flow and seating are laid out. Efficient work areas and backroom storage areas are created. Other key design elements are implemented into your restaurant to give it that unique Submarina look. With these plans, we will coordinate with our national design-layout contractor, Fitch Build. This firm is a nationally recognized contractor that specializes in franchise retail build-outs. They will obtain all permits and licenses and perform construction of your restaurant.



Training and operations manual

– You may not start out as an expert, but after reading the Submarina® training manual and completing our two-week training program, you are on your way to becoming one. Since we don't require that you have any related experience, we have written the operations manual and designed the training program with that in mind. You start by reading and learning from the operations manual. Soon after a construction schedule has been set for your restaurant, the formal training program will begin. During the first two weeks, you will get hands-on training at our designated training center restaurant, as well as valuable classroom training. We will teach you all aspects of management, including customer relations, hiring, training, and motivating and evaluating employees. You will learn opening procedures, sandwich preparation, equipment operation, point-of-sale and computer usage and closing procedures. Through all of this, you will develop product knowledge. In the classroom, you will learn how to use the inventory control system, food cost monitoring and other tracking forms, as well as how to meet scheduling and payroll targets. Lastly, you will learn about marketing programs, how to gauge their effectiveness and their importance.



Quality control and ongoing support

– Quality and consistency are trademarks by which Submarina® has come to be known. Customer satisfaction will be achieved through the use of high quality products and by applying Submarina® standards. Franchise Consultants visit all restaurants to ensure these standards are maintained and to help improve operations. We will spend time analyzing the sales and expenses of your franchise and compare it to other restaurants. If necessary, suggestions on how to attain the company standards will be made.
Why Submarina?
Marketing programs

– Professionally designed advertising materials are provided to franchisees. Various types of print advertisements and in-store displays enhance the image and exposure of your restaurant. You will learn the most cost-effective ways of bringing in new customers and how to keep them coming back. We will help you implement a comprehensive Grand Opening promotional plan to start your restaurant in the right direction. Marketing allowances, or rebates, which manufacturers pay to Submarina® are contributed to the Marketing and Promotional Fund and used for further promotion of all Submarina® restaurants.



Group purchasing power and proprietary products

– In all possible situations, Submarina® restaurants purchase the same products. This group purchasing makes possible quantity discounts from manufacturers and distributors. All savings are passed directly to the franchisees. Franchisees are required to purchase certain Submarina® proprietary products. Paper goods with the Submarina® logo and specially formulated food products are examples. These items assure the uniqueness, uniformity and quality of the Submarina® system.



New product development

– Submarina® is a flexible company. Since technology and customer trends are ever changing, we are constantly seeking out new and improved products, machinery and methods of operations. If these items pass our stringent screening and testing methods, they are added to the Submarina Operation Manual and implemented in the system.



Development Rights Program

– This form of franchising allows for ownership of multiple locations within a defined geographic area.
Are You a Good Fit for Submarina?
Submarina® does not require any related experience to operate a franchise. The ideal candidate is someone who has a passion for operating a successful business, and enjoys working with the general public.

Submarina® is looking for individuals that are self-motivated "people" persons who have good marketing and relationship-building skills and a demonstrated passion for success - the cornerstone of our business model. Industry knowledge or background is not necessary as this is taught during our initial two-week training program and continues throughout your franchise relationship.