Search Tools
Franchise Research
Steak-Out

Char-Broiled Delivery



Business Type
Franchise
Min Liquid Capital
$249,500
$249,500
*
to $429,400
Required Net Worth
$75,000
Number of Units
79
In Business Since
1986
* For Current Info See:
Franchise Disclosure Document

Overview
Steak-Out® has filled the void of "What's for Dinner" for over twenty years. It is the largest chain in the United States dedicated to delivering delicious, fresh meals, and is rapidly becoming the most popular home and business meal delivery company. This time tested system provides services to both business and residential communities. Today's busy consumers are continually looking for convenient meal solutions. The balanced, char-broiled meals served by Steak-Out are the perfect alternative to the ordinary choices in delivered foods. Americans will spend in excess of $200 billion in meals consumed away from the home -- now is the time to invest in this forward-thinking concept.

Steak-Out has low start-up costs ($265,500 - $449,500 for a turn key operation), multi-unit opportunities and exclusive areas for growth. We offer a real opportunity for you to capitalize on the strengths of a system that has proven the ability to consistently deliver fully prepared meals.

As a Steak-Out franchisee, you'll be filling a food service demand that already exists. Steak-Out caters to the customer who is busy and looking for a convenient, quality meal. We have built our reputation on fresh, prepared-to order products. Our mission is to "Make our customers love us".

As you investigate and evaluate opportunities that are available to you, have a game plan in mind. Have you determined your financial and lifestyle goals? Create a plan by determining your needs, your likes and dislikes, your financial capacity and how an opportunity might satisfy those needs.

In comparing opportunities, consider Steak-Out's proven business model with over twenty years of experience. With Steak-Out's continuing support, you will be in business for yourself but not by yourself. Steak-Out's experienced consultants will help you grow your business and make it more efficient.
Products & Services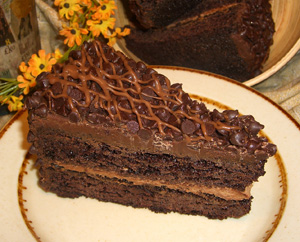 Steak-Out Char-Broiled Delivery® understands that your demanding schedule requires ease in meal preparation. Our business is to deliver hot, complete meals right to your door. Providing our guests with convenience without sacrificing the quality is our goal.

Our menu includes fresh char-broiled ribeye steaks, steak tips, chicken breast filets, cheeseburgers and sandwiches cooked to your specifications. All of our entrees come with a crisp salad, piping hot baked potato with all the condiments, and a baked roll. You can even satisfy your sweet tooth with one of our delicious desserts. We also have a Kid's Meals menu that caters to the younger members of your family.

Have working lunches that you need food for? We cater for groups of all sizes. Our Desktop Dining program is designed to eliminate hassles and give you a pleasurable lunch experience. We personalize each meal to save time and ensure it is cooked the way you like it. Planning for a special event onsite? We can help you with that too.

We are dedicated to providing products and services that exceed your expectations. Give us a call today and we'll deliver a delicious meal right to your door. We hope to see you soon.
Training & Support
Training & Opening


To effectively and efficiently prepare you for your store opening, you will attend our extensive training session involving classroom instruction combined with in-store hands-on experience. Training covers customer service, food preparation, delivery techniques, sanitation, marketing, administration and all the other information you will need to manage your new Steak-Out. The operations/training team will work side-by-side with you during your opening week.



Marketing


While you are in training, you will learn straight forward marketing strategies. These techniques include how to identify and market your target audience, how to maximize marketing dollars and how to create and maintain a successful marketing plan. We will be there when your store opens to help market to potential customers in your delivery area. After opening, ongoing training and assistance is available from our field marketing staff who will work one-on-one with you in your local market.



Field Assistance


Our highly seasoned and experienced professionals will assist you with site selection, safety, inventory and operational control systems. They will teach you how to capitalize on proven ways of building sales and maximize the return on your efforts.
Why Steak-Out?
Steak-Out is proud of the relationship we have with our franchise operators. Our mission is to develop a harmonious relationship between franchise operators and the Steak-Out corporate office. Many successes have been realized by franchise operators in the Steak-Out system. Below are just a few testimonials by those who really know what total involvement in Steak-Out is all about.



"I looked at 35 different franchise opportunities...I chose Steak-Out because with the way society is moving...and the tightening of the labor force out there. It's an operation where you can generate food volume with minimal staff. I have the ability to open something that's not already there. The contract purchasing power enabled me to project food cost ahead of time. From the information I received, I basically hit costs on opening expenses and on product cost expenses. Also, the information enabled me to find out what marketing we needed to do. It's all been what we were told up front."





"We were given very specific things to do and we followed the instructions to the letter. Success wasn't overnight, but it did come as a result of our attention to detail and a lot of hard work."





"With Steak-Out's system of direction and assistance along with our management and staffing, sales and additional unit opportunities continue to grow. Additionally, by becoming a member of the MAB (Marketing Advisory Board), I realize the importance of franchisee/franchisor harmony which is needed to promote growth."





"I think Steak-Out is on the forefront of what is and will be the fastest growing segment of the food industry, the home meal replacement or the business lunch replacement. It's my opinion that the standards that have been developed throughout Steak-Out are absolutely essential to the success of Steak-Out and our operation."
Are You a Good Fit for Steak-Out?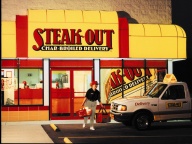 You do not need to have prior restaurant experience to maximize the performance of Steak-Out's business model. Franchise Operators in Steak-Out have come from many other career fields: teaching, sales, information systems, banking and accounting, to mention just a few. Steak-Out's training program will provide you with the confidence to master your store's operations. Owning a business requires you to use all of your skills and to draw on your previous experiences.

Minimum liquid capital of $75,000 is required. The estimated total initial investment ranges from $249,500 to $429,400. Exact cost will depend on amount of renovation needed, costs associated with local building ordinances and the amount of signage purchased. Included in the initial investment is Steak-Out's franchise fee of $25,000.

Exclusive territories are available for multi-unit development. The reservation fee is $5,000 per store. This amount will be deducted from the franchise fee upon opening additional stores within the agreed time frame.