Search Tools
Franchise Research
Steak N Shake

Famous for Steakburgers



Business Type
Franchise
Min Liquid Capital
$50,000
$50,000
*
Required Net Worth
$1,000,000
Number of Units
531
In Business Since
1934
* For Current Info See:
Franchise Disclosure Document

Overview
Never, in 70 years of company history, has Steak n Shake expanded our franchising program in the way we're doing now. This page details how you can take advantage of this unprecedented opportunity. A Steak n Shake franchise is a long-term partnership with one of the best and longest-tenured restaurants in America.

The benefits of franchising with Steak n Shake can't be duplicated.
Products & Services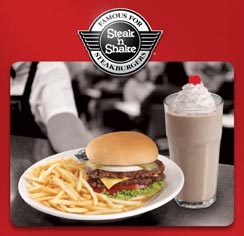 Steak n Shake was founded in 1934 in Normal, Illinois. Gus Belt, the founder of Steak n Shake, was a quality restaurateur who owned a restaurant/gas station called Shell's Chicken. Central Illinois had plenty of chicken and beer restaurants so Gus soon realized he needed to be unique and different. With a little help from his friends, he started Steak n Shake in February of 1934.

The Steak stood for STEAKBURGER™ sandwich. Gus would wait for the busiest time in his counter-only restaurant, wheel in a barrel of steaks (including round steak, sirloin steak, and T-bones) and grind the steaks into burgers right in front of the guests. Hence, the origin of the famous slogan "In Sight It Must Be Right."

The STEAKBURGER™ sandwich is still the finest burger served anywhere in the world-the finest of steaks ground into pucks, and through the art of grilling on a very hot grill, turned into a burger beyond comparison.

The Shake in Steak n Shake refers to a creamy, real-milk, hand-dipped Milk Shake that has endured as the best Milk Shake on the planet. Gus Belt used to put the Multi-Mixers Shake machines in the windows of his restaurant so cars driving by had to stop for a Milk Shake.

Steak n Shake had to make changes in order to accommodate their ever increasing demand for the high quality food served on glass and china at reasonable prices by friendly servers. His first move was to purchase a chain of restaurants in Central Illinois called "Goal Post" and convert them to Steak n Shakes. He then added curb service because every restaurant had a never ending line to occupy one of the coveted seats.

Demand became greater and greater and soon Gus expanded to Galesburg in 1939. He also sold his first franchise in the late 30's. St. Louis, Indianapolis, Northern Illinois, Daytona Beach, and Hot Springs, Arkansas soon followed.

Gus Belt passed away in 1954 and his wife, Edith took over the business. She continued to operate the business, and decided not to expand but rather to care for the Steak n Shake family.

In the 70's, drive-thru's replaced the curb service. Due to intense competition and great distance between restaurants, several restaurants were closed. At this time, the corporate headquarters were moved from Bloomington, Illinois to Indianapolis, Indiana.

Because of his marketing acumen, E.W. "Ed" Kelley is considered the "modern day" founder of Steak n Shake. Understanding that guests' needs had changed little since 1934, Mr. Kelley swiftly returned the restaurant chain to its roots, stressing the preparation of cooked-to-order food, served to guests with real china, glass and flatware. Menus were updated with melts, salads, and breakfast items. And to meet an ever-increasing demand, all Steak n Shake restaurants began to operate 24 hours a day, seven days a week.

Steak n Shake began growing again in 1990, sparked by the knowledge that a successful brand must evolve in order to prosper. By the time of Mr. Kelley's passing on July 4, 2003, the restaurant chain had more than doubled in size. Steak n Shake currently operates over 490 restaurants (54 of which are franchised) in 21 different states—a convincing testament to Mr. Kelley's drive, wisdom and business skills.
Training & Support

Product Development

- Steak n Shake has a pipeline of new products that build on core products consumers love. Recent innovations have included new Side-by-Side™ Milkshakes and Sippable Sundaes™. Future innovations will include more milkshake innovation, burger news, and health conscious offerings.

World Class Marketing

- The Steak n Shake marketing is directed toward building brand loyalty and is not price-driven or reliant on low price discounting. Steak n Shake's television and print marketing are product-benefit directed, showing why Steak n Shake is superior to fast food alternatives with a fun, irreverent, tongue-in-cheek humorous approach. Sample television spots are available on this website for your viewing pleasure. The Marketing System is user-friendly and designed for the success of Franchisees.

Unparalleled Operations Support

- A Steak n Shake Manager of Field Operations will help you open your restaurant and will be available for consultation with day-to-day operations. To help ensure a smooth restaurant opening experience, Steak n Shake will provide your first training hours via seasoned Steak n Shake trainers/staff. You will also receive our Operating Standards System, Manager-in-Training and Management Development Programs. Through your Manager of Field Operations, you will have the multi-functional resources of the Steak n Shake Company working on your behalf.
Why Steak N Shake?
Proven Concept

- Founded in Normal, Illinois in 1934, the Steak n Shake concept has withstood all types of economic circumstances and continually emerged stronger and stronger.

Growing

- Since 1996, Steak n Shake system-wide sales have grown from $268 million to $549 million. In the past decade, the chain has doubled in size.

Huge, Untapped Development Potential

- Steak n Shake currently operates over 490 restaurants in just 20 states. Looking ahead, we forecast that Steak n Shake has the potential to develop over 1,000 units nationwide.

Unique Niche Positioning

- There is no single offering that is a head-on alternative to our restaurant concept. Steak n Shake serves a distinct niche in the mid-scale, casual dining segment of the restaurant industry. Steak n Shake offers full-service dining areas, counter service and drive-thru windows. The food is freshly prepared, cooked to order in view of the guests and served to their tables by friendly wait staff. With an average check of $6.57 per person, Steak n Shake offers a superior value to competing casual dining and family-style concepts. Steak n Shake restaurants are open 24 hours a day, seven days a week, and serve breakfast during breakfast hours.

Core Products that Generate a Strong Loyal Following

- The core of the Steak n Shake menu includes STEAKBURGERS™, thin and crispy French Fries, Chili, and Hand-dipped Milk Shakes. It is not unusual to meet a guest at a new restaurant opening that has driven 50+ miles to visit "their closest Steak n Shake." These core products are consistently recognized as "best in class" by consumers.
Are You a Good Fit for Steak N Shake?
Basic requirements to be considered for an award of a Steak n Shake Franchise:

Successful multi-unit restaurant or retail operations experience

Net worth greater than $1.5 million

Liquid assets greater than $500,000

Ability to develop free standing restaurant

We require you to find an operating equity partner with successful multi-unit restaurant or retail experience before we complete a formal application, if you do not have the experience yourself.