Search Tools
Franchise Research
Snip-Its

Kids, Haircuts, Parties, and Other Things to Smile About




Overview
The Snip-its Franchise: a Cut Above the Rest.


Turn your entrepreneurial dreams into reality with Snip-its. Snip-its is the fastest-growing chain of children's hair salons in the country, and we are currently expanding throughout the US as part of an aggressive growth strategy. We are looking for savvy entrepreneurs who want to work hard, have fun, and take advantage of this great opportunity. Now is a great time to become a Snip-its franchisee. Thanks to our passionate franchisees, our strong brand affinity, and our outstanding support systems, Snip-its is the market leader in the children's sector of the hair care industry, and we have big plans for the future.
Products & Services
What Snip-its is All About


Snip-its is an innovative hair care and branded entertainment concept designed specifically for kids. With its colorful salons, custom cast of animated cartoon characters, interactive computer game Play Stations, the 'Magic Box' and a complete line of hair care products specially formulated just for kids, Snip-its has changed the dynamic of children's hairdressing, turning what has been considered a traditionally mundane and often unpleasant experience into a fun-filled, animated adventure.

Whether you come to Snip-its for a fantastic kids' hair cut, special event hair style, spa treat, fun birthday party, afternoon outing, to purchase our all natural line of fruity hair care shampoos, conditioners, and styling aids, or just to browse the cute games & toys or watch our Animated Show, Snip-its offers a safe, comfortable and entertaining environment that will make your visit Snip-tacular, all the more reasons to come back again and again.



Snip-its History


Back in 1993, Joanna Meiseles sought a hair salon that catered to her young children. But instead of a salon, she discovered a business opportunity. That's because at each hair salon she visited, she either found (1) stylists not wanting to deal with wiggling, squirming kids (2) suboptimal cleanliness standards, or (3) little or no originality in the design - a few books, crayons, a toy here and there or maybe a video (the same one your kid has probably watched a thousand times at home) - nothing innovative. Joanna knew there had to be a better way to crop kid's hair while entertaining, so that kids would be captivated rather than tearful, and parents would be fascinated rather than fearful.

Even before launching her first Snip-its salon in 1995, Meiseles knew she wanted to create a brand that would be synonymous with quality children's hair care, all surrounded within a welcoming and entertaining environment. Everything about Snip-its would be proprietary and wholesome: the Snip-its characters, the games and stories, the Magic Box that dispenses a prize in exchange for a swatch of hair at the end of a visit and an all natural line of hair care products specially formulated just for kids.

After two years of extensive research, planning, developing a cast of entertaining characters and creating the Magic that would become the essence of the concept, Joanna opened the first Snip-its salon in Framingham, Massachusetts to rave reviews. "We're turning what can sometimes be a challenging experience into a fun-filled, entertaining, family adventure," says Snip-its president and founder Joanna Meiseles. "The result is a hair salon no kid can resist and a business model enticing to prospective franchisees."

It's not too surprising that Meiseles finds entertainment to be the key to getting children through a haircut. Entertainment is in her roots. Meiseles, daughter of a Hollywood producer and granddaughter of the late comic Jack Benny, has thrown her show business heritage into creating a hair salon chain where the haircut is high theatre for young clients. Snip-its is haircuts, parties and lots of other things to smile about.
Training & Support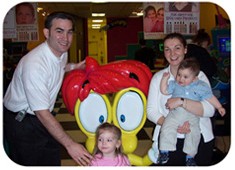 As a Snip-its franchisee, you will benefit from training programs that are designed with your success in mind. We have crafted our techniques, procedures, recommendations, and guidelines so that all of your efforts are aimed at pleasing customers and making money. We have a formula for success, and by following our training and operating manuals, you will reap the rewards.

Your training begins the day you sign your Snip-its Franchise Agreement and begin getting "Snip-ified" with your store development. From there, you will come to Massachusetts for our five-day Management Training Seminar. This intensive course covers everything from outstanding customer service to day-to-day operations, from learning the technology tools to actually working in our flagship salon. Our franchisees say the colleagues they go through training with remain some of their closest friends and business advocates. When you get ready to open your doors for business, the next phase of your training takes place at your salon. An operations expert and a hair stylist expert will spend two days before you open training your staff and two days after you open supporting your grand opening efforts. From then on, we'll offer ongoing support and training to keep you on the cutting edge of success.

Snip-its provides franchisees with a level of support that stands out in the hair care industry. As a Snip-its franchisee, you'll receive support, guidance, and comprehensive information from company experts who stand ready to assist you. You will have a dedicated Operations Consultant who will be your point of contact from the day you open your doors for business, but unlike other franchise systems, the Snip-its team of professionals all work in unison to give you the most value for your salon(s). Our marketing, development, financial, operations, and even executive-level personnel are all on your team providing the tools that can help you grow your business day in and day out.
Why Snip-Its?
Choosing to start your own business, whether franchised or not, is a big decision. At Snip-its, we want you to know exactly what you are buying into before you make the decision to become a franchisee. In fact, if you are not confident that you can be a successful Snip-its business owner, we want you NOT to pursue a Snip-its franchise.

However, if you choose Snip-its, we want you to feel confident that our franchise systems are robust and our support team has the experience and knowledge to ensure that our franchisees have the opportunity to invest in a highly successful business that will help you achieve your personal and professional goals.

Offering a simple franchise model with potential for great profits, Snip-its has developed an easy to follow, step by step guide to make your franchise experience a successful one, starting right now. According to Entrepreneur Magazine, "Franchising trends may come and go, but kids' specialty services remain constant." The Snip-its franchise program offers you the benefit of a brand with high consumer awareness, a service with strong demand, access to effective marketing programs, a dedicated operations support team, plus an outstanding system of operations to manage your business from anywhere in the world that you can get Internet access.

The hair care industry is estimated at over $40 billion, with the children's sector of the market estimated at $5 billion annually and growing...literally! There are over 40 million children in the US needing a haircut an average of eight times per year.
Are You a Good Fit for Snip-Its?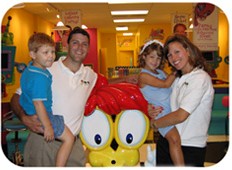 The following qualifications, among others, are essential in order to be considered for a Snip-its franchise:

A strong desire to succeed through operational excellence.
The capability and capacity to create and manage an organization that effectively recruits, trains, retains, and motivates people.
The ability to manage finances.
The ability to market Snip-its effectively.
US Citizen or resident alien.
The minimum requirements for a Snip-its franchise are $50K liquid assets and $250K net worth. We prefer higher amounts and take financial stability into serious consideration when reviewing franchisee qualifications. A one-time $25,000 initial franchise fee is charged for your first unit. In your first year of operations, you will pay a royalty fee equal to 5% of your gross receipts. After your first year, the royalty fee will increase to 6% and remain at 6% thereafter. You do not need previous hair salon experience. In fact, we prefer management, general business, or marketing experience to hair care experience. Many Snip-its franchisees are first-time business owners. A passion for the brand, commitment to excellence, desire to succeed, and willingness to learn are all you need to be a successful Snip-its franchisee.