Search Tools
Franchise Research
Snappy Auctions

Drop Off Your Stuff and We'll Sell it on Ebay




Overview
The Snappy Auctions story has been featured on CNN, CBS, NBC and Good Morning America. Publications including the New York Times, Time Magazine, Investors Business Daily, American Business Journal, Entrepreneur Magazine, have also featured Snappy Auctions as well as countless newspapers across the country.

Our founder, Debbie Gordon, was the owner of a successful technology-consulting firm, when she began selling things on eBay as a hobby. An entrepreneur by nature, she realized that there was a lot more to selling on eBay than most people expected. She also realized that this meant a lot more opportunity.

Not long after, friends and family began asking her to sell their "stuff" for them. They knew they could do it themselves, but they didn't want to fool with it. Interestingly, these people ranged from the young to the elderly and the computer illiterate to the technically savvy. Debbie quickly discovered that there were many people who had stuff to sell, but they didn't have the time, the technical ability or the desire to do it themselves.

In late 2002, Debbie began building the business plan for Snappy Auctions. She recruited experienced veterans of business development, top software consultants, marketing experts, legal counsel and others to help formulate a valuable business model.

She presented her idea to eBay, and they liked the Snappy Auctions plan and offered their continued support for the company. By October 2003, less than a year after she created the Snappy Auctions concept, the first store opened in Nashville, Tennessee. It was an immediate success. As a result, Snappy Auctions has quickly expanded across the United States and is working to help other people leverage an opportunity that has proven successful.

Snappy Auctions continues to differentiate itself in the industry by offering additional business development tools like S3, the business-to-business division, which allows franchise partners to generate sales on higher dollar items in the business and industrial sector through a structured outside sales approach.
Products & Services
There are different selling strategies for all types of items. Snappy Auctions will recommend the best way to price your auction which can statistically allow your item to sell for the best price. As part of our service to you, we will show you specific details on which we base our recommendation so you can understand how it works.



Snappy Auctions Services Include:



Pricing/Value Analysis

Complete descriptions with keyword strategies

Professional Digital Photography and editing

Responding to all inquiries and questions for all items

Electronic Invoicing to buyers

Payment processing including Credit Card Payments

Professional Packing of items

FedEX Insured shipping and tracking
Training & Support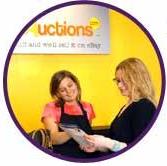 Site Selection


The location of a Snappy Auctions franchise is a major factor in its success. We will assist you with site identification and assessment, as well as offer guidance on lease negotiations to help you receive fair terms.



Design Assistance


Once your location has been selected and approved, we will provide a layout for your store. This is based on models that we use at other Snappy Auctions stores and the guidelines set forth in your lease, signage requirements and limitations outlined by your municipality and landlord.



Business Management Training


From the time your franchise agreement is signed, you will begin learning how to effectively run your business. We start with general business management components and continue with comprehensive, hands-on training at our corporate training center in Nashville, Tennessee.



Hands-On Employee Training


Our training and support is one of the most important parts of our franchise program. This allows your business to get up and running most efficiently. Training is provided for two employees at our Nashville headquarters when you become a franchise partner.



Proprietary Software, Licensing and Support


Snappy Auctions has designed unique software, Snappy Sales Manager, that integrates all critical front and back-office components of Snappy Auctions business. This proprietary system combines customer relationship management and eBay integration software. It allows you to use one main system for your business which helps you minimize tasks and maximize your ability to focus on your customers. Snappy Sales Manager allows for control, reporting and the highest customer service possible.

Store Opening Support
Snappy Auctions will be with you every step of the way to assist you with the elements needed for a flawless store opening. This includes providing training for staff, public relations support and advertising guidance.



The Benefits Continue


As you get more acquainted with Snappy Auctions, you will see that the benefits we offer go far above and beyond this list. They are about being part of a successful, enthusiastic, and growing organization. With a limitless market, Snappy Auctions provides an opportunity for growth, learning, personal fulfillment, and ultimate success.



S3 Sales Force Development & Training


To prepare you, or your outside sales person, to become an expert in the explosive business to business sales opportunities on eBay, Snappy Auctions teaches sales techniques and provides tools to help you sell high-dollar business and industrial equipment. Snappy Auctions will provide you and your sales staff with additional tools and training geared towards business-to-business sales. Business customers require a different approach, so the S3 approach has been custom-developed to attract and retain business relationships.



Marketing, Advertising and Public Relations


Using proven strategies and techniques we help you get the most "bang for your buck." Snappy Auctions has a well-developed marketing, advertising and public relations support system that enables you to capitalize on a proven brand. We leverage local media, eye-catching advertising, effective partnerships and guerilla marketing programs to generate customer excitement and grassroots buzz. Our overarching goal is for you to become a community eBay expert and to increase visibility and walk-in traffic.



Industry Education and Updates


Snappy Auctions provides constant communication with our franchise partners in order to keep everyone ahead of industry trends and growth opportunities. Our strong relationship with eBay provides valuable access and insight into potential changes and market intelligence that may affect our business.



Additional Training


Should you hire additional employees, change management or just need rejuvenation for your business, we provide remote or on-site consulting and training to ensure smooth transitions.



Weekly Conference Calls


Conference Calls provide an open forum with an agenda that is generated by franchise owners. Our business model and values are designed to foster collaboration between franchise partners and corporate employees through open and frequent communications. It is important that we know how we all are doing, beyond just the numbers. This means exchanging challenges, successes, best practices, new ideas and suggestions.



Customer Service


In a Snappy Auctions store, our customers are the foundation of our success. As a franchise organization, we apply the same values to our franchise partners as we do to the customers in our stores. We will continue to build our model for success, first and foremost, with you in mind as our customer. Snappy Auctions customers are loyal and generate added business via word-of-mouth referrals, and we provide franchisees with effective retention and referral tools.
Why Snappy Auctions?
Snappy Auctions is a new type of business that incorporates the traditional consignment concept with the 21st-century marketing and buying power of the Internet. Consignment has been around for decades. Our business capitalizes on the consignment model by presenting customers a concept that is new: eBay and online sales. By adding a robust technology infrastructure and logistics system, two proven sales concepts are successfully melded together: eBay and consignment.

In just a short time, the Snappy Auctions business model has leveraged the components of virtually any successful company and has applied them to our franchise development plan. These include:

Proven and definable market

Excellent customer service

Established systems

Efficient operations

Growth potential

Filling a real consumer need

Partnering with employees and franchisees

You can become a part of this growing market by joining the Snappy Auctions franchise team. Products of all kinds sell through Snappy Auctions on eBay. There are currently more than 45,000 merchandise categories on eBay (10 of which generate more than $1 billion in sales annually). Our operating systems enable our franchise partners to help their customers get the most money for their items from the vast network of eBay buyers. In addition to tapping into the traditional individual eBay buyer's market, Snappy Auctions has launched a new division called Snappy Sales Solutions (S3), which targets the $1.1 billion business and industrial sector on eBay.

About S3: In today's marketplace many businesses have a similar challenge – idle assets or excess inventory that continues to lose value. Snappy Auctions has developed Snappy Sales Solutions (S3) as a separate marketing and branding tool to target businesses with unproductive or depreciating assets and aid them in efficiently liquidating items and helping the bottom line. Almost anything can be sold: capital equipment, machinery, general equipment and technology, overstocks, returns or outdated items. Based on recent data, eBay's selling prices average 4 to 6 times higher than traditional liquidation services, and items can be sold in 10 days, making S3 a very valuable tool for the Snappy Auctions franchise partner.
Are You a Good Fit for Snappy Auctions?
Owning your own business


Whether you have owned your own business before or you are a first-time entrepreneur, you probably have a good idea of the challenges and rewards of business ownership. One of the most important things to know about us is that we understand the complex issues that you will encounter. We have organized Snappy Auctions to help you better face and more quickly overcome the challenges of business ownership. It is through this approach that we hope to help you enjoy its rewards as soon as possible.



Choosing a franchise that's right for you


More likely than not, you are looking at other franchise opportunities. We understand and encourage this. It is extremely important that you find the right opportunity for you.

The response to Snappy Auctions has been remarkable, and there are a number of individuals and companies striving for a Snappy Auctions franchise. We are looking for qualified people who share the mission and vision of Snappy Auctions and want the opportunity to join a growing dynamic organization.

We require certain characteristics from people who join our team: Integrity. Commitment. Financial stability. Quality driven. Responsiveness. Professionalism. A dedication to customer service. Last but not least, we are looking for people whose entrepreneurial spirit will thrive in the Snappy Auctions culture. All of this is blended with our desire to have fun… to enjoy what we are doing. We set about doing business in this way because we believe that our lives shouldn't be work, but that work should enhance our lives.