Search Tools
Franchise Research
Pizza Fusion

Fresh, Organic, Earth Friendly



Business Type
Franchise
Min Liquid Capital
$100,000
$100,000
*
Total Investment
$214,800 to $409,500
Required Net Worth
$300,000
* For Current Info See:
Franchise Disclosure Document

Overview
Pizza Fusion was born in February of 2006 out of the (not so) genius minds of Michael Gordon and Vaughan Lazar. Weeks prior to Lazar getting married, the two college mates began brainstorming how they could do something different that would not only that would spark their creative juices, but start a business that would make a difference in people's lives. After a few meetings and several "not so genius ideas" later, Pizza Fusion was born. They realized that there was a huge void in the restaurant sector that allowed people to eat "fast food" Organically and Naturally. Yes, it was simple to go to the nearest Whole Foods or Wild Oats, but where could you go and grab this type of food on the run... or better yet, have it delivered to your door!

The founders of Pizza Fusion were committed to the integrity of this entire concept. They agreed early on that if it doesn't feel right, then don't do it. They lived by the mantra that "All Things Happen for a Reason". That leads us to where we are today... back in August of 2006, Randy Romano walked into the first Pizza Fusion store in Deerfield Beach to see what all the buzz was about. The second he walked into the store and tried the pizza, he wondered why this idea wasn't in every town across the globe. You see, Randy's background is in franchising awesome ideas like Pizza Fusion. He went home and pulled up this very website to see if it was a franchise and the second he saw that it was just lil ole Deerfield store only, his entrepreneurial fire started burning. Ironically, what Romano didn't know was that his soon-to-be Son in-law, was Vaughan's childhood friend. A call was made, a meeting was had... the rest is history, or soon to be history! And now Romano, Gordon and Lazar are determined to bring their recipes of delicious, Organic and all-natural food right to YOUR door!
Products & Services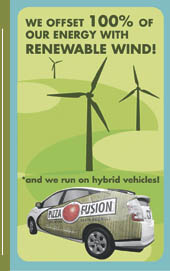 Even though Gordon and Lazar felt that by providing the public with Organic and all-natural pizzas, salads, sandwiches, wines and beer was an awesome idea... it still wasn't complete. What good would they be doing this fragile earth if they had followed the same practice of allowing their food delivered in a broken-down car. They took their concept into a whole new world... they decided that they would buy their OWN delivery cars, and not just any cars... HYBRIDS! All of Pizza Fusion's delicious food is delivered in their company owned, Hybrid delivery vessels. With gas-prices reaching all-time highs and the low impact that these cars have on the environment, it seemed like the only way to go!

So Fresh, Delicious, All-Natural and Organic food delivered in only Hybrid delivery vessels sounds like all the bases were covered... not for Gordon and Lazar. They made it their mission to care not only about the quality of food, the quality of the environment, but realized that one last piece was missing... the quality of their work environment. Michael and Vaughan wanted the culture and dynamic of the Fusion Family to be treated as carefully as the food and the environment. They opted to offer all employees working more than 20 hours a week to have Health Insurance and even have secured deals for their employees at local fitness centers. They realized that maintaing a healthy workplace not only made sense, it was the key to their business. Great employees and great food would prove to be the makings of success.

Our delicious pizza sauce is made fresh every morning using only 100% Certified Organic Ingredients: the tomatoes, the sugar, all of our "Secret" herbs & spices as well as our olive oil! We are proud to use Christina's Organic Tomatoes, Florida Crystal's Organic Sugar(milled from the ONLY Organic Sugar Farmin the U.S.) and Spectrum Organic Olive Oil to make our sauce for you, your children and your loved ones.



Our Dough


Our pizza dough is made from the finest "00" all-natural flour, imported from Naples Italy. And we take pride in only combining with 100% Organic Ingredients. Our Multi-Grain "Healthy Crust" is made with Certified Organic flour and ingredients. Dough is allowed ample time to proof, giving it true flavor.



Our Vegetables


All of the vegetables we use for our Pizzas & Sandwiches are 100% CERTIFIED organic*. However, there are times when certain organic items become available due to weather problems which can affect farming. In the event that we replace an item with conventional produce, we will CLEARLY note these items on our "Specials board". Our mission is to uphold the highest level of integrity in your food. Your health is our #1 priority.



Our Salads


We are proud to use both Newman's Own Organics and Earthbound Farms Spring Mix and Baby Spinach in all of our salads. These two companies are THEE leading farms for organic salads and haved paved the way for organic eating. All of our dressings come from our friends at Annie's Naturals.



Our Meats and Poultry


We are proud to use only all-natural meats from Applegate Farms. All of our select cuts of deli meats are free of any nitrates, antibiotics or chemical preservatives.

Our NY Strip and Ground Beef from Grateful Harvest is 100% CERTIFIED ORGANIC and is free of any hormones, pesticides, antibiotics and insecticides. It is fed a diet of 100% Organic feed and roam freely in their natural environment.

We use all-natural, free-range chicken for our pizzas and salads.
Training & Support
After putting together the "super-group" of industry leaders and consultants, the founders of Pizza Fusion have developed and launched the first Pizza Fusion® store in 2006. As a franchise owner, you can feel confident knowing Pizza Fusion® is a solid, proven business system that's backed by years of industry experience. Plus, you'll receive corporate support every step of the way. From helping you find the ideal location to providing support for your Grand Opening (and everything that follows), you're assured of an ongoing partnership.

You will also receive:

Marketing Support - including professional advertising materials

Comprehensive Training - at our corporate locations and your site

Custom Business Software - designed to support the day-to-day needs of our stores

Third Party Financing Options
Why Pizza Fusion?
The Organic food sector is the fastest growing market in the industry. The sale of Organic foods in the United States was up 13% in 2006 accounting for a staggering $13.8 Billion in revenue. When our organic niche paired with America's favorite food, you have the makings for success.
Are You a Good Fit for Pizza Fusion?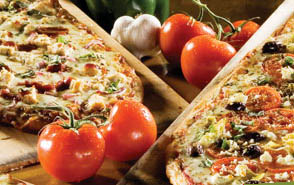 Qualities we are looking for:

Customer service focused

Genuine commitment to creating a quality product

Single & multi-unit operators

Individuals seeking to own and operate a business

Previous business or food experience a plus, but not required.