Search Tools
Franchise Research
Pilates Joe

Position Yourself




Overview
Pilates Joe is a Pilates exercise and fitness franchise that offers Pilates instruction that is realistic: we promise to give each client the best and closest ideal body for them by providing excellent Pilates instructors who motivate them to stick with a consistent Pilates workout program. Pilates exercise is for real people with real bodies. We guarantee that our Pilates training, done in conjunction with healthy eating and exercise, will make you feel better and improve your appearance to its fullest potential. That is the benefit of Pilates.



Our Story


Back in 1995, Mike Duffy was living in Chicago and suffered the terrible loss of his wife due to breast cancer. Supporting her struggle and eventual defeat by this disease was mentally draining for Mike. After her passing, the process of trying to cope with being a single father, breadwinner, and recent widower, proved to be too much for him to handle on his own - something in his life was about to implode. Turns out, it was his health. Mike was not eating healthy, not getting any exercise, gained over 20 pounds and had debilitating back pain. In short, Mike was a physical and emotional train wreck. Then he met someone who could get him back on track. A mutual friend introduced Mike to Joey Greco. Joey is a renowned Pilates Instructor who was fortunate enough to be one of the select few trained by a living protégée of creator Joseph Pilates. Nine months later, after many visits to Joey's Pilates Studio, Mike's physical and emotional well being was drastically improving every week. He lost the extra weight. He felt great. Mike even joked with Joey that they should sell videotapes of their training sessions so that others could get the same benefit he received from the classical way Joey taught Pilates. Joey would laugh and shake his head as he explained that trying Pilates on your own at home with a videotape doesn't work because in order to get the benefits of Pilates, you have to perform the movement correctly, which requires live supervision. Mike knew the public would go wild over Joey's training methods, if only he could find a way to clone Joey. But as with all great stories, they came to a fork in the road. Mike had to move to San Diego and Joey decided to move to Arizona. Maybe a joint business venture wasn't meant to be?Fast forward eight years and Mike's life was back on track and Pilates was an integral part of it.

Mike ran an international CPA test preparation company utilizing prerecorded lessons on videotape, while live local instructors roamed the class assisting students. This allowed for consistent, superior lessons with the benefit of one-on-one counseling. It was at this same company that Mike met another CPA, Steve Goldstein. Steve couldn't help but be infused with Mike's enthusiasm for Pilates and impressed by how much it had improved Mike's life. In the spring of 2003, Mike and Steve went to check out a new fitness studio that had opened only two miles from Mike's house. When they walked through the door, they were shocked to see who was standing there - Joey!

Once Mike and Steve approached Joey, the three partners were struck by an idea, as if by lightning - let's revolutionize the Pilates industry. Mike and Steve left their jobs and using their over 50 years of media assisted training experience, along with the prestige of Joey Greco's classical instruction, they launched Pilates Joe. The immediate excitement from the community about their first studio in Scottsdale, Arizona was proof that the Pilates Joe system of training was exactly what people looking to get in shape had been craving for years. In short, a better, faster, more effective method of improving their fitness. Double the instructors. Double the results. A month's worth of training at the cost of an hour. The Pilates industry will never be the same!
Products & Services
Joey Greco, founder of Pilates Joe, and master Pilates instructor, is one of the country's most sought after Pilates instructors. Joey's background includes years of training at the renowned Dragos Gym in New York City. With over 33,000 hours of private training, including teaching power Pilates to top professional athletes, Joey will show you the way to muscle definition, flexibility, and physical conditioning in a safe and effective classroom style Pilates supreme program. Pilates exercise machines not necessary to gain the full benefits of a Pilates exercise session.



What makes Pilates Joe's workout special?


PJ has solved a perplexing issue. How can a trainer perform the exercise and at the same time observe the students while they are following the instruction to make sure they are performing the movements correctly? At Pilates Joe you will be watching and listening to world renown Joey Greco working with his students. While you follow the action, performing the Pilates exercise moves along with Joey, you will be observed and corrected by your local Pilates instructor. "It works", and while it allows you to learn to do the exercises correctly, it allows us to price the Pilates instruction at rates that are incredibly reasonable.



Consider the unbelievable results from Pilates Joe Mat Programs:



SO FAST - that in weeks you'll begin to see your body change and feel great

SO POWERFUL - that it takes only 50 minutes 3 times a week in a fun classroom environment

SO AFFORDABLE - that you will receive a minimum of 12 monthly classes for the typical price of one individual lesson

SO EFFECTIVE - that those trouble spots will melt away and reveal the real you
Training & Support
Initial Benefits





Comprehensive Initial Training


Every franchisee attends Pilates Joe's hands-on, start-up training in beautiful San Diego, CA. There, your training will cover every aspect of Pilates Joe business management. Our expert trainers will show you how to open and manage a successful Pilates Joe Studio, to market to your local community, and to build your business, all in a comprehensive, very intense initial training program. The capstone to your start-up training is onsite training with our trainers at your studio. You'll gain real world experience as a Pilates Joe franchise trainer helps you interview your first pilates instructors, start your local marketing campaign and sign-up your first new studio members.



Pilates Joe Jumpstart Program


Pilates Joe's one-of-a-kind Jumpstart program is the primary reason Pilates Joe franchisees get off to a fast start in the industry. The Jumpstart is a pre-training program that holds your hand through every detail of your new studio's start-up. But most importantly, it ensures that once you return from training, you'll be ready to grow your studio quickly.



Marketing Assistance


All of our franchisees are trained in Pilates Joe's proven marketing approach and given access to our industry leading marketing collateral. Our marketing recipe is simple; we arm you with the best marketing materials, the best marketing plan, the best marketing training and the best customer service model to back it all up. During training, you'll gain an expert level understanding of traditional advertising like print advertising and direct mail, as well as a deeper understanding of using the internet and referrals to market like no one else in the industry.



Business and Health Insurance


Making the leap into business ownership is an exciting, sometimes overwhelming time. Knowing insurance is a big concern to both your family and your business, Pilates Joe has researched the insurance industry on your behalf. The result is a program that gives you piece of mind.



You'll also receive:



Manuals

(Operations, Marketing, Training, Sales, Grand Opening)

Employee Hiring Packet

Computer Software

Exclusive Territories

Name, Trademark, Logos

Industry Leading Support



Ongoing Benefits





Expert Support Hotline


Our Corporate Support Center gives our franchisees direct access to experts in every aspect of a Pilates Joe franchise. Whether you're calling for marketing advice or you need help with your growing member database, our experts give you easy access to the answers you need when you need them.



Preferred Vendor Savings


All of our franchisees enjoy the savings provided by our preferred vendor discount programs. Because the corporate office represents businesses from coast-to-coast, we can negotiate volume discounts with our approved vendors. Then, we pass down these considerable discounts to our franchisees. This provides our locations with top-notch products for a fraction of the price.



Marketing Support


Professional suite of proven marketing and advertising collateral to insure you stand out from any local competition. The marketing catalogue includes:



Web Marketing



Flyers, Brochures, and Door Hangars

National PR Campaigns

Search Engine Optimization

Radio and TV Spots

Local Publicity Releases

Billboards

Newspaper and Periodical Copy

Ad Specialty Items

Sales Scripts and Presentations

Periodical and Coupon Copy
You'll also receive:
National Training Conferences

National Lead Program

Administrative Backup and Support

Informational Bulletin Boards

Website Optimization

Ongoing Training Seminars

Monthly Newsletter

Local/National Public Relations

Research and Development

into New Products
Why Pilates Joe?
Are you looking for an Industry in which to start a business? Look no further. The US fitness industry had revenues of $15.9 billion in 2005 and the SGMA survey said Pilates was one of the fastest growing segments of the fitness industry. It also cited Pilates as having the greatest growth potential in the coming year.

The exciting aspect of the Pilates Industry is that while it was developed over 80 years ago, we have just begun to see its exploding growth in the US. Pilates Joe has tapped into this potential and its' revolutionary workout system stands to change the fitness industry forever. Pilates Joe has solved the instructional dilemma that has plagued the Pilates and fitness industry since its beginning.

Every Pilates Joe class has a live, certified Pilates trainer assisting and guiding students while the class follows video instruction on several high-quality, wide screens from renowned Pilates Instructor Joey Greco.

The result is that students get the hands-on guidance and attention they need to correctly perform the movements and maximize their workout gains. They also get to learn from one of the industry's most dynamic instructors in a fun, group setting. And best of all, they can receive a month's worth of this innovative Pilates instruction for the cost of one hour of traditional one-on-one Pilates training. Double the instructors. Double the results. Watch your business grow.
Are You a Good Fit for Pilates Joe?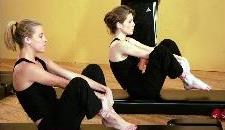 The success of any franchised system lies in the "win-win" partnering of a proven system and a qualified candidate. Pilates Joe is proud to have taken this "win-win" partnering to another level with its strategic alliance with the Upside Group, Inc. Upside Group, Inc. is one of the world's foremost franchise consultancies, known throughout the industry for proactively seeking out franchises that offer markedly superior products or services within rapidly expanding industries. With over 50 years of franchise experience, Upside Group has helped create franchising leaders in various industries. With Upside's development expertise and Pilates Joe's proven business model, there's no doubt we have all of the ingredients for a win-win scenario for the right franchisee; one who wants our help, appreciates our system, and shares our vision. We are looking for candidates who have:

A strong work ethic

A proven history of accomplishment

A commitment to customer service and helping others

An entrepreneurial vision