Search Tools
Franchise Research
Piggaso's Barbeque

Almost World Famous Bar-Be-Que



Business Type
Franchise
Total Investment
$150,000 to $300,000
Number of Units
4
In Business Since
1959
* For Current Info See:
Franchise Disclosure Document

Overview
The development of a solid opportunity in business is in many ways similar to the creation of a great work of art. It requires vision, imagination, planning, hard work, technique, discipline and motivation. We would like to introduce to you Piggaso's Barbeque, a concept build upon the art of barbeque.

Our vision was to create a restaurant that served the finest traditional barbeque along with other popular items such as chicken fingers, chicken wings and hamburgers. Next, we blended in high demand side items to help increase sales. Next, this menu was merged with modern cooking methods and fast service. This process combined the best of the old with the best of the new to meet the demands of the contemporary marketplace.

In order to realize this vision, we used our imagination every step of the way — from designing our popular, innovative menu to the creation of highly efficient food preparation techniques to the introduction of responsive customer service procedures. In essence, we transformed the old stereotypical barbeque shack into a clean, inviting, modern quick-service restaurant. We also included a proven catering system to help you to increase your profits.

This franchise program has been carefully crafted to give you the greatest likelihood of success. We thoroughly examined every angle in the process of developing a workable and profitable program for Piggaso's Barbeque Franchise Owners. For example, if you properly apply the Piggaso's Barbeque menu and food preparation techniques, you will enjoy very little food waste.

The creation of the concept is only the first step; the best concept in the world is useless if it is not implemented properly. The professionals at Piggaso's Barbeque have tested and refined our approach through years of hard work and operational experience.
Products & Services
If you are one of those people who, for some strange reason just do not enjoy barbeque (we do pity you). Then you're at the right place too! Our hot wings and chicken fingers are second to none and our homemade specialty sauces will make your taste buds explode in delight. (we are not liable for exploding taste buds). Also if your mouth watering main dish needs a companion then fix them up with a couple of our many side dishes like fries, onion rings, brunswick stew , the list goes on and on.

Here at Pigasso's Barbeque we slow cook only the freshest meats, which we cook on the premises daily. Every ounce of Pigasso's succulent barbeque is visually inspected and trimmed of fat so every bite is lean and absolutely delicious. I am sure you are wondering about our barbeque sauces too. Well, it doesn't matter if your from the shores of Maine to the swamps of alligator alley, we have a sauce right for you. From our spicy vinegar base to our tangy mustard base and our nearly fifty year old recipe for our almost world famous tomato barbeque sauce you will surely find one to your liking.

You should be on your way to one of our convenient locations to satisfy your craving for some of the best barbeque on the planet!
Training & Support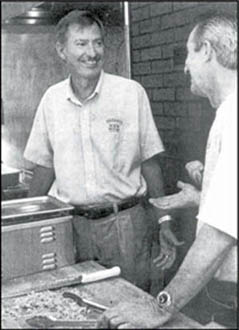 We have created a complete service program to assist all Piggaso's Barbeque Franchise Owners in launching and running their locations smoothly and profitably:



Exclusive Territory:

You will receive your own large exclusive territory in which to build your business. Each territory is individually designed to afford the greatest likelihood of success.



Site Selection:

The Piggaso's Barbeque site selection program was specifically developed to identify cost effective locations, greatly reducing the huge real estate expense normally associated with fast food franchises. Lease Negotiation: You will be given complete guidelines for negotiating your lease to obtain the most advantageous terms. We will also examine your lease for potential hidden costs and expenses.



Design & Construction:

We will help you design your Piggaso's Barbeque restaurant for maximum appeal and efficiency. We will also teach you how to hire and work with a contractor, should the services of one prove necessary.



Operations Manuals:

Our two-volume set of Operations Manuals will serve as quick and easy reference guides, covering all facets of opening and running a successful Piggaso's Barbeque restaurant.



Customer Relations:

We know how to satisfy our customers and keep them coming back for more. We will teach you our proven customer service techniques. Grand Opening Marketing Campaigns: These campaigns will help you launch your business successfully, develop name recognition in your community and generate immediate sales.



Inventory Programs:

With the Piggaso's Barbeque menu and simplified operating procedures, managing your inventory becomes an easy task.



Training:

Our complete initial training program will teach you, your managers and staff everything needed to open and operate successfully. This training includes both classroom and on-the-job settings. We also offer a number of on-going training programs.



Marketing Campaigns:

We have created effective, yet inexpensive marketing programs and materials that will help you generate sales and build your customer base.



Personnel:

A good team is a requirement for success in the restaurant industry. We will show you how to recruit, hire, train and motivate your staff.



Equipment & Supplies:

We have put together complete packages of every item you will need to open your restaurant, as well as sources for obtaining these items at fair prices.



Business Management:

Our efficient procedures and management system will allow you to administer your financial, human and other resources with a minimum of effort.



Strategic Planning Meetings:

Periodically, we conduct meetings so we can share ideas, introduce new procedures, menu items and marketing programs and discuss issues of interest to the Piggaso's Barbeque network of Franchise Owners.



Field Support:

Our professional, thoroughly knowledgeable field representatives will pay regular visits to your location. They will work with you as your own business consultants to help you operate your franchise at peak productivity.



And Much More!
Why Piggaso's Barbeque?
Menu of America's favorite dishes

Fast, Convenient Service

Tradition of old fashioned quality and value

A clean environment

Catering as an additional profit center

Tested and proven concept

Healthier cooking techniques

Popular with all ages and demographics

A fixture in the communities we serve

A franchise management team with almost a century of combined experience

Proven Systems and procedures

A relatively modest initial investment for a restaurant

The potential for a handsome return on your investment

A concept with very little food waste and reasonable food costs

A concept that works well in a smaller, medium and larger markets

A family operated business

A flexible site selection program, allowing you to save thousands of dollars on your real estate costs

A people oriented career

A franchiser dedicated to your success

A business you can be proud to own
Are You a Good Fit for Piggaso's Barbeque?
This opportunity is certainly not for everyone. Our business requires a great deal of hard work and dedication. It is not a nine-to-five job.

A well-run restaurant does not happen by accident or good luck. Through experience, we have created the best possible food product and developed all the systems and procedures necessary to properly service our customers. As a Piggaso's Barbeque Franchise Owner, you will have exclusive access to our successful concept and proven methodology.

In analyzing whether this opportunity is the right one for you, it is wise to ask yourself some questions:

Are you the kind of person who is not afraid to work hard for your own success?

Are you looking for a ground floor opportunity that allows you plenty of potential for growth?

Do you enjoy working with people and making them happy?

Does the thought of a varied, fast-paced workday invigorate you?

Are you interested in owning a business that challenges you to do your very best?

Do you want to own a business in which you can take great pride?

Do you want to make money?

If you can sincerely answer these questions "yes", you may have what it takes to own a Piggaso's Barbeque franchise.