Search Tools
Franchise Research
Personalized Management Assoc.

The Best Executive Search Franchise



Business Type
Franchise
Min Liquid Capital
$40,000
$40,000
*
to $55,000
Number of Units
5
In Business Since
1984
* For Current Info See:
Franchise Disclosure Document

Overview
We are very excited about our niche. We service restaurant, hospitality and retail managers from branch level through vice president. Even though nothing is recession proof, our niche is extremely recession resistant. The Food Service Industry alone has become the nation's largest private employer, providing incomes to 11.3 million people. That's 8% of the US work force, second only to local and state governments. According to the National Restaurant Association, the restaurant-hospitality industry will be adding 3.8 million people by 2011.

Retail is equally exciting with 85% of all corporate recruiters surveyed reported using recruiting firms to find management personnel. There are only a handful of recruiting chains that handle these huge industries nationwide.

While no one can guarantee your success in this or any other business, our industry is strong, our niche is booming, and our systems and support breed success. We embrace the future with pride in our past, with Integrity being the foundation upon which our values have been built, and the confidence that through our franchising opportunities, we have created the vehicle in which men and women of destiny have the ability to reach their dreams.
Products & Services
PMA is a business offering recruiting and placement services of full-time management personnel in the restaurant, retail and service industries. We are very excited about these industries because they are very "Recession Resistant" with a continued demand for talent. PMA places management position's from the Store Level such as Assistant and General Manager and continuing through Corporate Office level openings.
Training & Support
The mutually beneficial relationship that exists between franchisors and franchisees makes franchising unique in the world of business. It provides entrepreneurs with an affordable means of accelerating expansion, achieving development goals more quickly than might otherwise be the case and with far less risk. Similarly, franchisees have a head start because of the support provided by the franchise system. Franchising is, literally, being in business for yourself but not by yourself. Whether it's accounting and financing, advertising and public relations, personnel management, purchasing or inventory control, franchisors are there to provide "hands on," one-to-one assistance. While franchising does provide opportunities, it does not create miracles. Franchisees combine knowledge and resources with entrepreneurial drive and spirit to form a business relationship unique to franchising. Franchising is a field of expanding economic opportunity in which each and every person can play a part based on talent, initiative, and dedication.

One of the reasons that many franchises have been so successful is that, in franchising, a business synergy is created. Franchisees brought together under one trademark can achieve things that as individual business people they could not do. Group advertising, buying power and the sharing of ideas are some examples of what can happen.
Why Personalized Management Assoc.?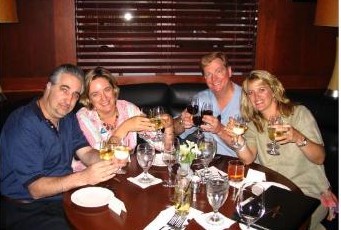 Today more than ever, Restaurant and Retail Companies need managers and they can't always find them on their own. The combination of new job creation and high employee turnover has created a huge demand for highly qualified talent. This demand can no longer be met through traditional avenues such as promotion from within, employee referrals, advertising, job fairs, or even through the internet. With lean Human Resource staffs, companies are increasingly outsourcing their recruiting needs. These two industries are also incredibly "Recession Resistant." In a down or recessed economy, restaurant and retail companies look to hire stronger managers with profit and loss skills than the ones they have. They upgrade their weaker managers with the new stronger ones. These stronger, better skilled managers turn the profit that pulls the company through the recession.

With a stronger, growth economy, companies are growing and adding units. They need managers to facilitate this expansion. In either economic situation, demand is generated for the services of Personalized Management Associates. Restaurant industry sales are expected to jump 4.4 percent to $440.1 billion, according to the National Restaurant Association. That's 4% of the nation's gross domestic product. The annual sales forecast averages out to about $1.2 billion per day. Each $1 million in sales for the restaurant industry generates an additional 40 jobs for the economy as a whole. The Food Service Industry has become the nation's largest private employer providing incomes to 12 million people or 9 percent of the U.S. workforce. The National Restaurant Association predicts that the industry will employ 13.5 million people by 2014. By the year 2008, there will be approximately 3,850,000 Hospitality jobs available in the United States. You never hear about layoffs in the Food Service Industry.
Are You a Good Fit for Personalized Management Assoc.?
Can I do It by Myself?


You can try, but the odds of success are against you.

"Success" is a subjective term. A Gallup Organization study on franchise owner's and attitudes towards their franchise experience revealed that more than nine of ten franchise owners stated that they considered their franchise to be somewhat or very successful. Two of three respondents said that they would not have been successful if they tried to open the same business on their own. The franchising system is designed to provide a formula for operating a successful business. Unavoidable business mistakes have been worked out of the system through experience and the franchisor is available to assist when new challenges arise. The Small Business Administration says most businesses fail from lack of management skills. With a franchised business, your franchisor should be eager to help you overcome problems. Your hard work and the franchisor's expertise spell a strong partnership.