Search Tools
Franchise Research
NerdsToGo

Great People, Great Service.




Overview
If you have the entrepreneurial spirit to grow an equity business that provides financial rewards for you and your family, NerdsToGo wants to hear from you. NerdsToGo addresses the needs of the large and rapidly growing market of residential computer users and small businesses – over 250 Million Residential Computer Users and over 20 Million Small Business Computer Users. We quite simply remedy the pain that millions of people suffer daily with what they find to be highly complicated. We solve their aggravating, stressful, time-consuming and therefore costly computer problems, by sending a competent, courteous, clean and considerate "Nerd" to their home or small business to quickly solve their computer problems.
Products & Services

NerdsToGo provides In-home Computer Services for Residential Computer Users and On-site Technology Based Solutions for Small Businesses through its network of franchise businesses. Our franchisees provide benefits to our clients by alleviating our client's computer and technology frustrations, improving our client's productivity and enabling our clients with technology to enhance their lives.

NerdsToGo currently delivers service across the United States and is expanding in new areas on a regular basis. Our goal is to be the World Leader in providing computer services and technology based solutions. Our Clients, Franchisees and Employees are our most important asset and we continually strive to exceed their expectations as we strive to be the leader in the industry.

NerdsToGo believes our franchisees are attracted to our franchise opportunity because of our Code of Values, our Commitment to People, and… our Name Brand Recognition, our Years of Success in the Computer Services Business, our Proven Systems to Launch their Business Successfully, our Extensive Training, our Ongoing Operational Support, our Centralized Call Center, our Marketing and Public Relations Department, and our commitment to their success.
Training & Support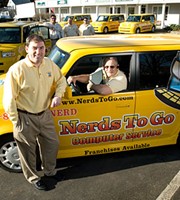 Upon becoming a NerdsToGo franchisee, you will spend one-week in classroom training with our knowledgeable team at our World Headquarters in Guilford, Connecticut followed up by six to seven weeks in business start-up training. Your business coach will walk you through all the processes necessary to putting financial, marketing, management, and specialized customer service strategies to work for your business and get your phone ringing as soon as you open your doors. We will work with you every step of the way and ensure you are prepared for life as a NerdsToGo franchise partner.

Upon becoming a NerdsToGo franchise, you will attend a proprietary training course where NerdsToGo's knowledgeable team assists you in putting financial, marketing, management, and specialized customer service strategies to work for you. Part of your initial training is accomplished during one-week of classroom training at the world headquarters. Immediately, you will realize what it takes to build your business, manage your business, realize profits, and allow yourself more free time.



Comprehensive Initial Training - "Take-off to Success"


Our Take-off to Success initial training is exactly what you need to get your business off the ground. We provide you an extensive training and support system that will give you the knowledge, tools and confidence to open and run a successful Computer Services business. It provides you the proven step-by-step plan that works. New franchisees spend significant amount of time in a NerdsToGo classroom and working in the field to learn everything they need to know. From servicing customers to our consistent standards, to using our proprietary system Nerd Net effectively, franchisees are given the skills to help their businesses reach full potential, or more simply put, help service a lot of profitable customers. Our knowledgeable team assists you in putting financial, marketing, management and specialized customers service strategies to work for you. Immediately you will realize what it takes to manage your business better and allow yourself more free time.



Ongoing Support – "Navigator Program"


As you are implementing NerdsToGo's proven systems, our team continues to support you every step of the way. You will have on-going support from NerdsToGo's world headquarters staff who have years or experience and superior experience in the computer services industry. You will be assigned a Business Coach who will work with you every step of the way and only be a phone call away to advise you on your franchise's growth and progress. Our entire team will support you and your business with the following:

Extensive business, marketing and management training
Operational infrastructure tools, templates and manuals
Our proven approach to sales, service and customer service
National conferences, training meetings and information exchanges Toll-free telephone support
NerdsToGo copyrighted marketing programs and collateral material
Why NerdsToGo?
Exclusivity


When you invest in a NerdsToGo franchise, you own the exclusive rights to the name and concept in your territory.



Business Value


When it is time to sell your business, the franchise gives you MUCH more to sell that a depreciating asset base and customer list. The franchise may become your most valuable and saleable asset; one that is appreciating every day.



Marketing Program – "Pathway to Success" and "Marketing Mastermind"


Part of our commitment to you is to provide you with unparalleled marketing training and ongoing support. Our "Pathway to Success" is our hands-on proven program shows you ways to grow your business, increase your customer base and build your revenue streams. Our Marketing Mastermind is part of our ongoing marketing support.. You learn what other successful businesses are doing to market their products and services. You hear and learn from your fellow franchisees. You learn from our in-house experts. You are coached by the BEST! You learn the following:

How to attract more clients;
How other successful companies are marketing their services;
How to get more referrals from your current clients;
Low and No cost ways to effectively market your NerdsToGo services;
How to differentiate your business.
Are You a Good Fit for NerdsToGo?
Are you ready to join NerdsToGo as a franchise partner? First, consider these questions:

Do you sincerely want to own a business and do you understand the risk and rewards involved?
Do you seek to change your life and enjoy the freedom and responsibility that come with business ownership?
Are you prepared to do the work required to evaluate business ownership?
Do you fully understand the potential of the Computer Services industry and the reasons for its growth?
Have you researched NerdsToGo and identified our key competitive benefits?
Do you have the financial capability to invest in a franchise of NerdsToGo and support it through its initial start-up?
Are you ready to join the national leader and follow a prescribed program for success?
Are you ready to put your talents to work for you and your family?
Are you willing to commit to an intensive four-week process to determine if this is right for you?


NerdsToGo has two distinctly different investment opportunities. We offer an Owner Operator Franchise Model and an Executive Model Franchise Model. Each opportunity consists of several components:



Owner Operator


The Owner Operator Model Franchise business for those individuals who have the technical capacity to service customers AND build a business. In the Owner Operator Model Franchise you initially personally provide the technical service to customers. You are not required to initially employ any additional technicians or establish an office outside of your home when you begin operations. This model does assume you will grow into the Executive Model if that is your goal. The model contains at least the initial standard population of 100,000 people. The investment range is between $52,000 to $122,000 which includes the initial franchise fee of $25,000.



Executive Model


The Executive Model Franchise is for the those individuals who want to build a different business from the start, by employing at least two technicians (Nerds) to provide the technical services. These two Nerds deliver the services to your customers in NerdsToGo branded vehicles while you build and manage the business. The Executive Model Franchise contains at least the initial standard population of 300,000 people. The investment range is between $112,000 to $244,000 which includes the initial franchise fee of $50,000.