Search Tools
Franchise Research
Mountain Mike's Pizza

Big. Meaty. Cheesy.



Business Type
Franchise
Min Liquid Capital
$150,000
$150,000
*
Number of Units
74
In Business Since
1978
* For Current Info See:
Franchise Disclosure Document

Overview
Thank you for your interest in Mountain Mike's Pizza Restaurants. As a Mountain Mike's franchisee, you will have the opportunity to develop casual dining, family pizza restaurants following a proven method of operation. Established as a franchise company in 1978, our mission is to provide the highest quality pizza available in a comfortable, family environment. Over the years, we have refined and enhanced our concept, positioning it as one of today's strongest opportunities for entrepreneurs who are seeking the opportunity to grow a business such as a Mountain Mike's Pizza franchise.

By efficiently serving a product, which is simply the best, Mountain Mike's franchisees have a unique market position within the pizza industry. While other national chains are focusing on delivery and take-out, Mountain Mike's offers families those options plus a casual dining experience in a comfortable atmosphere. Dine-in pizza is a $12 billion dollar market segment and the number one food choice for children between the ages of three and eleven. Mountain Mike's system, environment, community positioning and value pricing create an especially loyal family customer base and allow you to tap into this growing market segment.

Mountain Mike's Pizza restaurants strive to become a vital part of the franchise community with an ever-improving system of franchisor support. This drives market share, stimulates franchise system growth and enhances the quality of life for the members of our franchise community. We will bring all of our resources into play, because your success is our business.
Products & Services
At Mountain Mike's Pizza, we use only the freshest, highest quality ingredients available. Mountain Mike's private label line of meats and cheeses, our custom blended dough mix and our secret recipe of pizza sauce spice mix are made to our standards and specifications and are available only to our franchise owners. We constantly monitor product quality and prices to guarantee that you get the best for less and that our product quality remains high throughout our chain of restaurants.

Made from our own recipe, our distinctive pizza crust sets us apart in the marketplace. Mountain Mike's has worked hard over the years to produce our trademark light, fluffy crust. We make our dough fresh several times each day to ensure that our customers always get the best quality product. Our goal is great taste and consistent quality.

We are continually field-testing new menu items for possible inclusion in our product line, and from time to time may ask you to participate.
Training & Support

When you join the Mountain Mike's Pizza franchise system, you are entering into business for yourself, but not by yourself. Mountain Mike's will be with you every step of the way with our extensive training and support curriculum. You will capitalize on our knowledge and experience while avoiding many of the growing pains and potential business pitfalls independent owners often encounter.

Our training program is designed specifically to help you succeed in your new business venture. Before you open your first Mountain Mike's restaurant, you will be thoroughly trained. You and your key personnel will experience all aspects of restaurant management and operations. You will learn product preparation, inventory control, customer and employee relations, customer service, staff scheduling, basic accounting techniques, food and labor cost management and how to become involved in your community. And the best part is... the cost of all this invaluable training is included in your initial franchise fee.

You will be provided with a detailed operations manual which contains information vital to the success of your day-to-day operations. When you are ready to open your Mountain Mike's restaurant, your Development Agent will provide experienced on-site personnel to assist you in setting up your restaurant, hiring and training your employees and planning your advertising and promotions.

Once your store is up and running, your Development Agent will provide the continuing support you need locally. Your Development Agent is your personal liaison to the franchisor and will make regular visits to your business to seek to ensure that everything is operating to its full potential. Your Development Agent can provide advice in all area of sales, marketing, cost control, personnel management and operations. Anytime you have the slightest question, your Development Agent will always be just a phone call away. You will be offered every opportunity to attend seminars and regional meetings designed to help you improve various aspects of your business and we will regularly provide you with information on industry trends, demographics and promotional packages.
Why Mountain Mike's Pizza?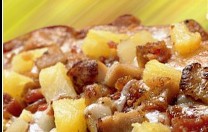 MARKETING AND ADVERTISING


Mountain Mike's Pizza expansion strategy is based on growth through specific development areas. In a sense, restaurants are sold with a clear master plan in mind, which creates enough saturation of a market area and enables your restaurant to market competitively and effectively.

Regional and local marketing and advertising efforts are an integral part of the success of your Mountain Mike's Pizza restaurant and the franchise as a whole. We will work closely with you to develop multi-media efforts to increase public awareness of Mountain Mike's and drive traffic to your restaurant. We can even assist you with advertising to attract quality personnel for your restaurant.

You will receive a copy of the Mountain Mike's Advertising Manual that details marketing, advertising and promotional programs geared to assist you in your local market needs. Local community involvement is also critical to the success of the entire Mountain Mike's Pizza chain and your Development Agent will work closely with you to design and implement an effective plan for your restaurant.