Search Tools
Franchise Research
| | |
| --- | --- |
| | Li'l Dino Deli & Grille |
Business Type
Franchise
Total Investment
$47,400 to $240,800
Number of Units
25
In Business Since
1985
* For Current Info See:
Franchise Disclosure Document

Overview
THE LI'L CONCEPT HAS MANY COMPETITIVE REASONS WHY POTENTIAL FRANCHISEES MAKE LI'L DINO THEIR FRANCHISE OF CHOICE!



AFFORDABLE UPFRONT INVESTMENT


The cost of starting a Li'l Dino franchise or developing a granted territory is significantly less than most major national fast food chains.

There are many reasons why customers love Li'l Dino, but it's our food that's the heart of Li'l Dino's success!



LOW OPERATING COSTS


The Li'l Dino restaurants are designed to run efficiently with a relatively small crew during meal rush periods. The compact space plan and equipment package keeps operating costs low. And, volume purchasing with the other Li'l Dino and Ultimate Franchise Systems restaurant concepts allows us to keep food costs low as well.



FLEXIBILITY


Li'l Dino Corporation has the flexibility to place its concept into almost any location with its Deli & Grille or Deli Express systems option. The Deli & Grille system offers a selection of grilled items in addition to cold cut sandwiches & salads. The Deli Express system requires no grille or hood system and is designed to operate in smaller existing spaces that can be found in office buildings, hospitals, and college campuses.

The Li'l Dino system allows individuals to become a single unit franchisee, a multi-unit franchisee or an area developer, who purchase the rights to develop geographic areas known as a granted territory.
Products & Services
Li'l Dino has developed a menu to appeal to today's customer. From hefty subs to satisfy the hungriest eater to low fat pita sandwiches and salads to attract health-conscious individuals, Li'l Dino enjoys a very loyal and frequent customer base. The menu is varied yet streamlined to help ensure ease of operation.

There are many reasons why customers love Li'l Dino, but it's our food that's the heart of Li'l Dino's success!

The distinctive Li'l Dino taste begins with our custom made bread. Made according to a proprietary recipe by our baker, our sub rolls finish baking in our restaurants just before serving for a fresh baked taste. Li'l Dino meats and cheese are deli quality - all chosen for their high quality and taste. Our customers tell us they can "Taste The Li'l Dino Difference!"

Li'l Dino Signature sandwiches are offered from the Deli or the Grille. The Deli features a variety of cold subs such as the "Li'l Dino" and the Italian. From the Grille, the Roast Beef Super, the Philly Cheese Steak & the Grilled Chicken Pita are favorites.

We're more than a submarine sandwich restaurant. Our Deli & Grille menu includes a delicious variety of hot and cold subs, grilled sandwiches, fries, onion rings, appetizers and salads. The Li'l Dino specialty sauce developed over the years (and millions of subs) is a customer pleaser. Any sandwich on our menu can be enjoyed four ways: on a bagel, pita, wrap or sub roll. Our customers find enough variety to return again and again.

Nutrition conscious eaters can choose from hearty salads to Li'l Dino's Chicken specialties. An optional soup concept is available as well.

Li'l Dino prides itself on being a part of the neighborhood. Friendly customer service goes hand in hand with our quality product. This is a people business and our franchisees know they will be making friends, not just serving strangers. The dining area reflects the friendly atmosphere with bright, clean comfortable seating areas.
Training & Support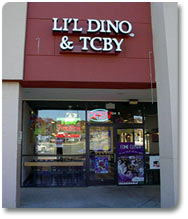 Li'l Dino Corporation will also assist with four areas of support and training that we feel will provide each new Li'l Dino Franchisee with a sound base for a running start to their new business!

OPENING YOUR FIRST RESTAURANT
Assistance in:

Site selection criteria

Utility requirements

Hiring & training employees

Employee retention programs

Assistance at opening

Grand Opening guidelines

Equipment layout & plans

Interior décor requirements

Selecting & managing a general contractor

Lease negotiations

Permits & municipal inspections

We're with you every step of the way as you plan and open your Li'l Dino restaurant. Li'l Dino Corporation provides materials, procedures and support for every aspect of your business.



OPERATIONS STANDARDS AND PROCEDURES



Operations Manual

Customer relations

Personnel screening & hiring

Cash handling/security measures

Quality & Service Reviews and Awards program

Onsite training

Accounting & business practices

Sandwich preparation/recipe specification

Labor scheduling & food cost control
ADVERTISING & MARKETING SUPPORT
Complete Marketing Manual

Local store marketing assistance

Chain wide advertising programs

Vendor co-op promotions

In store promotional materials

This support and training will guide you through the site selection and construction of your new Li'l Dino restaurant, the operations standards and procedures, advertising and marketing support, and ongoing future support to keep your restaurant on track!



ONGOING SUPPORT



Franchisee meetings

Quarterly newsletter

New product development

Product evaluation & price checks

Individual management consultation

Equipment innovations
Why Li'l Dino Deli & Grille?
SUPPORT SYSTEM FOR FRANCHISEES


One of the most important aspects of the Li'l Dino philosophy is continuous support of our franchisees. A member of the Li'l Dino team is with you every step of the way to guide and advise. In order for our franchisees to be successful we not only support you through the grand opening of your store, but to ensure long term success, Li'l Dino continuously updates you on the latest operation, business and marketing techniques to build a strong, loyal prosperous franchisee community!

Consumers today want quality foods. Franchisees seek quality opportunities with growth potential and simplicity of operation. That's the Li'l Dino concept, quality foods, moderate prices and a system that is easy to operate.

GROWTH POTENTIAL
Li'l Dino is also committed to increasing the value of your franchise through expanding the chain. We are always looking for new growth markets and excited individuals to join the Li'l Dino franchise community. Typically, the most successful multi-unit operators started with one unit. We encourage all our franchisees to THINK BIG!

The Li'l Dino name has strong brand recognition in the markets we serve. Li'l Dino is synonymous with quality food at a great price in a friendly, comfortable atmosphere.
Are You a Good Fit for Li'l Dino Deli & Grille?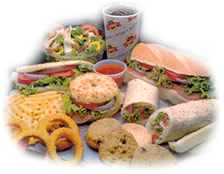 Although experience in the fast food industry is beneficial, it is not mandatory. A complete training program will provide you with the foundation to successfully operate your franchise.

Li'l Dino corporate does not require that you personally operate your restaurant on a daily basis. Experience has shown that the best run, most profitable restaurants are actively managed by the owner. The owner of a single unit should be prepared to commit considerable personal time to on-premise management.