Search Tools
Franchise Research
| | |
| --- | --- |
| | Lantis Fireworks |

Overview
The Lantis Fireworks & Lasers name is one of the most respected in the United States pyrotechnics industry. The addition of lasers in 1997 has given us an incredible edge within the market since we are affiliated with one of only a handful of companies to offer both services in house ("Lantis Productions, Inc."). These markets combined are estimated to be worth over $600 million per year. As pyrotechnics & lasers are used more and more often for stage & theatrical productions, sporting events, High School celebrations, 4th July celebrations and the booming corporate events area, the market is wide open for new business oriented individuals who want to learn, develop & maintain their own business in an industry with substantial barriers to entry.

Since 1945, the Lantis family has honed its business techniques into an effective system within the pyrotechnics industry. Lantis Franchising Inc. has the advantage of the Lantis families decades of experience, creating & sourcing the most spectacular products available today. With the Lantis Fireworks & Lasers' franchise management team, you have decades of experience and expertise at your side. You are in business for yourself, not by yourself. Whether its talking with you about finding a location, offering guidance on conducting a small display or helping you negotiate for a multiple show choreographed to music series of displays, the Lantis Fireworks & Lasers strategic system can support you
Products & Services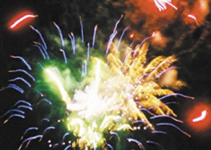 When you need to create excitement at your fair, festival, sports competition, parade, concert, convention, meeting, or other special event, let the pyro professionals at Lantis Fireworks and Lasers custom-design a brilliant opening or blaze-of-glory finale. We'll help you get people there, and leave them wanting more. And you'll get rave reviews.

Our distinctive music, fireworks, and laser effects can spark your presentation outdoors, indoors, over water, over snow, anywhere from Hong Kong to Honolulu. Just tell us when and where. We'll electrify your audience as we've done at the Los Angeles County July 4th Celebration, the Aloha Bowl, the Anchorage Fur Rendezvous, and the Virginia Beach North American Fireworks Competition.

Lantis visual artists' elegant choreography makes a magic mixture of music and fire that quickly ignites a warm response. Your viewers will thrill to immense, unfolding flowers, streaming comets, sparkling bows, cascading halls of fire, and stunning laser effects, perfectly synchronized to classical arrangements, contemporary jazz, top 40 hits, romantic love songs, or patriotic tunes. We'll heat things up to your favorites or ours.

Our state of the art computer firing system and design software enables our performances to be digitally programmed with music, lasers, lighting and projection and allow fireworks to be fired from an unlimited amount of locations to produce the ultimate extravaganza for your next event. Both our fireworks and laser systems can be triggered from a video SMPTE Time Code for literally hands free firing.

You can count on professional, dependable, Lantis master crafts people to custom-create just the right touch you need, so that you have one less worry in producing your event. Call us for a free consultation. Then sit back and bask in reflected glory.
Training & Support
Training – Lantis Franchising Inc. starts you off on the right foot with comprehensive business training at both our National Headquarters and in the field. The support continues with on-going new product and sales training, as well as product and systems education.

Administration/Management - Franchisees receive a head start with the Lantis Fireworks & Lasers system of administrative support. We help you prepare for successful office management, offering expert advice in the design of your display costings, customer contact database & standard office manuals.

Operations – Lantis Franchising Inc., personnel can help answer questions about the acquisition of vehicles and equipment. Skilled experts are with you in the development and set-up of your franchise operation.

Bunker Site Selection - Lantis Franchising Inc. can direct you to sources and provide you with guidance on the selection of the location for your storage of pyrotechnics.

Financial - You'll stay on the cutting edge with our analysis of worldwide trends. Our experienced staff of industry leaders monitors and alerts you to new developments taking place in the market and gives you a head start on the competition by staying in contact with Department of Transport, BATF & NFPA.

Sales and Marketing Innovative marketing programs are designed to drive traffic in your doors, and include standard advertising and sales promotions, corporate image, public affairs and trade exhibition activities.

Easy Ordering - Orders are filled weekly from the Lantis Productions Inc. distribution warehouse in Salt Lake City, Utah. The comprehensive product range is designed for easy reference to purchase inquiries. The warehouse currently holds more than 1,000 varying product lines to cater to Lantis Fireworks & Lasers customers.

Technical and Product Support - Technical and product support updates will be provided through our headquarters.

Computer Services - At the touch of a button, you'll be able to access real-time inventory control, sales data, data base support and financial information for your business.

Customer Service - One phone call and we're right there with you --- to help you with local issues, stock status, freight arrangements and special order requirements.

Communication - You'll hear from us on a regular basis through meetings and our website. We currently plan national and regional meetings of all Lantis Franchisees to offer you invaluable opportunities to network with other owners and to discuss performance objectives and strategies.
Why Lantis Fireworks?
Thousands of Potential New Customers


Across the United States when event organizers need to create excitement at fairs, festivals, sports competitions, concerts, conventions, meetings or other special events, they are increasingly looking to maximize interest and attendance. Every day, the kind of products and services Lantis Fireworks & Lasers franchisees provide touch the lives of many Americans in different ways — from a home coming football game on a high school field to the city wide celebrations that are the 4th July, from a puff of smoke in a small theatrical production to the grand opening of a casino, from a political rally to a blaze of glory finale for a national product launch, from laser beams etching a sponsors name to a multi- media extravaganza involving lasers & pyrotechnics.



Complete Service is Our Innovation


Currently, very few pyrotechnics companies have the ability to build the kind of relationships with event professionals that Lantis Fireworks & Lasers professionals can. Lantis Fireworks & Lasers professionals are trained and outfitted with the equipment and expertise to meet the needs of your customers from concept through execution. Our system of helping you meet these demands builds long-lasting customer loyalty and can bring new business referrals to your Lantis Fireworks & Lasers franchise year after year after year!



Customer Relationships


As a Lantis Fireworks & Lasers franchisee, you will manage pyrotechnic & laser requirements on-site in a variety of venues. With your expertise gained through our rigorous training and product familiarization course you will be able to start building solid relationships between you and your customers, who will trust you and rely upon you to dazzle their audience at their next event!