Search Tools
Franchise Research
In Your Home

You're ready for your Golden Years. Is your home?



Business Type
Franchise
Total Investment
$90,000 to $125,000
Number of Units
1
In Business Since
2003
* For Current Info See:
Franchise Disclosure Document

Overview
In Your Home provides meaningful, important services to the senior population by providing advice, modifications, remodeling, and on-going maintenance to homeowners who want to "age-in-place" and stay in their own homes for as long as possible. We have a national reputation for being unique market leaders, and want to help you create a rewarding and exhilarating business.
Products & Services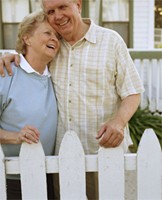 We make today's home ready for your tomorrows.


In Your Home was founded to provide a range of support services that help seniors remain independent. Our focus is on detailed home assessments and plans for aging-in-place, retrofit and remodeling services and on-going home maintenance. Whether you just need a plan for what to do and a few simple repairs and upgrades, or you've decided on a major remodel, In Your Home can help you.



Aging-in-place makes sense--if you do it right.


Staying in your own home has many benefits. The cornerstone of an effective plan to age-in-place is to start early so that you can have the home modified to fit your desires and to prepare for possible future circumstances. By starting early, the changes are easy to handle, increase your comfort for more years, and reflect the way you want to live. Assisted Living Facilities (ALF's) are definitely the right decision for many people. But if you are not one of them, you can retain more control over your financial resources by living at home. Basic home updates start at less than $1000. And if you decide a more comprehensive remodel is desired or needed, typically it will add to the value of your home within a few years.
Training & Support
A complete marketing program.


More than just eye-catching ads, our marketing materials reflect tested and proven themes and approaches that will help you get the most out of your sales time and marketing dollars.



Training Systems


Most startup companies have difficulty building the systems they need for effective management, or even knowing what management issues they should focus on. In the process, they waste resources, customer goodwill and delay their own success. Our systems give you tools to rapidly advance through the stages of building a new business, jumping over many of the trouble spots and staying focused on your goals. Our systems include:

Forms and documentation are included in our confidential Management System. The system is an integrated program that covers most aspects of your business including sales and marketing, project estimation and bidding, project management, customer relations and employee management.

A comprehensive suite of state of the art software you will use to manage your business efficiently. We use industry standard applications and help you set them up quickly and move past the set-up phase for maximum efficiency.

On-line libraries of job proposals, design resources and project tools that you can tap into rather than re-invent the wheel.

No system is ever finished. While there is no point is tinkering with what isn't broken, we are constantly on the lookout for improvements and training opportunities. The reality is the system needs to grow and adapt as you grow. What you need when you are just starting is not enough—or even the right method—when you are large. Working with you, we will keep refining and adding systems to support the business you will be tomorrow.



Systems are great, but they need to be supported.


Ongoing field support is provided and only a toll-free phone call away where you can get support on business systems, sales, products and solutions and even advise on design or techniques.



Support that adapts as your business grows.


The sort of support that you need is different in your first quarter than in your fourth quarter or your third year. Just as our methods and tools have evolved as In Your Home has grown, our support systems will help you adapt to changing needs.



Peer advice and learning.


One of the advantages of being part of an organization like In Your Home is that you can benefit from the experiences and ideas of other IYH franchisees. Franchisee ideas and contributions can be shared on our website and at annual meetings.
Why In Your Home?
The demographic wave is still building, but already there is a huge opportunity that will only increase as more baby boomers reach their 60's and beyond. Our focus on supporting seniors for the long term provides for a varied and rewarding set of services.

Creating insight and applying it to business is something we do well but few business owners master. We built our business on aging-in-place when others were saying it couldn't be sold and wouldn't pay the bills.

Walk in our footsteps. It's a hard job and it takes more than a few ads and some manuals to make an IYH franchise successful. Our goal from the start has been to develop systems that work, delivering a superior result for our customers while minimizing the sources of problems that sap morale and profitability. Like walking in deep snow, it's easier when the path is broken.

Your success is our success. We are extremely proud of the success of our corporate flagship. But we know the need is widespread. By working with you, we can increase the reach of our services and business practices. IYH is committed to providing support and services that you can use to achieve your goals and which will provide better and better results for our customers.
Are You a Good Fit for In Your Home?
Now that you know a bit about us, we'd like to learn about you. We will be awarding In Your Home franchises to a limited number of qualified individuals. Among the criteria we have established for franchise ownership is a sincere respect for people of all ages and abilities and a desire to run a superior business in a field where there are many poor operators. To be considered, you must also possess maturity, stability and well-developed people skills, as well as motivation and a focus on achieving long-term goals. Nursing, OT/PT, Design and Construction backgrounds are all helpful but not required. However, if you do not have construction background, in some states you will need to partner with someone who qualifies for a contractor's license.