Search Tools
Franchise Research
| | |
| --- | --- |
| | Hudson's Grill of America |
Business Type
Franchise
Min Liquid Capital
$125,000
$125,000
*
Total Investment
$500,000
Number of Units
19
In Business Since
1985
* For Current Info See:
Franchise Disclosure Document

Overview
The Hudson Motorcar was built from the early 1920s into the late 1950s. It was not the fanciest, the largest, or the most expensive automobile around, but rather, Hudson Motorcars were just great performers, made by a proud company that really cared about the quality of their work, and about the people who bought their automobiles.
Although American Motors eventually stopped making Hudson Motorcars decades ago, back in 1984, Travis Bryant, our founder, decided to build a restaurant that utilized the same basic business philosophy of the Hudson Motorcar Company. This business philosophy, based on quality products, pride in workmanship, and concern for the consumer, has allowed Hudson's Grill International, Inc. to keep the proud Hudson's Motorcar tradition alive and thriving.
The first Hudson's Grill restaurant and bar concept, as we know it today, was opened more than 20 years ago in Ventura, California. Over the years Hudson's Classic Grill, like the Hudson Motorcar, has been fine tuned and tested. Expansion has taken place slowly through the franchising of our restaurants across the United States, from California to Texas in the southwest, and in Michigan and Wisconsin in the upper midwest. A new location in Dubuque, Iowa is scheduled to open soon, with additional Wisconsin, Michigan and Minnesiota locations on the horizon.

Under the direction and leadership of Mr. Osborn, Hudson's Classic Grills still proudly display authentic Hudson automotive memorabilia, with the highlight of each restaurant being the front end of an authentic Hudson automobile bursting through one of the dining room walls. Guests at a Hudson's Classic Grill will always receive quality food and beverages, hospitable service, great value, and have a roaring good time, all at a reasonable price.
Our present Hudson's Grill restaurants continue to be directly linked to the actual era when the Hudson automobile was built. This is accomplished by Rock 'n Roll music from the late 50s and early 60s played on an old fashioned Wurlitzer juke box, and throughout the restaurant, bar and patio, over our sound system. In addition, a neighborhood drug store soda fountain counter is used in each Hudson's Classic Grill to add even more authenticity from that era. However, the latest in computerized and digital technology has also arrived at Hudson's Classic Grills, from our use of state of the art restaurant production and point of sale equipment, to our satellite dish digital quality sports programming that is seen throughout the dining rooms and bar.
Products & Services
The Hudson's Classic Grill menu is kept simple so that we can produce a top quality product consistently. Everything is prepared with only the finest and freshest of ingredients. Hudson's Classic Grills only serve top quality, USDA grade domestic beef. We have our beef specially ground to meet our exacting specifications. Hudson's Classic Grills' commitment to quality continues in the fact that we still hand dip our malts and milk shakes, the old fashioned way, using only the finest ice cream and toppings available. All of our owners, management, and hourly staff members are hospitable, sincerely friendly, very personable, and proud to wear the Hudson's Classic Grill name. Every owner, manager, and hourly staff member at Hudson's Classic Grills knows that our guests sign each of our paychecks every time they dine with us, and we emphasize treating each of our customers as a "guest." Hudson's Classic Grills set an extremely high expectation level of having each guest leave our restaurants satisfied on every occasion.
Training & Support
All Franchise Owners, or the designated Operator of the Franchise Owner, will go through a minimum of five (5) weeks, to a maximum of ten (10) weeks, of hands-on, in-restaurant training. That training will be provided at no cost to the Franchise Owner (except for travel related expenses, i.e., airfare, meals, lodging, etc., which are the responsibility of the Franchisee).
Every new Hudson's Grill restaurant opening will be supported by a "New Restaurant Opening Support Team" (at no cost to the Franchise Owner). Franchise Owners who open additional sites may have the option to forego the "New Restaurant Opening Support Team" and open additional Hudson's Classic Grills with their own personnel.
Why Hudson's Grill of America?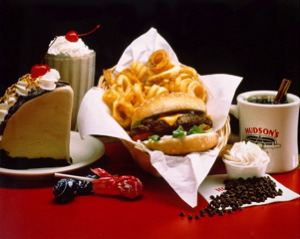 Proudly, Hudson's Grill can state that our purpose for being in business is to:

Guarantee that every guest always leaves our restaurants satisfied; and

Try to make a reasonable profit, and return on investment, and

Leave the world a much better place than we found it.

With Hudson's Grill rising to the challenges, consistently following the exacting guidelines, policies and procedures, and remembering the fundamental business principles that the Hudson Motorcar Company was founded on, it is no wonder that Success Magazine bestowed the distinction on Hudson's Grill of being one of the top 100 companies that were awarded the "GOLD 100 Recognition Award". The Los Angeles Daily News awarded Hudson's Grill two First Place Awards. The first award honoring Hudson's Grill with 1st Place was in the "Best Burger" category, and another 1st Place award honoring Hudson's Grill was in the "Best American Cuisine" category. Nations Restaurant News, the leading weekly industry trade publication, singled out Hudson's Grill as one of the "Hottest Concepts in the Southwest".
Are You a Good Fit for Hudson's Grill of America?
Hudson's Grill International, Inc. is offering single unit and multi-unit area development franchise opportunities in all 50 U.S. states. In addition, Hudson's Grill International, Inc. is offering multi-unit international area development franchise opportunities. Franchise candidates must have the financial ability to meet or exceed their single unit franchise agreement, or to meet or exceed their multi-unit area development agreement. Franchise candidates must have, or be able to hire, an individual with relevant experience in the food service industry to oversee the Hudson's Classic Grill restaurant franchise.

The Initial Franchise Fee for a Hudson's Classic Grill restaurant is $35,000.