Search Tools
Franchise Research
Howard Johnson

Go Anywhere, Stay Here




Overview
The Howard Johnson story began in 1925 as a small-town soda fountain. Ten years later, Howard Johnson left his entrepreneurial mark on the world with the creation of the first franchise.

During the 1950's, the Howard Johnson Motor Lodge was known for its clean, quaint motels that featured large guest rooms, air-conditioning and television. By the time the company went public in 1961, there were 88 Howard Johnson Motor Lodges in 33 states.

Today, we have over 450 hotels stretching around the globe. Our properties cater to business travelers and weekend travellers and range from full-service high-rises in the heart of the city to relaxing roadside hotels.



Our Businesses



Wyndham Hotel Group franchises hotels and provides property management services. We are:

The World's largest lodging franchisor, as measured by the number of franchised hotels.

A franchisor of 10 lodging brands that include economy, middle scale and upscale accomodations.

A lodging business with nearly 6,500 franchised hotels. This represents over 535,000 rooms on six continents – including 10% of the U.S. hotel room inventory.

The marketer of the TripRewards® loyalty program, the lodging industry's largest loyalty program as measured by the number of participating hotels.
Products & Services
At Howard Johnson® we are committed to providing you clean, comfortable rooms at hundreds of properties worldwide. In addition, our properties throughout the United States feature valuable amenities and programs such as:

Ability to earn valuable TripRewards points, air miles or rail points

FREE high speed Internet access

Complimentary Howard Johnson Rise & Dine® continental breakfast program* with great breakfast choices ranging from Folgers® coffee and Minute Maid® juice to Kellogg's® cereal and a variety of baked goods

Always get our Best Available Rate Guarantee

FREE USA Today newspaper

Pet friendly locations

Howard Johnson Home Office Rooms®, which include work desk, ergonomic chair, desk top telephone and data port to give you everything you need to work comfortably on the road

Special discounts available at most properties: AAA/CAA, AARP, seniors, groups and government/military

All rooms are equipped with hair dryer, clock radio and in-room coffee maker

Here is what our Howard Johnson properties have to offer:



Howard Johnson Plaza Hotel



Mid-rise or high-rise full service hotels

Features contemporary furnishings

Offer extensive banquet facilities

Bell and room service

Swimming pool

Exercise rooms (varies by location)

Express check-out
Howard Johnson Hotel
Mid-rise full service hotel

Features contemporary furnishings

Adjacent restaurant or restaurant at hotel (varies by location)

Swimming pool (varies by location)

Exercise rooms (varies by location)
Howard Johnson Inn
Primarily smaller, low-rise hotel

Free deluxe continental breakfast will be offered, if restaurant is not on-site

Features contemporary furnishings

Swimming pool

Small meeting room
Howard Johnson Express Inn
Primarily smaller, low-rise hotel

Free continental breakfast

Features contemporary interior furnishings and exterior design



Rise & Dine and start your day off right!


Through Howard Johnson's new Rise & Dine continental breakfast program,* you will be able to choose from numerous food and beverage items. Knowing that you value variety and nutrition, as well as nationally branded items, we will offer great breakfast choices ranging from Folgers coffee and Minute Maid juice, to Kellogg's cereals and a variety of baked goods.



Now You Can Take Your Best Friend on all your Adventures!


Vacations are more fun when the whole family comes along, two-legged and four legged! At Howard Johnson pets are family too and we want all of you to feel at home. With over 170 Howard Johnson Wags to WhiskersSM hotels across the U.S. and Canada, Howard Johnson makes traveling with your pet easier, more comfortable, and most of all...more FUN. So the next time you and your family are planning a trip, be sure to bring along the family's best friend and stay at one of our pet friendly properties! To find a pet-friendly location when searching for a hotel, go to the Advanced Search page and select "pets allowed" under "Your Hotel Requirements."
Training & Support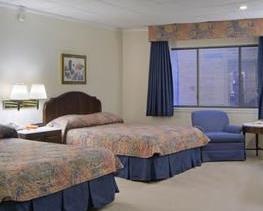 Training


As you know, the people on your team are critical to your success. Our dedicated Training team provides a comprehensive suite of learning opportunities designed to help you run your business.



General Manager Orientation


Our GM orientation (Strategic Training for Exceptional Performance – S.T.E.P.) is a five day program which focuses on the brand tools and resources designed to optimize your business' performance.



Owner Orientation


For our owners, we offer a three day program designed to familiarize you with the support and services offered by your brand as well as the entire Wyndham Hotel Group.



Regional Training Workshops


Throughout the year, we offer innovative training workshops at regional sites near you. Designed to improve your property's performance, these workshops may focus on hotel operations, customer service, brand programs, sales and marketing.



Online Training Offerings


Through your brand portal, we bring the training to you. We offer a wide variety of workshops that include self-paced, live and video-based programs.



Property Management System Training


Your property management system is an important part of your business and we can provide you with the training to get the most of out of it. Whether it's a live workshop hosted on-site or a series of e-learning workshops, we help your team better understand how to effectively utilize your property management system.



Operations Support


Once your property officially opens, your on-going support team will consist of your Director of Business Development and Franchise Services Manager. Your Director of Business Development will periodically visit your site to discuss and help you implement brand strategies. Your Franchise Services Manager will be available to assist you from our corporate office with any immediate questions or concerns you may have.



Technical Support Services


The Technical Support Services (TSS) department provides technical support via the online self help knowledgebase, E-Media instructional modules available both on MyPortal and the knowledgebase, and over the phone when the solution is not available in the knowledgebase.

Their services and key responsibilities are:

First line support for all franchisees experiencing technical difficulties.

Ownership of a customer's technical issue or request by embracing the entire "life cycle" of a request from initial contact through problem resolution.

Education of customers and prevention of problems through trend analysis and reporting.

Support of all technology products and services offered by Wyndham Hotel Group including PM System, MyPortal, Email, RFP, TripRewards, MyLearning, etc.
Why Howard Johnson?
The Howard Johnson® brand has extraordinary strength. Today, more than ever, Howard Johnson is a name that people trust, respect and look forward to seeing wherever they travel. It's a name that stands for honest quality and solid value. The Howard Johnson name now graces over 450 hotels in 17 countries worldwide. It is one of the most well-known mid-price hotel families in the world. This year, millions of people are expected to visit Howard Johnson hotels.

Howard Johnson provides a variety of choices to respond to guests' varying needs. Whether guests want to relax at the beach for a long weekend, get some work done downtown or chaperone the soccer team in the state finals, Howard Johnson is a well priced collection of hotels with a wide variety of options.



Customer Profile


For value-conscious families and business travelers who are looking for reasonably priced accommodations, Howard Johnson offers comfortable accommodations and amenities ranging from limited to full service that can be enjoyed regardless of the travel occasion.



Our Industry


The $124 billion domestic lodging industry is a fast growing part of the hospitality industry. Generally divided into four segments, the domestic lodging industry includes luxury, upscale, middle scale and economy accomodations.

In 2004, the U.S. lodging industry boasted approximately 47,600 properties, representing more than 4.4 million guest rooms. 3 million of these rooms were in franchised hotels and 1.4 million were in independent hotels.

According to PricewaterhouseCoopers' forecast, the U.S. lodging industry is expected to gross $25.6 billion in pretax profits in 2006 and $30.3 billion in 2007.