Search Tools
Franchise Research
| | |
| --- | --- |
| | Hollywood Tans |
Business Type
Franchise
Min Liquid Capital
$75,000
$75,000
*
to $100,000
Total Investment
$286,600 to $366,500
Number of Units
130
In Business Since
1994
* For Current Info See:
Franchise Disclosure Document

Overview
Hollywood Tanning Systems, incorporated in April of 1994 is headquartered in Sewell, NJ. Since September of 1998, Hollywood Tans has offered franchises for establishment and operation of indoor tanning salons, a carefully designed concept that offers indoor tanning services, specialty products and Hollywood Tans' privately labeled line of lotions.
Hollywood Tans operates well over 300 salons in the United States, with over 100 units in the process of opening during 2006 and 2007. In addition to our rapid growth in the eastern part of the United States, Hollywood Tans has continued a strategic growth pattern throughout the U.S. This past year, we have seen our growth reach 29 states plus Hawaii and there is no end in sight!
Products & Services
The Hollywood Tans UV - ADVANTAGE
Hollywood Tan's commitment to excellence doesn't end with the beauty of our salons – it goes much deeper. Three Levels of Tanning Booths, makes it affordable for everyone!
The Ultimate Tanning Experience is Only at Hollywood Tans!
TAN MORE! PAY LESS! IS OUR MOTTO!
Introducing our HT60, this booth exhibits maximum exposure, building your tan quickly in as little as 2-3 sessions.
HT60
8 Minutes
Base Tan in 2-3 sessions
Only 2% exposure to UVB rays
a deep dark brown tan
Next we developed, our HT54 which produces the same great quality of our HT-60 booth, giving you a premium base tan in only 4 sessions. This booth is second to none offering 10,000 watts of energy in just 10 minutes.
HT54
10 minutes
Base Tan in 4-5 sessions
Only 2% exposure to UVB rays
a deep dark brown tan
Lastly and most economical is our HT42, a great value for 11 minutes, the customer will be develop a base tan in 6-7 sessions. The HT42 uses a different bulb then our premium booths offering our customers a deep dark reddish brown tan.
HT42
11 minutes
Base Tan in 6-7 sessions
8% exposure to UVB rays
a deep dark brown tan
The Hollywood Tans UV FREE Instant Tan™
The revolution has begun! The latest buzz in the business is part of the Hollywood Tans Award-Winning product line. The new Instant Tan™ UV-Free Spray Booth has been the brightest star on our team of outstanding products and is gaining momentum everyday. Sales of our Instant Tan™ have continued to increase and the future looks even brighter.
The Instant Tan™ has achieved tremendous success in the United States. Surprisingly, our international partners have impressed us just as much. Instant Tan™ sales have penetrated over 15 countries and the commitment for increased growth with this new technology has for surpassed our expectations.
Throughout our salons, "Your won't believe this", is typically what you hear when a customer tells a friend about the 6-second Instant Tan™ Spray Booth from Hollywood Tans. Twenty five nossels spray a fine mist that coats the body with a tanning lotion that is absorbed by the skin in just seconds. The results is a natural looking tan in just 3 to 4 hours. Whether it's a prom, a wedding, New Years Eve - or you just want a natural looking tan all year 'round – the Instant Tan™ is the choice for you!
The Hollywood Tans High Pressure Booth
The Hollywood Tans Patent Pending Technology Offers You the Most Powerful High-Pressure Stand Up Tanning Booth in the World!
By creating the perfect balance of UVA and UVB rays you get a deeper, browner tan because the UVA rays are actually tanning your skin deeper. This allows high pressure tanners to maintain their tans with as little as 2 or 3 visits per month. Now...maintaining your dark golden tan year round has never been easier.
Develop a Deeper, Browner Tan in as Little as 3-4 Sessions.
Training & Support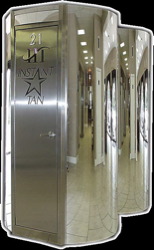 Franchisee Support
Part of the recipe for any successful franchised organization, is the type of support that is offered by the franchisor. At Hollywood Tans, support is defined as follows: The HT Franchisee Support Team. HT's support team consists of the following specialized departments: Real Estate, Finance, Advertising & Marketing, Construction, Maintenance, Operations & Training, and Hollywood Tans University. Each of these departments is staffed with a dedicated team, a primary goal and one focus – supporting the franchisee! Add these ingredients to the nation's top tanning franchise, our 6 second UV-Free Instant Tan, HT's exclusive line of lamp booths, bulbs and our exclusive privately labeled lotions and you have a team that just can't be beat!
To get an understanding of the support infrastructure that exists at Hollywood Tans, we have provided an overview of our support model that will function as the backbone to your support.
Real Estate Department
With over 45 years of real estate experience, The Hollywood Tans Real Estate Team has the ability to eliminate errors that might typically occur when choosing the proper location for a new HT salon.
The HT Real Estate Team has worked with companies such as Trammel Crowe, Edens & Avant, Federal Realty, Kimco and Developers Diversified just to name a few.
With over 300 salons currently in operation and 150 to be sold over the next two years, Hollywood Tans is fortunate to have this experienced team of real estate professionals to turn to.
A real estate evaluation and a full marketing analysis is completed for each HT location, including an in-depth demographic study utilizing Regis™, a state-of-the-art software program designed for optimum acquisitions of the top retail sites.
Finance Department
Hollywood Tans works with the top SBA lending institutions, local banks, and capital equipment leasing companies and identifies the needs of each individual and how they fit into our financial profile of choice to make the best decision for success.
Our finance department is staffed with over 60 years of practical business experience, providing assistance to our franchisees for creating business plans, projections and simple accounting practices that will build a foundation for your new business.
Hollywood Tans prides itself in going beyond the normal measures of customer service – and our finance department is no exception! HT takes time to teach each of our franchisees ways to set up their company and avoid the simple mistakes along the way.
Training & Operations
The operations and training staff at Hollywood Tans Training Center is a never ending vehicle for your support. Even after you open your salon, a dedicate corporate trainer is assigned to your salon for continuing education and support.
The Hollywood Tans Training Classes can offer you an education that will last a lifetime. Our Training Center is set in our corporate headquarters in Sewell, NJ. Training classes for new salons (5-day seminar) are held on a monthly basis and cover the following:

Our HT Business Philosphy

Human Resources

HT Lotions

Tanning Equipment

Building Sales

Hands-on computer training covering the following:

How the HT equipment links to the computer

HT Employee Manual & HT Owners Manual

Daily Operations

General troubleshootings issues

Opening Operations Procedures

Opening your salon:

Corporate trainer will set up your computers

Corporate trainer will train your staff on the POS software

Corporate trainer will work with you for your Grand Opening
Why Hollywood Tans?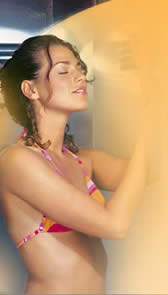 Marketing & Advertising
Our Marketing Department handles all strategic marketing and advertising for Hollywood Tans franchisees. From planing the grand opening of your salon to ongoing placement of electronic and print media, our staff is equipped to handle all of your marketing and advertising needs.
Hollywood Tans had been featured on "Good Morning America", "The Today Show," "Ripley's Believe It or Not" and "Vogue Magazine" just to name a few. Our comprehensive radio campaign featuring the Hollywood Tans jingle, is heard on the top radio stations in all of our major markets nationwide.
Strength in numbers, as well as a dedicated marketing effort allows Hollywood Tans to have a media presence far superior to any competitor. Based on the size of our media budget, Hollywood Tans is able to leverage more effective advertising schedules and an abundance of value-added promotions as a benefit to our franchisees.