Search Tools
Franchise Research
Handyman Network

The Right Handyman...Guaranteed!



Business Type
Franchise
Total Investment
$98,988 to $147,475
Number of Units
26
In Business Since
2000
* For Current Info See:
Franchise Disclosure Document

Overview
With a Handyman Network franchise, you run a business that specializes in providing small to medium-sized home repairs and improvements to today's busy homeowners. From fixing a leaky faucet to remodeling a bathroom, your highly skilled, professional handymen will be able to handle virtually any repair and home improvement needs.
Best of all, you won't have to swing a hammer or pound even one nail! The Handyman Network franchise is an "executive management" business model, which means that you work on the business, while your staff of handymen work in the business!
Products & Services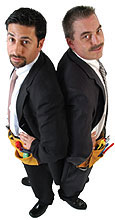 At Handyman Network we are a fully insured and licensed (where required) general contractor. But instead of focusing on large-scale home renovation projects, we instead focus on small to medium-sized home repairs and improvements. We are not a referral service. Each Handyman Network office employs a team of highly skilled professionals, ready to handle all of your home improvement needs.
Our handymen can build, install, repair or improve just about everything around your house. There is no need to call a plumber, a carpenter and an electrician to complete a particular job. Handyman Network will do all of the work on your list, and charge you a price far less than the contractors will! With one phone call, or a few clicks of a mouse, all of those repairs, installations, and improvements will be quickly and efficiently handled.
After you've placed your order, we'll send one of our uniformed handymen to your home with his tools and experience ready to work. We'll assess your job, give you a written proposal with a guaranteed price, and in most cases be ready to start the work immediately. If necessary, he'll go and pick up materials, and save you money by never marking up the cost of materials. You'll only pay us for labor!
Training & Support
Our systems for operations, training, advertising, marketing and technology are comprehensive and results oriented. As a Handyman Network franchisee, the growth of your business will not depend on adding expensive equipment or tools, but will be based on service, people, systems, and technology.
TRAINING
A key component to our business is our 3 module Training Program called The Strategic Start-Up Program™. The program includes training modules designed to help you jump-start your new business; processes for recruiting, interviewing, hiring, training and managing employees; and a system that we call The Ultimate Handyman Success System™ which was developed to produce consistency in client contact and sales results. Keeping our franchisees and their staff fully trained is an important and ongoing objective at Handyman Network!
TECHNOLOGY
We have invested a substantial amount of time and money into our technology to help give our franchisees a competitive advantage. The cornerstone of this technology is our proprietary relationship management software, which was developed to organize and manage the unique processes of the Handyman Network business. Our technology will not only keep you organized, but will help you run your business instead of your business running you!
MARKETING AND ADVERTISING
We've developed proven and effective advertising and promotional materials for use by our franchisees in promoting their Handyman Network business. Our key strategies include: electronic marketing campaigns, public relations, targeted print media and client loyalty and retention programs that combine to help our franchisees build a steady repeat and referral client base and achieve dominance in their market in the shortest possible amount of time.
Why Handyman Network?
There has never been a better time to capitalize on the booming home repair and improvement industry. With continued low interest rates, home ownership is at an all-time high and the demand for home repairs and improvements is skyrocketing. According to the US Census Bureau there are more than 73 million homeowners in the US today. And spending on maintenance and repairs was at a seasonally adjusted annual rate of $54.4 billion in the first quarter of 2004. Also consider the following statistics:

The US home ownership rate set a new record of 69% in 2004.

Homeowners need to spend one percent of the value of their home's structure annually to offset physical depreciation.

Homeowners spent almost $133 billion on home improvements and repairs over the last two quarters of 2004 and the first two quarters of 2005. Spending increased 4.5 % since the second quarter of 2004.

Spending on home remodeling and improvements now outpaces spending in several other major industries, including legal services and clothing store sales.

Generation X is now entering the market, and they are spending 50% more than Baby Boomers when they entered.

All in all, handymen services are one of the fastest growing segments of this multi-billion dollar industry.
The demand is tremendous, yet greatly underserved in almost every major market in the US.
Homeowners everywhere need our help! As a Handyman Network franchisee, you will be uniquely positioned to capitalize on these growth trends and become the dominant provider of home repair and improvement services in your market!
Are You a Good Fit for Handyman Network?
If you are the type of person who is always working on one project or another around the house; if you look forward with anticipation to your Saturday morning "Honey Do" list; if you are on a first-name basis with the folks down at the Home Depot; then a Handyman Network franchise may not be right for you. On the other hand, if you:

Are the type of person who excels at leveraging your skills through other people;

Want a business that you can build, as opposed to "buying yourself a job";

Have strong management skills and excellent people skills; and

Are a big believer in the power of marketing and advertising;

...then we'd like to help you find out if there's a good fit between you and a Handyman Network franchise opportunity.
The franchise fee for a single unit Handyman Network franchise is $30,000.