Search Tools
Franchise Research
Hampton Inn & Suites

We Love Having You Here



Business Type
Franchise
Total Investment
$3,600,000 to $10,800,000
Number of Units
1,284
In Business Since
1983
* For Current Info See:
Franchise Disclosure Document

Overview
In 1984, when our first owners put their confidence in Hampton Inn® — an unproven product and unknown brand — they quickly learned that their investment was a well-founded opportunity. Over time, Hampton Inn has delivered what it intended: A great product. Outstanding service. And as Hampton Inn increases in size and experience, it gets better every year. That's what makes Hampton® an ideal choice for investors, now more than ever.
When you develop a Hampton, you're not just developing a hotel, but a relationship with the entire Hilton Family of Hotels. Advantages like our friendly corporate staff, central reservations system and award-winning Hilton HHonors® guest reward program make this a brand you'll want to stay with for a long time.
Products & Services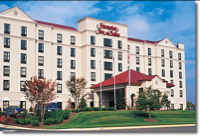 Our brand profile defines Hampton Inn as a moderately priced, limited food and beverage hotel brand. The primary features of our brand are:

Superior quality and consistency from location to location

Superior value with meaningful extras that are designed to save time and money

Superior flexibility with a variety of rooms, including studios

Superior trust and satisfaction because the total guest experience is 100% Hampton Guaranteed
We start with a list of extras that have proven to be a hit with our guests. Every Hampton Inn hotel offers these important benefits:

Hilton HHonors, an industry-leading guest reward program

On the House™ hot breakfast including a hot menu item

On the Run Breakfast Bags™ for guests on the run

Complimentary local calls, long-distance access

Complimentary high-speed Internet access

Professional, friendly and efficient service

Clean, comfortable rooms that look and feel like new

Complimentary in-room movie channels

75% non-smoking rooms

No charge for children 18 and under staying with parents

No charge for third and fourth adults

Lifestyle 50 seniors program

USA Today newspaper Monday through Friday

Coffeemaker, iron and ironing board in each guest room
Training & Support
What HHC's Franchisees Should Expect from HHC
• Develop and manage programs and processes to maintain our product and service quality competitive edge. One of the key strengths of the Hilton Family of Hotels is a strong commitment to consistency of product and service quality. Together, HHC and its franchisees will constantly look for opportunities to maintain and strengthen that point of difference.
• Work to maintain high levels of customer satisfaction. Hilton will monitor quality and performance, and develop leading-edge programs and products. Franchisors, franchise owners and hotel managers should all be involved in the conception and testing of ideas.




New Construction


HHC and its franchisees will proactively identify specific markets for new development opportunities for each of us to explore.
We will each strive to work together when available opportunities present themselves in existing markets and, accordingly, will evaluate the opportunity and the parties to address those situations. Our first priority should be to work together to add new hotels within the current brands of our preferred developers, while focusing secondary efforts on helping to add other brand hotels within the Hilton Family of Hotels.
Why Hampton Inn/Hampton Inn & Suites?
Imagine how many brands exist today. Yet only a handful stand out as beacons in their industries. They're what we call "lighthouse" brands — brands with distinctive personalities and reputations for excellence. After more than 20 years of consistent service, Hampton has earned from guests the distinction of being known as a lighthouse brand.

Being a lighthouse brand is a responsibility we take seriously. Not just because we win awards. Not just because we like being an industry leader. We take it seriously because whenever a traveler is choosing a place to stay, we want them to always say, "Make It Hampton."
Are You a Good Fit for Hampton Inn/Hampton Inn & Suites?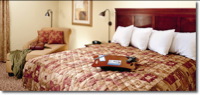 What HHC Expects from Its Franchisees:

Uphold brand value, product and service quality standards, and our culture of complete guest satisfaction.

Total commitment to building customer loyalty.

Ensure that your employee team members are well-trained and focused on delivering on our commitment to product and service quality. The long-term health of our brands depends on this commitment. In the guest's mind, a brand is only as strong as its weakest property. Rigorous enforcement of standards helps both of us.

Tell us directly how we can better serve and support you. We invite our franchisees to communicate openly and regularly to provide input to improve our brands and relationships, and will seriously consider all ideas and points of view that benefit the brands and our relationships.

Take a proactive role in building new HHC brands in your markets. We expect and encourage our quality HHC franchisees to be the most aggressive developers of our brands, and we will try to help them in that effort.
When you submit your license application for a Hampton Inn or Hampton Inn & Suites franchise, you pay us an initial fee based upon the number of guest rooms in your prospective hotel. The initial fee is $50,000 for the first 100 guest rooms or suites, with a minimum fee of $50,000 plus $450 for each additional guest room or suite.