Search Tools
Franchise Research
Grower Direct Fresh Cut Flowers

Flowers. Alive With Possibilities.



Business Type
Franchise
Min Liquid Capital
$40,000
$40,000
*
Total Investment
$35,000 to $40,000
Required Net Worth
$50,000
Number of Units
122
In Business Since
1991
* For Current Info See:
Franchise Disclosure Document

Overview
Grower Direct franchisee selection is a measured process that will ensure the continued success of the existing franchisee system while allowing for managed growth. We are proud to say that the Grower Direct system is comprehensive enough to allow someone with no previous experience in flower or merchandising to succeed. However, there is no doubt that the key contribution in our formula for success in the retail flower business comes from the franchise holders themselves.
Grower Direct began operations in 1990 with the firm belief that there was a better way to provide flowers to the consumer other than the traditional methods used in North America. With hard work and dedication we have grown into the largest flower franchise in Canada.
Products & Services
Our mission is to make the enjoyment of quality fresh flowers an affordable everyday event in your home and workplace.
Customers love our large walk- in coolers where they can select exactly what they are looking for. Grower Direct's commitment to their stores is to supply them with a wide variety of the highest quality flowers.
With stores across Canada, the strength and reputation of our brand continues to grow, based on a consistent commitment to high quality products and excellent customer service.
By controlling our own transportation and supply lines we are able to provide our stores with the freshest highest quality flowers.
Training & Support
Buying a Grower Direct franchise gets you two of the most critical elements for success in a retail business venture; a name brand that is known and trusted, and a system of tried and proven procedures for your day to day business operations.
More Specifically,

Fresh high-quality flowers will arrive at your store every week, thanks to:

Our own annual purchase agreements with the world's finest flower growers

Grower Direct's dedicated trucking system, and our own distribution centre in Miami (point of entry for most flowers coming into North America)

Dedicated buyers in both the Canadian and US marketplace, allowing immediate access to flower markets

Grower Direct's own "Flora-Text, Flowers On Demand" service that provides instant market specials to stores via their cell phone text-messaging feature. At no cost to the store.
Training and information to ensure that you and your staff know how to look after display and sell your flowers most effectively.
State-of-the-art retail and floral industry training manuals and other materials, especially written and produced for the Grower Direct Franchise Owner.

The "Grower Directions" video series provides close-up practical product knowledge for the modern flower shop; from care and handling tips to customer service and colour theory, all tailored to the needs of Grower Direct franchisees and their staff.

Our company's unique audio newsletter, called WIFM (What's In It For Me?) offers industry and company "news" about people, events, trends that affect your business.

The Grower Direct Audio Learning System, a series of cassettes and CD's covering specialized marketing topics, business operation themes, product knowledge and more.
Merchandising and marketing programs to help build your business and expand your clientele.
Membership in FTD, the world's best-known long-distance floral order/delivery service brings prestige, brand recognition and the promise of new 'out of town' customers. This is provided at no charge to Grower Direct stores by home office.

Membership in FloraWorld (no charge to Grower Direct stores). This is Canada's homegrown worldwide floral wire service (mandated to steer all possible new business to Grower Direct stores).

An initial Ad Kit filled with point of sale materials, posters and wall hangings to brighten up your store and reinforce your Grower Direct identity.

Ongoing and seasonal marketing programs, complete with national advertising campaigns, point-of-sale display and sales support materials like poster, price tags, and aprons.

Ongoing support for special advertising needs of individual stores and local clusters, ideas, graphics and media buys etc., from our in-house team.

Cross promotions with high profile and well-branded large firms and organizations, both Canadian and International.

Growing brand awareness through activities of our National Advertising fund.
Business and Operational Support.

Advice and support in finding the right location and in negotiating terms for your lease.

Store design expertise and preparation of blue prints for your store design.

Ongoing and free supply of stationary items such as letterhead and envelopes, business cards and various forms.

A national program of standards and measurements to ensure adherence to a common standard of product quality, value and customer service.

As requested, ongoing support from our financial team in the analysis of your accounting and performance records

Flat-fee royalties, which do not escalate with your increasing sales. As you become more profitable, you reap the full benefit!

Support team at Home Office is the best in the industry, offering invaluable experience, knowledgeable feedback and guidance
Why Grower Direct Fresh Cut Flowers?
Grower Direct continuously strives to build strong affiliations with partners who offer a win/win partnership.
Partners such as:
FTD

-The worlds most recognized flower industry brand. Providing leading edge technology and worldwide delivery of flowers.
Aeroplan

- Canada's largest airline frequent flyer loyalty program with over 6 million members. CAA (Canadian Automobile Association) - With over 5 million club members nationally.
ScotiaStar Credit Card Program

- A loyalty program available to Bank Of Nova Scotia clients.
Canadian Franchise Association

- Dedicated to encouraging and promoting ethical franchising in Canada.
FloraWorld

- Grower Direct's own call center generating orders for our stores. In most cases providing a store flower order revenue in excess of their Grower Direct royalty. All at no cost to our stores.
Odyssey Brokerage

- Our own consolidation, buying, and quality control facility in Miami, Florida.
Grower Direct Printing

- Our printing facility provides all of your basic business printing free! Including business cards, letterhead, envelopes, order forms, posters, etc.
Are You a Good Fit for Grower Direct Fresh Cut Flowers?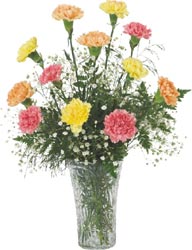 Companies which employ the franchise business model are seeking to expand their market-reach faster and farther than they could using their own resources. The retail franchisor brings to the party:

a coherent business plan built on a recognized "brand",

a tested and successful set of methods, including sales propositions,

a set of products or services which have consistent quality, sufficient to meet customer expectation and build consumer confidence
Now back to the question. For their part, the franchisees are expected to provide:

sufficient financial resources to cover the establishment and operation of local operation as well as any royalties or other fees,

the management skills required to operate a successful business,

the energy and understanding required to grow and sustain a retail enterprise,

substantial knowledge of, and sensitivity to the local community
Finding and selecting the right franchisees is "mission critical" at Grower Direct. Because our selection process is more detailed and demanding than many, not everyone who applies for a Grower Direct franchise meets the criteria.
We look for people who are sales-oriented and have entrepreneurial drive, good solid management skills, financial means and the dedication required in today's competitive retail market. If that sounds like you, we have a proven success formula for your consideration.
For more than a decade, our floral franchise system has helped individuals who dreamed of running their own successful business. Those people used our system, but their achievements depended just as much on their own dedication, drive and hands-on managerial skill.
The total cost of opening a Grower Direct ranges between $59,500 and $87,500.