Search Tools
Franchise Research
Garlic Jim's Famous Gourmet Pizza

Gourmet...Right Away!



Business Type
Franchise
Min Liquid Capital
$100,000
$100,000
*
Total Investment
$170,600 to $353,300
Required Net Worth
$275,000
Number of Units
15
In Business Since
2003
* For Current Info See:
Franchise Disclosure Document

Overview
The pizza business is robust enough to have weathered the trends and diet fads of recent years. It remains as one of the largest contributors to the food service segment of our economy. The pizza industry generated $30 billion in sales last year! Here are some interesting pizza facts:
93% of all American households order pizza at least once per month
Americans eat the equivalent of 100 acres of pizza per day 3 billion pizzas are sold in the US each year
The Nation's Italian and pizza restaurants are growing faster than any other segment in the food service industry.
If you break down pizza sales into its major components you will find that 4% of sales comes from "take and bake" and 29% come from dine-in. An astounding 65% is generated by delivery and carryout.
HOW SMART ARE YOU? You are considering a franchise opportunity that addresses 65% of the pizza market without the added expense of a dining room, staff and public restrooms.
We're currently accepting applications to participate in our exciting world of gourmet pizza delivery and carryout.
Talk to us and find out how we sold over 40 franchises in 3 states in our first year of operation.
Products & Services
In order to start and grow the next great national pizza chain, Founder & Chairman Dwayne Northop said "it all starts with the dough, the sauce and the cheese."
What he means is that the dough must make a crust good enough to eat by itself. It should taste like a good French bread. The sauces will be made of fresh packed ingredients. The red sauce tastes like fresh tomato and looks bright and delicious. The cheese used by Garlic Jim's is 100% fresh whole milk mozzarella , never frozen. All of our flatmeats and other toppings are of the highest quality and always fresh packed. Together, our fine, high quality ingredients combined with creative, inventive recipes to produce a product we're proud to call gourmet. But that isn't good enough.
When we created the Garlic Jim's concept we studied the pizza market carefully. We determined that many of the "Mom & Pops" we're making very high quality pizzas but it could take 45 minutes to an hour to get them delivered. The big franchises are able to get a pizza delivered quickly but we didn't care for the quality of the pizza. So Garlic Jim's combines the gourmet pizza created by the small operator with the refined and speedy delivery mechanisms of the big operators to provide to our customers - "Gourmet, Right Away!" And we do it all from an attractive, upscale store front.
Training & Support
One of the most common questions asked of us is "so what do I get when I pay my franchise fee?"

In addition to the Garlic Jim's business plan, recipes, logos and other service marks, store design, branding and centralized purchase power, Garlic Jim's supports its franchisee from that time that they enter the system until grand opening. Even after opening we'll be there to assist you with franchise compliance and quality assurance.
As soon as you complete the sales process and become a franchisee you are handed off to the real estate process. We pair you with a qualified expert in retail leasing to assist you in locating and qualifying a site that meets all of the Garlic Jim's criteria. Once your site is selected, you will be provided with help to negotiate a fair lease for your location.
As you complete your lease negotiations you will be provided with store design assistance from one of our experienced architects who will also help you get your permits.
Once your store location is identified, the lease secured and the design completed, you will work with our equipment department to place your restaurant equipment order.
You will then be presented with pre-qualified contractors to help you build out your store. We choose only contractors with demonstrated experience in building out restaurant spaces and are familiar with Garlic Jim's designs and equipment.
As your planned opening date approaches you will be scheduled into your 5 week training program where you will learn every aspect of running a Garlic Jim's pizza operation. We will teach you everything from hiring and training people to running the point-of-sale system to tracking inventory and marketing your store throughout your trade area.

You will receive training and assistance to create a tremendous awareness of your new store long before it opens. Our grand opening process is designed to drive volumes of business not normally seen until you've been open for months. We show you how to do it in the first week!
Why Garlic Jim's Famous Gourmet Pizza?
Wanting to be your own boss, owning your own business and having more control over your career are admirable goals but they don't necessarily guarantee success. Some people are more comfortable following a proven business plan rather than creating their business from scratch. For those of us that fall into this category franchising makes good sense.

It has been said that a large percentage of independent startup businesses have failed in less than 5 years whereas most franchise startups are still in business after 5 years.
When you buy a franchise, you're buying someone else's proven formula for business. The reasons for failure have been encountered, corrected and factored out of the business plan.

The national average unit volume of sales in 2003 for independent pizza operators was $341,000. The national average unit volume of sales in 2003 for the top 25 pizza operators was $607,000.
Are You a Good Fit for Garlic Jim's Famous Gourmet Pizza?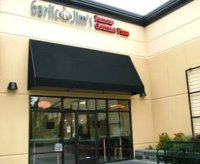 The costs for building a Garlic Jim's store can vary widely depending on the condition of the space that is acquired for your store location. The table below will help you understand the cost breakdown for building a store. A complete explanation of the costs can be found in our Uniform Franchise Offering Circular.
Initial Franchise Fee

$10,000 - $20,000


Real Property

Negotiated lease rate


Equipment & fixtures

$60,000 - $130,000


Leasehold improvements

$60,000 - $130,000


Opening Inventory

$3,000 - $5,000


Opening marketing

$13,000 - $20,000


Smallwares

$1,000 - $3,000


Uniforms

$500 - $1,000


Business licenses

$100 - $500


Insurance

$500 - $2,000


Training expenses

$100 - $2,000


Miscellaneous expenses

$2,400 - $3,800


Additional expenses

$20,000 - $35,000


TOTAL

$170,600 - $352,300