Search Tools
Franchise Research
Family Financial Centers

Welcome to the Family




Overview
FAMILY FINANCIAL CENTERS (FFC) FRANCHISE was developed to address the market opportunity created by the loss of neighborhood branch banks and the sub-standard response by current alternative financial service providers. FAMILY FINANCIAL CENTERS, unlike the traditional check cashing and payday loan companies, are not located in the "war zones" and poorer parts of town. FFC is positioned in the first and second tier suburbs where the middle-income customer has firmly established himself and is looking for a provider that can give him the ambience and professional service of a local bank, but in a manner that meets his specific needs. FFC stores are located in attractive suburban strip centers that are convenient to the customer's home or work. The store presentation is a bank-like setting with the latest computer systems and transactional software that allow for quick and efficient service, and security systems that are state of the art but don't sacrifice customer contact and owner comfort. The franchise marketing programs promote a full menu of financial products to the communities they are serving.
Products & Services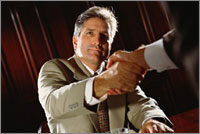 Because most of the industry is not aware of or committed to the fundamentals of branding, marketing, and automated systems, FFC franchisees can exploit these areas as its competitive advantage to attract and build market share with a consumer base that is eager for a quality service provider. Additionally, FFC will be very active in developing new products and services that its franchisees can then market to their existing customer base, further cementing that relationship and differentiating the FFC brand from the rest of the pack.

Products and Services Include:

Check Cashing

Short Term Loans

Bill Payments

Money Transfer

Membership Cards

Prepaid Services

Prepaid Debit Cards

Prepaid Phone

Prepaid Wireless

Money Orders

Tax Return Preparation

Direct Deposit / Payroll

FFC Prepaid MasterCard with Direct Deposit

FFC Direct Check Service

FFC Payroll Card

Family Discount Medical Plan

Savings Account Program (Currently in development)

Mortgage Program (Currently in development)

Legal Document Assistance (Currently in development)
Training & Support
Franchisees have an experienced corporate management team with a support staff that can properly set up their stores and provide the training they need to launch their businesses, and work with them on an ongoing basis to successfully build those businesses.

If you're looking for a "single source" solution for researching, developing and opening your store, FFC is the place for you. We will lead you through the maze of starting a business from initial discussion to store opening and support you thereafter. We're there each step of the way.

WE DO IT ALL!

Market Evaluation

Site Selection

Lease Negotiation

Turnkey "Store in a Box"

Project Management

Licensing

Classroom and in-store Training

Ongoing Support
Why Family Financial Centers?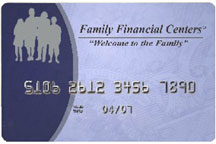 To understand the market forces that have shaped this industry and the corresponding opportunity, we have only to look at the sweeping changes that have taken place in the financial services industry as a whole, and the banking industry in particular.

Over the last ten years there has been a nationwide consolidation of banks that has resulted in the closing of thousands of branch locations. The net effect of this pervasive change is the loss of financial services to a whole sector of the American population, in particular, the middle and lower income customer. What was once a standard fact of life for the American consumer, his relationship with a local branch bank (with whom he had, in some cases, a life-long connection) now no longer exists. In addition, as has been widely documented over the last decade or two, personal debt ratios have risen to an all-time high. Traditional banks, driven by a different agenda and not focused on the middle and lower income customer with little disposable income, have abandoned this sector of the market. This has left millions of customers across the country without a regular financial service provider to meet their basic needs.

Year after year, statistics from the banking industry have documented the burgeoning "unbanked" population in the U.S. Approximately 20-30% of Americans today do not have a relationship with a traditional bank, credit union, or savings institution. As much as 50% of this group is "unbanked" by choice. This is a stunning statistic that highlights a huge and growing segment of the population whose needs are underserved.

This demand has spawned a dynamic alternative financial services industry, in particular, check cashing and payday loan companies. Industry studies now estimate as many as 13,000 check cashing and payday loan companies are operating in the U.S. cashing approximately $180 million checks annually with an aggregate face value of more than $55 billion. Consumer demand continues to be strong because the focus of these centers is to provide services that meet the needs of the "unbanked" or "underbanked" customer in a way that fits their particular lifestyle.
Are You a Good Fit for Family Financial Centers?
FFC offers a range of investment options to the prospective franchisee. These include:



Single Store


The single store plan allows you to start modestly, learn the business, and then decide if you would like to expand to additional units. As a practical matter, there is not a significant physical limit to the volume you can do in a single location, so it may not be necessary to do more than one store to achieve your financial goals.



Multiple Store Plan


For those who would like to expand their business and open additional stores, there is a multi-unit development plan available that would allow you to acquire the rights to 3-5 stores and receive discounted franchise fees on stores after your first location. This also would allow you to create economies of scale in your store operations and potentially achieve more market presence and penetration in your area.



Existing Store Acquisitions


FFC has an aggressive plan to acquire existing independent locations, convert and upgrade them to the FFC system, and then sell these locations under the FFC brand to prospective franchisees who would prefer to be in an operating business with existing cash flow rather than to be in a start-up location. If this type of opportunity is a better fit for you in terms of your risk tolerance and resources, we would be happy to discuss the available options with you.



"Store 'n Store" (SNS)


The Company has developed a "Store 'n Store" program (SNS) in response to requests from business owners who have companion or complementary businesses with high traffic and want to offer our menu of services on a co-branded basis. This includes gas station/convenience stores, tax preparation services, upscale laundromats, etc. This program would also be available to prospective franchisees who want to open an FFC in one of these SNS locations for a substantially lower build-out and equipment cost and still be able to build the business effectively because of the existing traffic.



"Absentee Owner" Program


For the prospective franchisee who is looking for a good return on investment and likes the opportunities in the alternative financial services industry but does NOT want to operate the business on a day-to-day basis, FFC has an affiliate company that will operate these stores for the absentee owner in selective markets under a management contract.



Area Development


Area development gives the prospective franchisee with more significant resources and management skills the opportunity to act as a "sub-franchisor" of FFC in his particular market area. This means that the area developer would acquire the development rights to an exclusive territory (e.g. the state of Florida) and then assist the franchisor in developing that territory through franchise sales to new candidates. The area developer would also provide operational support to the franchisees in that territory. For this development and operational assistance, he would receive a percentage of the franchise fees and royalties that are paid to the franchisor on an ongoing basis by franchisees in that territory. The area developer would also have the right to open his own stores in the territory.

Master Franchise License
A master franchise license is usually employed for international development where the candidate is acquiring the franchise system and rights to market that brand in their country (e.g. Canada, or Mexico). This option would require substantial resources and the ability to take the existing system that the franchisor provides and, with the franchisor's help, adapt that system to a new environments,(culture, language, laws, etc.). This opportunity is available on a select case-by-case basis.