Search Tools
Franchise Research
El Pollo Loco

Flame-Grilled Mexican Chicken



Business Type
Franchise
Total Investment
$750,000
Required Net Worth
$1,500,000
Number of Units
345
In Business Since
1980
* For Current Info See:
Franchise Disclosure Document

Overview
The first El Pollo Loco, or "The Crazy Chicken," began as a roadside chicken stand in the small town of Guasave on Mexico's Pacific Coast. It featured an authentic family recipe-fresh chicken marinated in special herbs, spices and citrus juices and then flame-grilled to perfection. The restaurant quickly became a local favorite. In 1980, the first California restaurant opened.

Today, El Pollo Loco is owned by Trimaran Capital Partners, a private New York-based asset management firm and Company Management. The tradition continues with signature dishes that satisfy consumers desire for flavorful food that fits well with today's healthy lifestyles. We're currently flame-grilling marinated chicken in 340 El Pollo Loco restaurants: 146 are owned and operated by the company and 194 are owned by franchisees.
Products & Services
El Pollo Loco, pronounced "L Po-yo Lo-co" and Spanish for "The Crazy Chicken," is the nation's leading quick-service restaurant chain specializing in flame-grilled chicken. Founded in Guasave, Mexico in 1975, El Pollo Loco's long-term success stems from the unique preparation of its award-winning "pollo"-- fresh chicken marinated in a special recipe of herbs, spices and citrus juices passed down from the founding family. The marinated chicken is then flame-grilled, hand cut and served hot off the grill with warm tortillas and a wide assortment of side dishes.

Rounding out the menu are fresh flavorful entrées inspired by the kitchens of Mexico, including Signature Grilled Burritos, Pollo Bowls, Pollo Salads, Tacos al Carbon and Quesadillas. And of course, there is the fresh salsa bar featuring our famous House Salsa, alongside our Avocado, Chipotle and Pico de Gallo salsas. All are made fresh daily.
Training & Support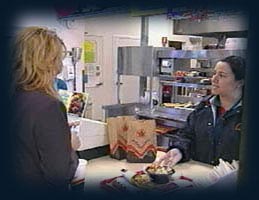 El Pollo Loco has assembled a top tier team of experts in operations, training, marketing and development. From the day you begin working with us, through your development, grand opening and ongoing operations we'll be here to support your needs and growth.



Pre-opening Training


New franchisees receive six weeks of training for the owner and General Manager. This provides a comprehensive overview of managing an El Pollo Loco for success. As your opening date grows closer, a restaurant opening specialist will work with you to plan and coordinate the details. On the actual opening date, El Pollo Loco personnel will be on hand to make sure everything goes according to plan.



Ongoing Training


Once your restaurant is open we continue to support your efforts with training programs for both crew members and management development. Our training center in Irvine California is designed to provide training in all aspects of restaurant operation.



Crew Support


We know that crew members are the most important ingredient in delivering exceptional guest experiences. We provide support and guidance in the recruiting, hiring and training of employees who will build your sales and customer loyalty. Special programs, such as our Grand Grill Master competition increase fun and motivation. Incentive contests and mystery shopping programs conducted by EPL and strategic partners like Coke give crew members a chance to be rewarded for great performance.
The overall success of El Pollo Loco comes from keeping the fire burning bright at every restaurant, every day. To support your efforts, a franchisee consultant will be provided to you and is your company liaison at all times. They will provide updates on new information and procedures important to your business on topics such as:

New product development.

Food safety.

New equipment and technologies.

Business planning.

Your consultant is available as a business counselor to help optimize your success through strategies which grow sales and control costs.
Why El Pollo Loco?
The secret to El Pollo Loco's success is our great tasting food. Our menu has a broad and deep consumer acceptance across a wide span of demographic and socioeconomic sectors and is a healthy alternative to traditional fast food.

HOT FACTS:

$1,555,000.00 company AUV 2.47 to 1 sales to investment ratio 27.8% operating margin 68% cash on cash return --> 50% lunch and 50% dinner during 14-hour operating day

The highest AUV of any combined franchised and company-operated chicken concept in the country

Exclusive development territories

Solid track report with 25 years experience

End cap, in-line and freestanding drive-thru options

Strong catering opportunities
Are You a Good Fit for El Pollo Loco?
CATCH THE FIRE!



Here's What It Takes

Desire to provide a unique and relevant product

Current multi-unit restaurant operator or investor seeking to diversify portfolio

Minimum net worth of $1.5 million with liquidity of $750,000

An interest in opening a minimum of three locations in 48 months

Recognize the value of investing in and expanding with a restaurant chain that has a solid track record