Search Tools
Franchise Research
| | |
| --- | --- |
| | Dollar Stores by Liberty Opportunities |

Overview
Join the World Leader in Dollar Stores and let us help YOU become a successful independent business owner.


Dollar stores remain one of the hottest growth sectors in retailing, and for the last 20 years Liberty Opportunities has been helping people just like you who want to drive their own success, become independent Dollar Store and Dollar Value Store owners. A Liberty Dollar Store is not a franchise. With Liberty you own your own Dollar Store.



The Liberty Advantage


Liberty Opportunities operates in all 50 states and in 23 countries throughout the world. Ours are among the finest quality Dollar Store packages offered at some of the lowest prices in the industry. Because of our world-wide network of retail stores, our independent owners have access to high quality merchandise at wholesale prices usually reserved for large chains.
Products & Services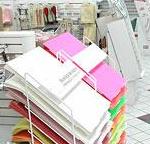 Liberty Opportunities has developed long term relationships with the world's leading suppliers of high quality merchandise. Because Liberty brings a large volume of purchases to the suppliers, the suppliers treat us as a chain. As a result...

Even though each store is independently owned, Liberty is able to offer store owners the buying power of a much larger company.

A lot of small businesses have difficulty competing with large chains. Through strategic relationships with suppliers in our preferred buying network, we are able to provide our store owners with price discounts only large chain stores or large wholesalers are able to obtain. We take small store owners and make them big players in the industry.

Liberty's Preferred Vendor Network offers many advantages to a Liberty Dollar Store owner including:

Exclusive Prices Reserved Only for Liberty Opportunities

Access to a Diverse Selection of Quality Products

Vendor Offered Monthly Specials and Discounts

A "Big Business" Competitive Edge in the Marketplace



No Two Dollar Stores are Alike


With a wide range of merchandise offerings, Liberty can help you conform your store offerings to match your area needs. From snow scrapers in Minnesota to beach sand castle making kits in Florida, the diverse selection of merchandise available through our Preferred Vendor Network will provide you with the perfect merchandise for year round sales at your location.



The Buying Power of Liberty


Some clients tell us that one of the most intimidating aspects of opening a Dollar Store is learning to purchase and re-stock merchandise. At Liberty we take the mystery out of merchandise purchasing and teach you how to stock and restock your store. Find out more about the Buying Power of Liberty.



Store Owners Purchasing Corridor


View our sample Merchandise Lists to get an idea of the wide range of products that will be available to you as a Dollar Store owner. After you become an LOI dollar store owner, you will gain access to our online Store Owners section. This section will automatically link you to a variety of preferred vendors, allowing you to make all of your purchases online at your convenience. The Store Owners section is also used for any comments or questions you may have.
Training & Support
Liberty's expert staff trains you in the fundamentals of owning and running a retail store. Liberty offers complete in-store training and merchandising for nearly all of its Dollar Store packages. Even with our basic package, you will be trained professional by remote means. You will also always have access to a representative who will provide you with continued support. You are never alone with Liberty.

Our consulting program can turn an inexperienced novice into a seasoned merchant in a relatively short period of time.

We train you in store operations, employee policies, buying trips, advertising procedures, inventory control, bookkeeping and other aspects of marketing and merchandising.

We provide you with training manuals.

We can assist in selecting your store location by working with local Realtors, Landlords, Management Companies and/or leasing agents.

We can assist you in your lease negotiation.

We can assist you in preparing your business proposal including your business projections and cost analysis.

We can inform you of the various lending institutions available in your area.

We offer a Pre-Opening guide and checklist to notify you of the items to be taken care of prior to the opening of your store.

We offer a toll-free number to call for any questions or assistance you may need.

A professional shopper accompanies you on your first buying trip and helps you learn how to stock and restock your store.

We assist you with your Grand Opening.

Our in-store training program offers thorough training in retail sales. A professional trainer will be on hand to assist you with all of the following:
Inventory

Pricing

Cash Register

Fax Machine

Store Image

Displays

Refund Policy

Holds

Store Appearance

Stockroom

Buying

Store Calendar

Promoting/Advertising

Grand Opening

Attitude

Store Management

Shoplifting/Shrinkage

Employee Policies

Greeting Customers

Bookkeeping

Understanding Merchandise

Applying for Dun & Bradstreet
Why Dollar Stores by Liberty Opportunities?
When you choose Liberty, you become an integral part of an industry leading, world-wide network of successful retail store entrepreneurs. Explore the many advantages Liberty Opportunities can offer you.



YOU OWN YOUR OWN DOLLAR STORE


This is not a franchise offer. Whether you choose to rent, lease, or purchase your space, you will be the sole proprietor. The Liberty program is based on a one-time fee, and we do not receive future percentages. With Liberty, you receive the same support and benefits of a franchise, but you own and manage your own store.



YOU RECEIVE PROFESSIONAL CONSULTATION


Liberty gives you all the help you need to get started but will not interfere with your store operations. Assistance in site location is available at your request. You can have your store open in as little as thirty days from the time you purchase your initial merchandise. Apples to apples, Liberty store packages are less expensive than our competitors' packages.



YOU ENJOY LIBERTY "BUYING POWER"


Liberty's Preferred Vendor Network gives you access to merchandise pricing only available to big chains and wholesale outlets. You will be able to offer your customers top of the line merchandise and stock a wide array of inventory for every occasion or specialize in a particular type of merchandise. We have special Liberty Opportunities vendor pricing available at prices lower than those you can contract for independently.

Your first shopping trip is FREE - Enjoy an all-expense paid trip with one of our professional buyers to get your store set up right with top of the line quality merchandise.

Exclusive Online Purchasing & Pricing - We're the first to offer a Centralized Online Purchasing Corridor for our storeowners. After the initial buying trip, you'll enjoy continued savings and support to restock your store with quality merchandise.

Immediate delivery is just a phone call away - Most offer low to no minimuns, so you can order as many or as few items of any style or color and receive immediate delivery. This will be a great advantage for you over your competitors that may have to wait weeks even months for new merchandise.



YOU ENJOY PURCHASING FREEDOM


Unlike franchise programs that require one-source product purchasing, with Liberty you can buy from our network or elsewhere. You are under no future obligations. We have dollar store merchandise and value store (dollar plus) merchandise.



YOU PARTNER WITH INDUSTRY EXPERTS


For 20 years, Liberty has been developing successful dollar stores. Liberty Opportunities, Inc. has opened stores throughout North America, Asia, Europe, Africa, South America and the Caribbean. We know what you need to be successful, and we will give you the start you are looking for.



YOU RECEIVE PROFESSIONAL TRAINING & ONGOING SUPPORT


We offer on-site professional training with nearly all of our store packages to train you in the fundamentals of owning and running a retail store. Even with our basic package you will be trained professionally by remote means. You will also always have access to a representative who will provide you with continued support. You are never alone with Liberty Opportunities.



YOU ENJOY EXCLUSIVE MERCHANT ADVANTAGES


Because of our long-standing success and reputation in the industry, Liberty can offer our store owners significant merchant advantages including:

GUARANTEED REIMBURSEMENT ON RETURNED CHECK Thanks to a special arrangement with one of the country's premier check collection organizations, Liberty Opportunities storeowners enjoy the luxury of accepting personal checks without worrying about the risk — all with no costs, fees, or terminal charges.

LOWEST MERCHANT ACCOUNT RATES IN THE INDUSTRY Give your customers the option of paying with Visa, MasterCard, Discover, and American Express. Enjoy the lowest rates available thanks to Liberty's exclusive arrangements with the country's leading credit card vendors!