Search Tools
Franchise Research
| | |
| --- | --- |
| | Discount Sport Nutrition |
Business Type
Franchise
Total Investment
$80,000 to $170,000
Number of Units
50
In Business Since
1996
* For Current Info See:
Franchise Disclosure Document

Overview
On February 29th of 2000 we officially kicked off our Franchising division. As you know, the nutrition and health industry has been rapidly changing everyday. New products. New opportunities. We are extremely excited about the future of the DSN System, and we are pleased to have you reading this information. Please feel free to contact us if you have any questions or want to take the next step in owning one of our stores.

We are excited about this new venture within our company. Discount Sport Nutrition started in 1996 as an Internet company. Since then, we have opened new company owned retail stores in Texas and Oklahoma and are now offering other individuals and companies the chance to become part of our successful business. As of today we have franchises in Tulsa, Oklahoma; Norman, Oklahoma; Denton, Texas; and coming soon locations in Lubbock, Texas and Virginia Beach, VA.

One of the biggest benefits about being part of Discount Sport Nutrition vs. another competitor is that we get some of the largest discounts available in the industry. Due to our large buying power, we can pass the savings onto you and then onto our customers.
Products & Services
Our main goal at Discount Sport Nutrition is to sell the best supplements known to man at prices real People can actually afford.

Discount Sport Nutrition started in 1996. We are one of the oldest "Internet" supplement companies. We noticed most supplement stores sold their products at outrageous markups, and one day we decided to do something about it. We set up an Internet site, and started selling and shipping supplements to people all over the country (and in some foreign countries too).

We soon noticed something about our customers. Some of them knew exactly what they wanted and had no problem ordering it over the Internet. But many people were confused about the different types of supplements available on the market. What these people really wanted was to talk to someone in person who could help them figure out which products would be best for them.

In 1998, Discount Sport Nutrition opened its first retail store, located in Denton, Texas. This was the place where the DSN Concept for selling sport supplements from a retail store was developed, tested and refined. Shortly thereafter we opened another DSN Store in Tulsa, Oklahoma.

The DSN Concept involves offering a wide range of name-brand sport supplements at discount prices, and providing top quality customer service to help people select what they really want at prices they can afford. Sport supplements, of course, include products designed to help people bulk up, lose weight, or feel better. DSN Stores also sell vitamins, herbs, clothes, drinks, and other health-related products.

Starting in 2001, all DSN stores in Texas and Oklahoma became individually owned and operated as Franchises. Discount Sport Nutrition Franchising, L.P. is currently selling rights for other individuals and companies to open up DSN retail stores. If you would like more information on this, please select this option in the left menu bar.

Discount Sport Nutrition has everything you need. We have the lowest prices in the world. So keep an eye out for a DSN location opening near you. That's how it all began and we hope it never ends. We intend to keep providing the best products and customer service at the lowest prices anywhere.
Training & Support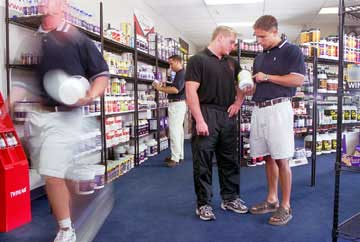 We offer a three phase training program which consists of training at a DSN corporate store and training at your store before and during the first few days of operation. We believe getting into the heart of the business will get most of your questions answered and also get you up-to-date on everything we offer. Also at any time during your franchise agreement, you can call us to receive on-going support.

Not only do we give you our confidential DSN Manual that explains all the steps to opening a store and how to operate one, we help you determine the best site location, help with lease negotiations, store decor, permanent sign criteria, beginning inventory and supplies, marketing materials, POS equipment, DSN's full product database, POS software training, opening assistance, grand opening promotion and much more. We also offer continued support through-out the life of your agreement.

You will be listed in both our catalogs and our website. We want you to be as successful as you can be.
Why Discount Sport Nutrition?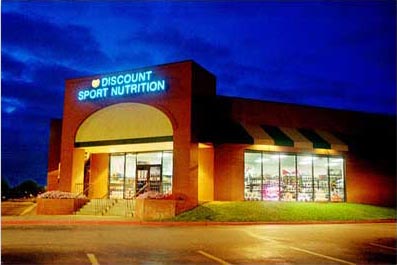 Discount Sport Nutrition is a company that has been around since 1996. Every employee at DSN is dedicated to making the company succeed. Since the company is mostly made up of young business professionals, the atmosphere is up-lifting and challenging. Everyone wants to be the best that they can be. Most competitors in this business have the idea that selling supplements, vitamins, herbs and other health related products has to be made up of a boring, quiet, and corporate-like surroundings. Here at DSN we target the younger generation which has the more "upbeat" and "fun-to-be-at" stores. We at DSN want to take care of our franchisees, our employees and our customers. Come into any one of our stores and you will definitely see and feel the difference. Since we do have such great relations with around 20 distributors around the United States, we receive the BEST discounts in the industry. We know a lot of companies might say they get good discounts, but look at our prices and you can tell we get something special. Our franchises will be able to buy their supplements directly from our approved suppliers.

Your fee gets you all of the following:

Huge discounts on products from our approved suppliers

Copy of the DSN Manual which contains everything on how to run a store and set one up

Assistance with Site selection

Assistance with Lease negotiations

Assistance with Site layout and build out

Marketing materials and support

POS software with entire DSN product database

Assistance with Decor

Three phase training schedule both at a DSN corporate location and at your store

On site opening assistance

Grand-Opening promotion assistance

Referral fees from our sales on the Internet

On-going assistance

Your store(s) listed in our quarterly catalogs and Internet site

Use of all DSN trademarks and much more...
Are You a Good Fit for Discount Sport Nutrition?
The Initial Franchising fee is $25,000 for a DSN store, and you are required to purchase goods and services ranging from $39,095 to $69, 395, before you open your DSN store. The estimated initial investment required to begin operation of a DSN store, including the initial franchising fee and required purchases, ranges from $87,795 to $170,295.