Search Tools
Franchise Research
Designs of the Interior

Because every life is uniquely designed



Business Type
Franchise
Min Liquid Capital
$125,000
$125,000
*
Total Investment
$275,000 to $400,000
Number of Units
21
In Business Since
1983
* For Current Info See:
Franchise Disclosure Document

Overview
As a DOTI Design Store franchise owner, you have an unprecedented opportunity to tap into a proven network of resources to help you grow, including other DOTI Owners who want to see you succeed.

Be in business FOR yourself - not just BY yourself

Challenges are an integral part of any business. To meet challenges and embrace opportunities, at DOTI you are not alone. You will have colleagues who will help you, listen, and guide you as your challenges arise. Mutual cooperation and success are our goals.

It is through teamwork that we have developed the highly successful DOTI formula for client relationships. As designers know, there are many ways to structure a relationship with a client. At DOTI, we have taken the best policies and suggestions from our vast designer network and hundreds of clients to provide a framework for both the client and the store. We share it with every Owner as part of the training program, and clients appreciate it. DOTI believes that only through teamwork can an individual achieve total success. Just imagine how your business knowledge can be complemented with DOTI's voice of experience to bring dramatic benefits to both your Design Store and your clients.

Take advantage of this award-winning opportunity in a very large and fragmented industry that continues to grow to higher levels. Control your destiny by owning an upscale business with professional employees that leverages your strong people management and leadership background.



Products & Services
Remarkable design turns your likes and dislikes into a space you will love to come home to!



DOTI specializes in beautiful, practical, magnificent, tasteful, formal, whimsical, comfortable, impressive, casual, and any other host of adjectives that define your lifestyle and home.



Window Treatments


The best custom window treatments are a seamless combination of your style preferences, your functional needs and your budgetary guidelines. When these three objectives are met, you will be left with a treatment you will enjoy for years to come! Our Designers excel in assisting you with this creative and detailed process. Window Treatments are a true area of specialization at DOTI, and we know how to make them a beautiful focal point in your new room!



Custom Furniture


Selection is key when choosing furniture for your home. But, with so much to choose from, it is easy to get overwhelmed. That is where your DOTI Designer can help! We are trained to guide you through this process - not dictate what your choices should be. Your home should be as unique as you are. DOTI works with over 200 different manufacturers from all over the world - which helps us create a home environment that is a special reflection of you and your family.



Lighting & Accessories


Lighting and accessories are truly the finishing touches to any space. A great room with fabulous new furniture but bad lighting and no accessories will not feel complete or well done. We help our clients build a plan for there new space - and lighting and accessories are part of that plan. At DOTI we have a broad selection of lamps & finishing touches to help you complete your space. From traditional to contemporary and everything in between, we are confident you will find the perfect solution at your local DOTI Design Store!



Design Services


Meet with a DOTI Design Consultant in the store or in your home - you decide. Our business is built on successfully guiding you through the design process so that you can make the right decisions for you and your family. We know that a great room goes beyond the furniture, that's why DOTI can help you with your custom window treatments, area rugs, lamps, artwork and accessories to complete the space. We worry about all of the little details so that you won't have to. We will make decorating your home a wonderful experience!

The great news doesn't end there either. When it's time for the delivery of your new furnishings to your home, don't worry about waiting around all day. We'll coordinate the delivery, be on site to inspect everything and place the item(s) in the perfect spot! We will attend to every detail.

Exceptional service is an essential element in the DOTI experience! Each of our Design Consultants has the expertise to design a room, an area, or the entire interior of your home. Aided by the fact that we have one of the largest furniture and fabric libraries in the country only further insures that we will create a custom look built just for you. DOTI will help you create a home environment that brings more happiness, love, and fun into your life.
Training & Support
Training

Whether you are a seasoned management professional or an entrepreneur for the first time, DOTI's intensive Phase I, 16 day training program will give you a head start on making your Design Store a success. Training begins after Headquarters has worked with you on site selection and lease negotiation to secure your DOTI Design Store location.

During Phase I, you will be exposed to a wide variety of business and industry topics with appropriate strategies for success. We will work with you to implement the plan for your new business including training and support on the following topics...among others:

Operating Plan

Grand Opening

Public Relations

Store Merchandising

Marketing

Recruiting

Accounting

Vendor Relationships

Advertising



Phase II


Training is the on-site visits you receive from our seasoned professionals to assist you with your store set-up, new hire training, Grand Opening, promotion, and sales training. You will be given specific business protocols to use as you begin your path toward success.



Phase III


Training involves the annual Owner's Meeting and the annual sales training class open to both Owners and their design professionals. At DOTI, we believe in a continuous "training the trainer" format for maximum results, along with an enthusiasm to keep learning and evolving as our network grows.



Support



Experience the independence of owning your business while immediately connecting with our distinguished team of franchise owners who believe in working together to achieve success. DOTI Owners come from backgrounds with companies like IBM, Chase, Black & Decker, Ernst & Young, Enterprise, McDonald's, JD Edwards and small business.

As a new Owner, you will receive site identification & lease negotiation support, 16 days of Phase I initial training, vendor introductions, formatted accounting software, thousands of fabric samples, catalogs, wallpaper books, finish and trim samples, and all the details to make your business a success... not to mention, you will love your group buying power!

You benefit immediately from our well-known signature logo, professional graphic design, public relations expertise, and continued marketing support to give your Design Store a competitive edge and high-end professional image. DOTI will also help you attract local media attention that will create valuable credibility in the community.
Why Designs of the Interior?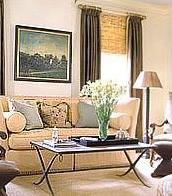 We Offer:

A proven plan to serve as your guide

Powerful group buying power

Comprehensive Training programs for you and your employees

Support with time consuming tasks that take away from growing your business

Reduced risk

Strong support system with other DOTI owners, managers and designers who share their personal and professional insight.

Think about all of the homes, condos, or townhouses in your area. Every one of them has furniture, window treatments, accessories, wall coverings, lamps and more of what DOTI provides. Here are some numbers:

Fannie Mae projects American investment in "home" will increase from $11 Trillion to $22 Trillion over the next 8 years - the fastest growth in history.

US Home Furnishings purchases have continued growing - to over $200 Billion annually.

Franchising comprises over 40% of all retail sales - and only 2% in Home Furnishings. This spells OPPORTUNITY for DOTI in the future.

US Census Bureau numbers continue to show a steady increase in Home Furnishings sales, further illustrating how Americans are "bunkering" or "cocooning" in their homes.
Are You a Good Fit for Designs of the Interior?
Unlimited opportunity and independence are the cornerstones of DOTI ownership. Depending on where you live, such opportunities may be available for single or multiple Design Store franchise ownership. DOTI seeks to attract the most motivated entrepreneurs within a market, because it is the people that make the DOTI team the emerging leader in upscale home furnishings...across North America.

DOTI will be opening Design Stores in major markets where we can partner with people who demonstrate three primary characteristics.

People management skills.

Marketing aptitude.

Leadership.

Experience in the industry is NOT necessary. Owners hire and manage talented professionals who serve our distinguished clients. The Owner runs the business end of the daily operation by utilizing our proven systems and extensive training.

There is no limit to what you can accomplish with DOTI. We have worked hard to design a system that will enable you to focus on execution, rather than consistently "reinventing the wheel."