Search Tools
Franchise Research
Club 50 Fitness

Where Fun and Fitness Come Together



Business Type
Franchise
Min Liquid Capital
$50,000
$50,000
*
to $80,000
Number of Units
14
In Business Since
2003
* For Current Info See:
Franchise Disclosure Document

Overview
This is an exciting time in the growth of our Franchise System and we are anxious to share our story with you.

The 50-plus market is the fastest growing and most affluent consumer group in North America. This market is huge and controls enormous wealth. They own three-quarters of all financial assets and account for half of all discretionary spending power. Over the next ten years 78 million Baby Boomers will turn 50 years old. They are responsible for over $2 trillion in consumption and there's no let up in sight.

Club 50 Fitness targets this specific demographic by offering a revolutionary approach to fitness, (Hydraulic Circuit Fitness Training) designed exclusively for men and women aged 50 and above.



The Club 50 Fitness program:



Targets fastest growing market segment

Features fitness programs & equipment designed exclusively for 50+ adults

Includes comprehensive software makes it easy to manage business

Provides outstanding franchisee support

Franchisees receive thorough training in use of the equipment and in conducting exercise sessions. We also provide ads and news releases useful in getting attention for your center. One of the enormous advantages of owning a Club 50 Franchise is the genuine interest by local newspapers, TV and radio stations in activities aimed at improving the quality of life of seniors. We'll give you useful tips for getting their attention.
Products & Services
Fitness & Nutrition
At Club 50 we believe that the very first step in any complete fitness program is good nutrition. That's why in addition to our ultra-high-quality, adjustable equipment, we offer a complete line of pharmaceutical grade supplements that are part of our co-ed Active Adult and Active Adult Weight Loss nutritional programs.These branded high quality nutritional products include:

High quality multi-vitamin

Chocolate and Vanilla Protein Beverage

Osteoporosis Formula

Prostate Formula

Protein Sports Bars

Sports Drinks

Protein Snacks

These products and their associated programs provide a second source of revenue for franchisees. Instead of simply relying on the fitness circuit for income, franchisees also have execellent profit potential by offering top-quality products.


Training & Support
Club 50 gives you excellent value for your money. Club 50 offers a comprehensive franchise package for entrepreneurs interested in opening a senior's fitness club. Our franchise package contains all the essential elements as well as all the day-to-day items you will need to launch and successfully operate your new club.



Training and Support


We provide you with five days of comprehensive training in our business operations and procedures, including our superb exercise and fitness program. You'll learn how to use our excellent office, sales, computer software, and marketing systems. Your training will consist of both classroom and hands-on experience.

As a valued member of our franchise system, you'll receive outstanding business advice and support. You'll be visited, on a periodic basis, by a Club 50 Fitness field representative. And, we're always available during business hours to answer your questions and address your needs.



Marketing


We're highly experienced in marketing Club 50 Fitness to the public. We'll supply you with attractive consumer marketing and advertising materials, programs, and ideas. You'll have guidelines for the implementation of advertising and promotional materials within your market. You will also have full access to our musical image, which can be used in any marketing venue, as well as full access to our professionally produced 30 and 60 second television spots. Club 50 believes in supplying the advertising and marketing tools necessary to be successful in today's competitive business climate.



Software


Superior Software System: Our superb, state-of-the-art software is a key element in the operation of our entire business system. Customized to our special needs, it is designed and managed by APS, a leading computer software firm. This remarkable system handles many of our administrative duties — from member tracking information, to workout history, to financial transactions.



Branding


To ensure that Club 50 Fitness stands out among all our competition, building its brand identity. An important part of that identity is ensuring that Club 50 Fitness presents a unified image to the public that becomes instantly recognizable. Making Club 50 Fitness a well-known brand will yield positive results for Club 50 units. Being associated with a known, respected brand will increase the unit's perceived value and that of its products and services. This results in increased awareness of the unit and its value to potential members and current members.



Exclusive Territory


Our population based exclusive territories provide protection for all of our franchisees. Our most important priority is helping to support our franchisees!
Why Club 50 Fitness?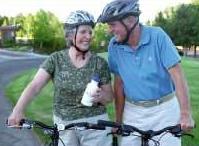 Club 50 Fitness:
Targets fastest growing market segment

Features fitness and nutrition programs and equipment designed exclusively for 50+ adults

Targets an untapped and highly affluent demographic. (Coed Active Adults)

Includes comprehensive software that simplifies managing your business.

50+ Facts...
Seniors (50+) are the fastest growing market today, now comprising almost 40% of the U.S. adult population.

Seniors control over 70% of all disposable income with $2 trillion in spending power and more than $1 trillion of that spent on goods and services.

Seniors spend more on health and personal care than any other age group.

Fitness & Healthcare
Spend more on health and personal care products than any other age group.

Purchase 77% of all prescription medicines.

Purchase 61% of over-the-counter drugs.

Account for 40% of all spa/health club memberships.

More than 50% of the men are in some sort of sports or athletic activity such as golf, fishing, or boating.

The 50 + market is vibrant and looking for new ideas, challenges, and innovative ways to enjoy life. The 50+ age group are willing to spend the time, money, and energy to capture the American Dream. Thanks to Social Security, wise investing, and good retirement plans, they have the money to pay for what they want. Most over 50 want what you want: health, happiness, and security. Many also want excitement, romance, adventure, and close relationships with their children and grandchildren.
Are You a Good Fit for Club 50 Fitness?
A background in sales and/or fitness is a plus, but not required. Through Club 50's developed comprehensive program, you will be taught the necessary skills to successfully own and operate your own facility.