Search Tools
Franchise Research
Clintar Groundskeeping Services

Your North American Landscape Management Professionals



Business Type
Franchise
Min Liquid Capital
$50,000
$50,000
*
to $75,000
Total Investment
$90,000 to $150,000
Required Net Worth
$250,000
Number of Units
18
In Business Since
1973
* For Current Info See:
Franchise Disclosure Document

Overview
Groundskeeping has come a long way since the days when your "landscaper" came armed with a rusted out pick-up truck, a mower, a spade and a flat of droopy petunias. Today's groundskeeping is an art — an all-weather pursuit involving sophisticated knowledge of plants, pests and maintenance.

Clintar is one of the largest landscape management companies in North America. We are a dynamic, energetic company with a love of the great outdoors.

Our goal is to create a North American brand in Landscape Management that is respected and trusted.
Products & Services
Clintar is committed to delivering the highest level of expertise to our clients. In order to meet our standard we ensure that we take that extra step by obtaining accreditations in important industry related programs.



Certified Horticultural Technician (CHT)


CHT is a national designation with recognition across North America, and Clintar is proud to have spearheaded this program in Canada. The CHT program benefits employees in the horticulture industry who are involved in one of four classifications: Landscape Maintenance, Landscape Construction, Retail Garden Centre, and Interior Landscaping.

Certified Irrigation Technician (CIT)
Increasingly, professionally designed and maintained landscapes are recognized as integral to property values, and grounds irrigation is an essential part of maintaining that investment. Responsible water management is an important part of sound environmental practices. The CIT program was developed to prove a standard of competency in irrigation design, installation and maintenance. Clintar is proud to subscribe to this important program, providing a higher level of knowledge and expertise to every irrigation system we install.

Certified Landscape Professional (CLP)
The CLP program focuses on the training and development of the core business skills required to run a successful horticulture operation. Candidates earn their CLP by successfully completing a series of written evaluations in the areas of Financial and Legal, Human Resources, Marketing, Leadership and Corporate Citizenship and Horticulture Operations.
Training & Support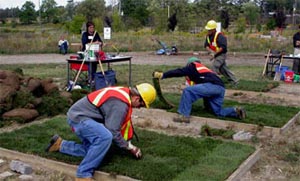 At Clintar, we strive for excellence in everything we do. We offer the best in client service, the best in grounds management services and the best in training, so we look for the best franchisees.

At the centre of Clintar's success is training and operational support. Since 1973, Clintar has invested in the development of proven marketing concepts and methods, management training systems and operational controls. We know what equipment is right for the job, we know what methods are the most efficient and we know how to estimate the costs to complete the work profitably.
Why Clintar Groundskeeping Services?
There are seven main benefits to becoming part of the Clintar team.

Proven operational systems

Extensive ongoing training and support

Centralized bookkeeping system

A National Brand

Established marketing and promotional programs

Territory exclusivity

Many available territories

Clintar's franchisees average approximately $1,800,000 per year in gross sales. With our centralized bookkeeping system, we ensure that your financial and personnel records are always up to date. This system also allows you to review comparative financial results on a monthly basis for each franchise in the system so that you can evaluate your results with your Clintar peers. This is unique in franchising and unique in the industry.
Are You a Good Fit for Clintar Groundskeeping Services?
We are looking to develop new territories across Canada and the United States. We have a proven selection application process to continue the growth pattern already established by our existing franchise partners.