Search Tools
Franchise Research
Christmas Decor

Make Your House Look Like a "Christmas Wonderland"




Overview
Holiday Decorating Realizes Tremendous Growth


The holiday lighting and decorating industry is bigger than ever and growing at an unprecedented pace. Although the industry is in its infancy, time-starved consumers spent over $200 million last year on decorating services during the holidays. With over 800% growth in the past six years, now is the perfect time to begin your Christmas Decor franchise.



Huge Consumer Demand for Service


For most families, the holiday season is one of the busiest times of the year. Finding time to decorate one's home or business is not an easy task, often requiring several days of climbing ladders, testing bulbs, and enduring challenging weather conditions. That is why those who can afford to have someone decorate their home, will most often "jump at the chance" to get out of the task. As the premier Christmas Decorating service, Christmas Decor franchisees help busy families gain more time with their families during the holidays, while enabling them to show their holiday spirit "brighter than ever".



Targeting Upper Income Residential & Commercial Business


At Christmas Decor, we learned early to market our services to those families that would welcome a convenient service for their holiday decorating in lieu of decorating themselves. Although we have tremendous success in the most exclusive residential neighborhoods in the country, the majority of our sales come from dual income families that place a high value on personal time. The great thing about our service is that it is highly infectious. Once we decorate one prominent house in a neighborhood, it never fails to draw attention and additional business.

Our customers come in all shapes and sizes when it comes to businesses. Smart business people understand how important it is to show their holiday spirit and decorate their buildings. Christmas lighting and decorating serves businesses from a marketing perspective and enhances their image.



The Perfect Seasonal Business!


Christmas decorating offers individuals and businesses the ability to generate significant revenues during a time that is traditionally slow for many seasonal businesses. The Christmas Decor franchise opportunity provides seasonal businesses the ability to offset their fixed overhead costs and maintain their key employees all year around. They cross sell Christmas decorating services to their existing customer base, while generating new customers with the convenience of our services.

The majority of our almost 400 franchisees nationally were operating a seasonal business when they came to Christmas Decor. They had no prior decorating experience, but they understood what it means to work hard to grow a successful business. Each one found that Christmas Decor was the perfect seasonal business to expand their revenues.



Franchising Christmas Decor


When it comes to Christmas lighting and decorating, Christmas Decor has established itself as the brand of choice by tens of thousands of customers across the nation. We have successfully differentiated our franchise by not only creating a national brand, but by making that brand represent the highest level of service, dependability, and value. We have taken a seemingly simple concept, and through enhanced service and product deliverables, created a reputation that has fueled the growth of our franchisee system. At the core of Christmas Decor is experienced leadership, staff, and a national network of franchisees that share passion for the business.
Products & Services
Christmas Decor, Inc. devotes significant resources to ensure that our franchisees have the best lighting and decorating products on the market with which to provide holiday decorating services. We have set strict standards for quality and work hand-in-hand with some of the world's most reputable manufacturers to improve product quality and make installation easier (reducing labor costs).

Realistic artificial garlands

Full, realistic wreaths

Lit & unlit garlands

Lit & unlit wreaths

Reinforced, weather-proof wreath frames

Indoor/outdoor bows

UL outdoor rated extension cords

Display timing devices

"Property-friendly" installation hardware

Task-specific ladders

Installation tools & supplies

Storage containers & supplies

Motif display programs

Holiday & seasonal banner programs

Pre-decorated tree programs

Full line of clothing accessories
Training & Support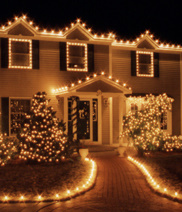 We take great pride in our training program and its ability to make complex processes easy to duplicate at every function and level. Our training program has been developed since 1986 – the depth of it leaves "no stone unturned". We offer a four-day Quick Start Training (QST) for all new franchisees and those who have additional staff to train. The QST provides the basic training required to get started in this business an goes "in-depth" on all aspects of our business. The QST is very comprehensive and includes the following:



Sales & Marketing Training


Christmas Decor's sales and marketing training covers all aspects of building new business using our proven techniques. Franchisees typically realize a 65% closure rate and maintain 90% retention using our methods.



Decorating Design


Whether a franchisee is a natural decorator or not, we make the decorating process easy. Franchisees are taught how to enhance focal points of a home/structure, use color to create impact, balance design elements, and customize the decor to meet the satisfaction and budget of the customer.



Sales Proposals


Since all proposals are customized, we teach franchisees the best methods for creating proposals, streamlining the process with our DecoRAM system, and tailoring service offerings for each and every customer.



Technical Training


Photo – Training shot on the computer (we could use stop and add screen) Our technical training begins with detailed instruction our the technical areas or the business, our proprietary DecoRAM business solutions software, and also includes training on the use of tools, product modifications, trouble-shooting, and avoiding common errors.



Maximizing Resources


Our corporate culture at Christmas Décor is all about maximizing resources to maximize profitability. We train franchisees how to motivate their staff to increase productivity and maximize their resources of their business.



Comprehensive Safety Training


We provide a detailed training on safety so franchisees and their staff understand the dangers associated with the business. Climbing on roofs and working with electricity can be a risky business, however, our safety compliance program teaches franchisees and their staff how to perform functions responsibly and safely.



Installation Site Training


Franchisees learn the best methods for installation and removal from site training experts. They'll also learn the value of preparation, job maps, power requirements, and quality control.



Continuing Education / Annual Conferences


At Christmas Decor, we believe that training isn't a one-time event, but rather a continuous process. Christmas Decor offers annual Continuing Education seminars that build on the QST. Attendees receive advanced instruction on operating their Christmas Decor franchise and learn how to manage their growth, forecast sales, build their staff, and improve their sales/marketing effectiveness. Each summer, Christmas Decor Inc. holds our Annual Convention where franchisees gather from across the country. This conference provides franchisees with the opportunity to network, participate in breakout sessions, discuss "power lunch" topics, and gain knowledge from experienced veteran panels.



Staff Training


As your Christmas Decor business grows, so does the need to train staff on many of the important topics covered during the QST training. That is why Christmas Decor provides a variety of comprehensive staff training tools and aids to include: training materials, videos, and even an online, participative training system. Many of these materials have been produced in both English and Spanish to ensure that ALL employees can receive detailed training to perform their jobs safely and efficiently.
Why Christmas Decor?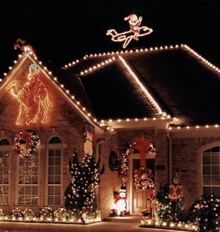 Ask any of our franchisees about the potential of the Christmas Decor business model and you'll get the same response, "it works". Utilizing our proven methods of success and a national brand that stands for quality service, new franchisees quickly gain overwhelming positive consumer response. Just like when they were kids, they can't wait for Christmas each year. They soon learn that they will be able to sell more work than they can install. Most importantly, our franchisees seem to have one of the highest levels of job satisfaction. Let's face it, installing Christmas spirit is a great job to have, especially when you can earn great profits in the process!



Christmas Decor Franchising


The benefits of working in the Christmas Decor franchise system are evident, especially to franchise owners. Our corporate office is constantly evaluating feedback from all of our Christmas Decor franchises. This feedback allows us to build upon our proven formula for success, enhancing efficiency, marketing and successful business practices. Our management and support team innovates new methods to improve franchise efficiency and profitability, refining the business model to the highest degree possible. Our franchisees enjoy a wealth of knowledge that has been translated into operational practices that maximize success.



Seasonal Revenues


Since Christmas Decors inception, it has traditionally been an opportunity for seasonal business owners (i.e. landscapers, builders, pest control companies, etc.) to maintain their key staff and utilize existing business assets during the holiday season. With Christmas Décor, they don't have to layoff all of their employees and shut down operations during the cold winter months when demand for their core business services head south for the winter. That is why hundreds of hard-working business owners across the country have come to Christmas Décor for a proven system for maximizing the use of their operational assets and growing their revenues
Are You a Good Fit for Christmas Decor?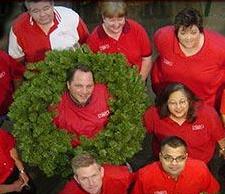 They have what it takes!


The Christmas Decor network of nearly 400 franchises internationally is comprised of people that are intelligent, experienced in business, and set high standards for personal achievement. They are self-motivated, and driven to succeed in business and in life. Most are service business owners seeking a way to take their personal income to the next level, leveraging existing business assets and personnel. Others come from extensive management or entrepreneurial backgrounds, looking for a low-risk business to supplement their income.

Start up Costs/Working Capital?
This is one of the least expensive businesses to get into because costly equipment is seldom required. For each full service installation crew we estimate ladders and tools at $750-$950, and a start up inventory of $3,000-$5,000. Each additional crew will have about the same cost in ladders and tools, but inventory should be increased about $2,000 per crew.



Do I Need A Bucket Truck?


No. We will teach you how to light higher areas without the use of a bucket truck. We will give you several decorating alternatives to extremely high tree lighting. On rare occasions, usually commercial applications, a bucket truck can be beneficial.



Do I have to be an electrician?


No. You will learn a variety of ways to find and use power sources available. On commercial jobs and rarely on residential orders, you may need to have an electrician install additional power. This is very easy to accomplish as most electricians are not busy during this time of year.