Search Tools
Franchise Research
Choo Choo Johnny's

It's Never Too Late to Have A Happy Childhood




Overview
Choo Choo Johnny's Eatery was founded by John and Patricia Ethell, husband and wife, who believe that a restaurant should not only have great food, but outstanding entertainment is a must!, especially if you have kids. Proud parents of three young girls, Meagan (9), Cameron (7), and Hailey (5), John and Patricia remember how hard it was to take them out to a nice restaurant when they were younger- the kids couldn't sit still. And the places they could take them to, the food was not appetizing.

John and Patricia are both alumni from Eastern Illinois University in Charleston, IL. John graduated with a BS in Economics and Patricia graduated in Speech Communications and Business. John became a successful stock market trader and Patricia's forte was in Sales/Marketing. After having the 3 girls, Patricia gave up her career and stayed home with the kids.

"Twice a week I would take them out to the same places over and over again, always looking for new places to go, but there wasn't any", stated Patricia. As John's interest in the Market faded, the couple's interest in creating a new children's restaurant flourished.

As trading became a past-tense word, deciding what type of restaurant to open became more apparent. Along with John's life long passion for trains, their concept was based on having a unique family-orientated restaurant that is entertaining, fun for kids, and where adults can be kids too! –A restaurant that serves the highest quality food and to top-the- cake-have it delivered via model train!

After months of extensive training at various restaurants and through the help of their friends and family with the design and build, in December of 2002, in Frankfort, IL., John and Patricia Ethell opened the doors and gave the public a welcoming ticket to the "greatest train ride" in the southwest suburbs called "Choo Choo Johnny's Eatery.

Today, Choo Choo Johnny's has become one of the most popular spots for kids in the Chicago suburbs! People travel from just about every suburb to experience this ultimate railroad restaurant. "It has become quite the tourist attraction", stated John. "People have traveled from Wisconsin, Michigan, Indiana, and a far south as Springfield, IL to visit us".

With a high demand for more restaurants, Choo Choo Johnny's became an official franchise in August of 2005. They hope to expand across the nation and eventually become world wide.
Products & Services
Both kids and adults are amused as a train chugs along the restaurant walls; An interactive train display entertains both the young and old at heart; Guests seated along the counter track will have special food delivery via model train. A variety of train, country, and children's music play in the background enhancing the railroad dining experience.

When you dine at Choo Choo Johnny's, not only do the trains capture your attention, but the entire wait staff clad in engineer attire and unload your delicious food for you! Little tots in need of a highchair will also receive train delivery service. The innovative design of our stool enables the highchair to fit easily over it, allowing the whole family to participate in the ultimate train experience. There are booths available for those who prefer to sit back and enjoy the atmosphere. Don't forget to tell your engineer if you're having a birthday – the staff at Choo Choo Johnny's will make it extra special for the guest of honor. The birthday child will receive a scoop of ice cream delivered via model train, and the engineers will sing for them.

At Choo Choo Johnny's, kids are fascinated. Will they sit at the counter and watch the train go by or chase the train chugging along the restaurant walls? Others may opt to play with the interactive train display where they can activate the trains and make the model city come alive. Others may find themselves entertained by our toy crane or other fun arcade games.

After your delicious meal, you can travel over to our ice cream counter and enjoy any of our eight wonderful flavors. The most popular flavor for kids is our famous "Superman" ice cream which turns your tongue blue! On Monday and Tuesday kids receive a free scoop of ice cream with their kid's meal. Choo Choo Johnny's has a variety of souvenirs such as t-shirts, engineer hats, pins, whistles, and more.
Training & Support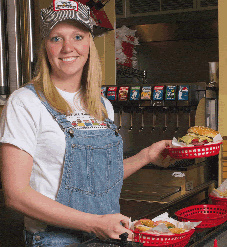 Comprehensive Training


You'll be trained in all aspects of our business operations and procedures, including our superb food preparation techniques. You'll learn our highly effective administrative, office, sales, computer software, and marketing procedures. You'll also receive excellent on-the-job training at our flagship restaurant, as well as training at your own restaurant, prior to, during, and after your Choo Choo Johnny's grand opening.



Operational Support


As you operate your Choo Choo Johnny's restaurant, you will remain "in the loop" with ongoing training and support. Our services include guidance in unit operations and maintenance, customer-service techniques, product ordering, suggested pricing guidelines, marketing support, and administrative procedures. We will provide you with a comprehensive Operations Manual that contains detailed information to be used for ready reference in running virtually every aspect of your business.



Essential Support


Choo Choo Johnny's Franchise, Inc. has developed an extensive support system to guide and aid you in the operation of your Choo Choo Johnny's restaurant.
Why Choo Choo Johnny's?
The timing for Choo Choo Johnny's railroad-themed restaurant is right on schedule. According to the Model Railroad Industry Association, model railroading is more popular now than at any other time in its 103-year history. The Association estimates that more than a half million American adults spend $500 million annually on this hobby.

The restaurant industry is benefiting from a long-term trend toward eating out. In fact, the National Restaurant Association estimates that by 2010, total sales in the restaurant industry will exceed $577 billion!

As a family-oriented restaurant, Choo Choo Johnny's occupies an enviable niche in this thriving scene. Recent surveys show that families are dining out with growing frequency. Not surprising, when you consider the rise of dual-income and single-parent families, coupled with the convenience of dining out.

A whopping 80% of families eat out more than once a month, with nearly one third doing so at least once a week.

Parents want to spend time with their kids, and at a family restaurant they can relax and kids can be kids.

Children also love to be entertained, and they are controlling an increasingly big part of the dining-out dollar.

At Choo Choo Johnny's the welcoming, family-oriented atmosphere and ready entertainment make it a "win-win" choice for today's busy families.
Are You a Good Fit for Choo Choo Johnny's?
Put Your Career on the Right Track!


Choo Choo Johnny's is offering an exciting career opportunity in a franchise with a "just right" blend of components, answering some of today's key needs and interests: family dining, children's entertainment, and model railroading. We are seeking qualified candidates who share our enthusiasm.