Search Tools
Franchise Research
Cash Plus

It's not just what we do... it's how we make life easier for our customers



Business Type
Franchise
Min Liquid Capital
$100,000
$100,000
*
Total Investment
$250,000 to $275,000
Required Net Worth
$400,000
Number of Units
70
In Business Since
1984
* For Current Info See:
Franchise Disclosure Document

Overview
SINGLE AND MULTIPLE UNITS


There are two basic ways you can become a Cash Plus franchisee: our Single Unit Program and our Area Development program. Area Developers have the option of opening additional stores in specific areas. A significant number of our franchisees have opened multiple stores.



WHAT WE MARKET


Cash Plus family financial centers deliver a mix of services that includes check cashing, payday advance loans, money orders, wire transfers and more. Our marketing machine pulls customers in and our "Kings & Queens" service keeps them coming back.



OUR CUSTOMER BASE


Our customers are men and women of all ages with annual incomes that range to $70,000 and beyond. They're ethnically diverse folks who are trying to capture their piece of the American dream. Most have steady jobs and are supporting families. A good many are what we call "not quite enough" customers; part of the 55% of Americans who live paycheck to paycheck. Our business is to make the financial lives of these 155 million Americans a little easier and more convenient.
Products & Services
Check Cashing


We cash all kinds of checks. Payroll checks, government checks, insurance checks, tax refund checks, cashier's checks…even personal checks: we can cash them all for you. And low fees, too!



Payday Advance Loans


Our payday advances are a fast, easy way to get the extra cash you need. No credit check! Our customers use payday advances for for all kinds of good reasons — including avoiding costly bounced checks and late charges on credit card and bill payments.



Free Money Orders


It's true: money orders are NOT created equal. Ours are FREE to members! And membership is free, too!



Wire Transfers


Send your money anywhere in the world in just 10 minutes or less with a Cash Plus wire transfer. Now THAT'S convenient!



The Cash Plus Prepaid MasterCard®


Our exclusive Cash Plus Card is like cash with your name on it...and so much more. Use it virtually anywhere...and even SAVE with it!



And that's not all...


Many Cash Plus stores offer a variety of other services to make your life easier, including bill payment services, notary public service, mailbox rentals, fax and photocopy services, prepaid phone cardsand more. Check with your local store for details.
Training & Support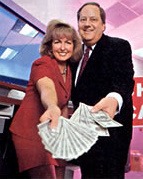 Vast Marketing Library


In addition to our annual calendar of Core Sales Generators, we have created a huge variety of other marketing tools and programs you can use to grow your business at any time of the year. All created by top pros, too. TV and radio commercials, newspaper ads, direct distribution and referral tools, and more — they're all there, all ready to run, easy to use, and instantly available on our proprietary website for franchisees. Oh, and you can also find them all in our handy Roadmap for Success Manual.



Guerrilla Marketing, too!


Everybody talks about how great — and cost effective — referrals are for getting customers. But talk is cheap. We've taken action by systematizing and simplifying the process of building a powerful referral network. Our unique and exclusive video-based guerrilla marketing training program shows you step-by-step how to go about getting a ton of business for little to no investment.

TRAINING AND SUPPORT THAT NEVER ENDS

Of course, there's more to growing a business than acquiring and keeping customers. There's also the nuts-and-bolts of opening and operating your business. Our franchise program has got all that covered, too. Because we want you to be successful, we realize that training doesn't stop when your new store is open. Here are some examples of how Cash Plus pushes the training and support envelope. Pump Up the Profits Business Management Toolkit.

Ever wonder what makes the top performers in a business so successful? It's not magic and it's not luck: it pretty much comes down to doing the right things at the right times. This powerful video-based learning toolkit reveals industry top performers' secrets for the business management side running a profitable Cash Plus business. We created this exclusive program because we want everybody in our system to be a top performer.



Kings & Queens Customer Service


A lot of companies talk about customer service, but very few actually deliver. Our Front-Line Marketing series of easy-to-use video-based training materials shows you and your employees how to deliver what we call Kings & Queens Customer Service. Our step-by-step techniques and tricks make it simple to deliver customer service that keeps customers coming back and referring their friends, families and co-workers.



Conventions, Conferences and Regional Meetings


Franchisees from all around the country attended our national Success Conference to learn the secrets of delivering top notch customer service and much more. In other years we take our training and support on the road in a series of regional meetings. Creating opportunities to get together to learn from each other is another example of training and support that never ends. And our gatherings are fun, too.



Effective Ongoing Communication


Of course, what you've read about so far is just a part of what we do to help you be successful. We strongly believe that staying in touch is critical to your success and ours, which is why we make field support store visits and have developed a range of powerful communication tools. Our monthly CHECK THIS newsletter, for example, is chock full of news from the Cash Plus network, success tips and more. Then there's our FRANCHISEE ZONE, a vast private online library of tools and resources we've created to help you reach your success goals.
Why Cash Plus?
Very few franchise companies talk much about customers and how they get them through your doors. And yet customers are the lifeblood of every business. If you come to one of our Discovery Days, you'll find that we talk a lot about this hot topic. But it's not just talk: we've invested millions of dollars in tools and systems for attracting and keeping customers. It starts with our brand.

The Cash Plus brand is not just our logo, our mascot or the look of our stores. It's everything that affects how people think about us, including the Kings and Queens customer service we deliver. In today's hectic world, trusted brands make life simpler and easier for all of us. So building and maintaining a brand our customers recognize and trust is a part of everything we do at Cash Plus.



Proprietary Cashaway Sweepstakes


We attract new customers and reward existing customers with our exclusive, proprietary Cashaway™ Sweepstakes. Giving customers a chance to win $20,000 in cash is a powerful way to build the Cash Plus brand. And it doesn't hurt to reap some public relations stories from the charitable donations we make as part of the program…and build a strong image in our communities. You'd be smiling too if you were presenting one of those big checks to one of your customers.
Are You a Good Fit for Cash Plus?
FINANCIAL QUALIFICATIONS


What does it cost to open a Cash Plus franchise store? The total investment required typically falls in the $181,200 to $256,700 range for a single store. Can you make money? You probably know the rules by now: by law, we can't show you financial projections. Know this, however: if you qualify, you'll learn a lot more about the business at our Discovery Day.