Search Tools
Franchise Research
| | |
| --- | --- |
| | Case Handyman Services |

Overview
Imagine being part of an industry where you can run into prospective clients virtually everywhere you go.


You see, today's affluent homeowner doesn't have the time, skills or desire to perform small projects around the home. And today's contractors aren't set up to handle these jobs professionally. This is where Case® comes in. Case provides you with an opportunity to help those homeowners who need to find a reputable home improvement company to take care of all their needs.



Clients For Life


Our business model is simple. The processes assist you in getting the phone to ring by promoting smaller home improvement and repair projects. Then, our business model is set up to offer complete home improvement and remodeling services. We create "Clients for Life".
Products & Services
At Case we understand that even small home repair problems can feel like big headaches. That's why we offer our expert handyman repair services. And like all Case services such as kitchen and bath design, home remodeling, and additions, you can count on us to get the job right. We discuss your repair needs right over the phone and offer you a realistic estimate for time and budget. Though your job may be small, our service, expertise, and commitment to you is large and includes our industry-leading 5-year warranty.



Let us enhance your home


Are you dreaming of a basement playroom for your kids, a home office, or exercise room? How about a custom designed home theatre? While it's true that there are a lot of experienced home remodeling services, you need a company that understands the unique design and functions of your home and has over 45 years of experience to back it up. Our certified remodeling experts handle all of the details and we back it with our industry-leading 5-year warranty.

Your kitchen is the heart of your home. It's more than a place to cook meals and eat them. It's where you gather with family and friends. Today's best kitchens are designed to function for the way we really use them. They have expansive countertops, natural lighting, custom appliances, open eating areas, and storage for basics and beyond. If these options sound like the kitchen of your dreams, Case can help. We can update your current kitchen to freshen its look and function or we can work with you to create an entirely new space.

What's your ultimate bathroom look like? Does it have bright lights, a bathtub that is actually large enough for you to soak in, that is easy to clean? Maybe your ultimate bathroom is a new one you'd like to have added to your home. Whether you'd like an oasis to retreat to, or a room that is better organized to help you spend less time, we can help.

While it's true that there are a lot of experienced home remodeling services, you need a company that understands the unique design and functions of today's kitchen and bath needs. And with industry certified designers, project managers, and craftsmen on staff who focus only on kitchens and baths, the experts at Case have the industry knowledge and design expertise that it takes.
Training & Support
Case® trainings provide franchisees and their key staff with the necessary tools, resources and expertise to help them achieve their business goals most efficiently and effectively.

Ride along with Experts

New Franchisee Orientation (NFO)

Remodeling 101

Franchisee Management Training (FMT)

Sales Training - Pre-Requisite Level

Sales Training - Classroom Level

Business/Office Manager's Training (B/OM)

Home Repair Specialist Training
Our in-house marketing team works with our franchisees to help develop effective branding and lead generation programs.
An on-line media builder system to produce marketing collateral materials

Client retention materials

Press releases and media support

Home show materials

Selecting the right market to start a franchise

How to generate leads and build repeat business

In-house professionals creating system-wide press releases, direct mail, doorhangers, print ads, e-marketing, grassroots strategies and more

Market research - we know who our clients are, where they live, and why they call us
Why Case Handyman Services?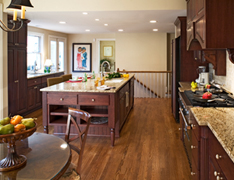 Many franchise businesses are called "concepts" in the franchise world. At Case, our franchisees enjoy a relationship with a franchisor and a community of franchisees that have a combined experience in the thousands of years. Our national business evolved from a growing and solid home base in the Washington, DC area. Our franchisees can leverage our vast real world experience in the field, in the sales processes we utilize and in our business and reporting systems all of which are the result of many years of experience.

Consumers like franchises because they offer known name brands and dependable quality standards

Predictable start up costs make them economically advantageous

Franchising offers the ability to be self-employed while being a part of a larger team

Franchising provides you access to proven business and marketing tools, rather than reinventing the wheel

The Department of Commerce reports that less than 5% of franchised outlets have failed each year since 1971

U.S. Small Business Administration reports that 65% of business start-ups (non-franchise) fail within 5 years

94% of all franchisees reported their franchise to be successful according to a Gallup survey
Are You a Good Fit for Case Handyman Services?
The Right Partner


Franchising above all requires that there be a "fit" between the franchisor and franchisee. Some of the statements below are representative characteristics of our top performing franchisees. While each of our franchisees is different, there are some common themes that exist among them.

Share a passion for the industry

Share the common vision of the organization

Willing to work as an individual in an established system

Desire to be part of a community

Strong management skills

Well capitalized

Desire to develop equity and value

Desire to grow the national brand

Have a visible "fire in the belly"

Willing to roll up their sleeves and make it happen