Search Tools
Franchise Research
BLACK DAWG SEALCOAT

"Your Driveway's Best Friend!"



Business Type
Franchise
Min Liquid Capital
$10,000
$10,000
*
to $50,000
Total Investment
$52,975 to $123,475
Number of Units
4
In Business Since
2005
* For Current Info See:
Franchise Disclosure Document

Overview
We turn those stereotypes to our advantage as we Wow the customers with our Expert Service and Professionalism . We can't keep up with demand, so we're looking for other Business Professionals to help service a broader market. It's not about WHAT we do…it's about HOW we do it! Therein lies the hidden gem.

Take a look around. With very few exceptions, the vast majority of Driveways in the Northeast are made of asphalt. Parking Lots are virtually all asphalt as well. It is, quite literally, an asphalt jungle out there!

Now examine your own Driveway or any commercial Parking Lot. Unless it's brand new, the asphalt will show hairline cracks, developing cracks and/or larger cracks and maybe some potholes. All asphalt surfaces eventually need our service!

The harsh reality is this - the moment asphalt is laid it begins to deteriorate. Professional Asphalt Maintenance can more than double the life of existing asphalt through proper Crack Filling and Sealing. With the skyrocketing costs of asphalt raw materials, the need to maintain one's Driveway or Parking Lot has grown exponentially.
Products & Services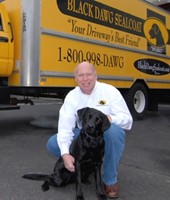 Our Goal is NOT to be the Biggest Asphalt Company … Just the BEST in Personal Service and Customer Satisfaction!


Jack is a former military officer and pilot, having flown the C-141 as Aircraft Commander and Instructor Pilot. Upon leaving the military after 10 years of distinguished service, Jack became an airline pilot for a major U.S. airline, rising to Instructor and Captain. Jack left the cockpit in 2003 after 22 years of accident free flying.

Jack has a Bachelor of Science Degree from Embry-Riddle Aeronautical University and a Master of Arts Degree in Management from Webster University. He is active with Nashua Big Brothers and Big Sisters, volunteering as a "Big" for his "Little", JT. Jack also serves on the PLUS Company Fund Raising Committee which supports individuals with disabilities.

While many manufacturers produce "sealcoat", the process, standards and compounds used in the making of sealcoat vary greatly. That is why BLACK DAWG has chosen the nation's premier manufacturer. You can buy "sealcoat" locally, but it won't last as long. But that's only part of the story. Do you really want to haul all those heavy pails home, spill it on your clothes (or worse, the house) and then try and make it look nice with a $10 squeegee? Or would you rather have a professional assess your driveway, make the necessary and proper crack repairs and seal it with State-of-the-Art equipment and standardized procedures?

Not all sealcoat is created equally and certainly not all sealcoat companies are created equally. We are serious about our products, our service and our reputation in the community. If price is the only determining factor, BLACK DAWG may not be for you. We spend more time preparing the asphalt surface and cracks for sealing than the competition. And we're fussy. BLACK DAWG employees are paid by the hour, not the job. They each have specific orders to not cut corners and to do the job to our exact standards. With BLACK DAWG you really can get what you pay for.
Training & Support
A proven system that works


The response to our first BLACK DAWG SEALCOAT operation, which focused on Bedford, New Hampshire and the surrounding communities, was overwhelming. Looking to expand our reach, we then launched our first Franchised Unit on the Seacoast of New Hampshire in early 2006. Synergies between the two Units quickly materialized. The system works!

Using our prescribed State-of-the-Art equipment and maintaining the flexibility to buy materials from the best manufacturers in the Industry, our system does not lock you into a win-lose situation (where the Franchiser wins by forcing you to buy buckets of materials from them and you lose). Our system is designed to provide a true win-win with:

Training (by the recognized Industry Leader)

State-of-the-Art equipment

Killer marketing, 800 Call Center and website positioning

Supply chain flexibility

Real local support – not teleconferencing.

We can get you up and running in 30-45 days and we'll work closely with you every step of the way.
Why Black Dawg Sealcoat?

Potential for Earnings


Few industries can match the potential for earnings. Millions upon millions of Square Feet in your Exclusive Territory require our Services. By following our Proven Sales and Marketing System you will quickly gain name recognition for excellent service and dominate your market. Your satisfied customers will become repeat customers and your best sales force!

Asphalt Maintenance is not a fad or a trend. It's been around for many years and will be here for many, many more years to come.



Fragmented Competition!


The current composition of Asphalt Maintenance Contractors forms a classic example of a truly chaotic and fragmented industry. Without a reliable regional brand to turn to, the weary consumer is at a loss for structure and confidence in the marketplace. With low barriers to entry, no licensing or strict industry standards and no federal or state oversight, the Asphalt Maintenance Industry is rife with rip-offs and scams from a certain segment of providers. With our Industry Leading Training Program, Uniformed Personnel, Superior Service and Products and our Written Guarantee, savvy customers are thrilled to find BLACK DAWG!



It can't be imported or shipped


As you investigate the marketplace consider these facts: The demand for Services from busy homeowners shows no sign of abating. You can't buy our Service over the Internet and have it shipped to you. You can't import our Service from China. Asphalt Maintenance is not a fad or a trend. It's been around for many years and will be here for many, many more years to come. But the Industry has never been standardized or professionalized across New England – ever! Until now!!
Are You a Good Fit for Black Dawg Sealcoat?
Low Franchise Fee of $9,750 Plus Territory Fees

Lowest Royalties in the Industry - Just 6%

Excellent Local Support for Your Franchise – Not through Teleconferencing!

Not a Fad…This is a Real Business

Our business model now calls for one or two more Franchises in New Hampshire and rapid expansion in all Massachusetts markets along with controlled growth in nearby states.