Search Tools
Franchise Research
Beverly Hills Weight Loss and Wellness

Leaders in Weight Loss and Wellness Innovation




Overview
There exists a tremendous need in America for the services offered by Beverly Hills Weight Loss & Wellness Centers®. Through our 2006 national franchise expansion campaign, we seek to build relationships with a nucleus of aspiring entrepreneurs who would like to be a part of our success.

Our specialized approach to weight loss has had a remarkable, positive effect on the communities in which we are represented by our existing clinics. We are committed to helping our clients achieve their weight loss and wellness goals and to maintain a healthier, thinner lifestyle. In doing so, we have built thousands of friendships. What a great business we are in!

The Beverly Hills franchise program is a wonderful opportunity. We are devoted to teaching and training our new franchisees to be every bit as successful as we have been. We will be patient and supportive of you, and we welcome you into our growing family. If you have a successful attitude, and a compassionate personality; you will find that the operating a clinics is very simple.
Products & Services
We are a network of franchised weight loss and wellness clinics offering personalized service, customized diet programs, and specially manufactured supplements designed to safely enhance our clients' weight loss. Our programs combine one-on-one personal supervision, nutritional guidance, and behavioral modification. Each Individualized program is designed for safe and effective weight reduction. All of our programs are tailored to our client's individual needs, lifestyle, and personal schedule. We are medically developed and physician recommended. Beverly Hills Weight Loss & Wellness® has helped thousands of people achieve their dreams of a lighter and brighter future.



We Choose Our Own Course of Action


We are all winners at Beverly Hills Weight Loss & Wellness®. Winners are willing to make personal commitments. Our purpose at BH is to assist each client achieve his or her personal goal. We'll never begin helping a client, then abandon them when it gets too difficult. We commit ourselves to following through… allowing clients to accomplish their dreams of achieving a healthier, happier self. Our clients are winners, too, when they commit to achieving a goal, remain focused, and stick with their plan of action until their goals have been realized.



Do You Have A Mission?


Every company, every organization, and every person should have a mission; not just a slogan or something to hang on a wall, but an important reason for getting up in the morning. A reason to be excited about going to work, maybe even a reason for living. As a leader in the weight loss industry, our mission at BH is simple: "To provide our clients with the tools and support they need to become healthier, happier people." Can you think of a better life's work?

At BH we've developed a winning attitude and, in turn, we help others develop that same winning attitude. What a powerful concept! Just imagine the possibilities!
Training & Support
Our training regimen is "learning by doing". And, training never ends! You will quickly be assimilated into a family of counselors, franchisees and trainers who are motivated to excel and teach their level of excellence. You will quickly visualize why Beverly Hills has an edge up on the competition. In addition to counseling and product training, you will learn our techniques in day-to-day management, including hiring, training, scheduling, promotion, advertising, community involvement, expense control, and bookkeeping. When you have completed this portion of the training, you will be confident in getting started in your own new clinic.

When your clinic opens, our Franchise Support Director will be in attendance to coordinate last-minute details, assist in counselor training, and help with the first few days of clinic activity surrounding our Grand Opening promotion.

Our staff's enthusiasm, dedication, energy and support are unparalleled in the industry. Our support is made up of a unique, comprehensive, extensive and complete business system. We provide an effective formula to help you start a franchise from site selection assistance to on-going operational support which will help you achieve sales and profitability.
Why Beverly Hills Weight Loss and Wellness?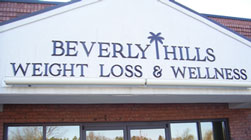 We are pleased that our clinics are successful and profitable. We continue to thrive, grow and exceed the competition. There are three primary reasons for our success.



Our weight loss program is highly effective.


...We feel that we have higher client-success results than any other system in existence today. This reputation leads to referrals. In established clinics, a large percentage of new business comes through referrals from existing clients.



We offer the client plenty of flexibility.


...Our clients can buy supermarket food. They can go to restaurants. They are not restricted to packaged foods. We have four different weight loss plans, depending on the individual's gender, weight, age, and medical condition. We also have many specialty plans with those who have special needs, medical conditions, or allergies. We help the client to better understand his/her own weight loss issues.



We have one of the strongest franchisee-support program in the weight loss industry.


...We feel that our training and ongoing education is the best, and that it produces the best counselors and franchisees. Consequently, it is through the strength of our greatest resource, our personnel, that we enjoy our greatest advantage.
Are You a Good Fit for Beverly Hills Weight Loss and Wellness?
Our business is a labor of love. We seek compassionate, devoted individuals from all walks of life. If you have a "helping" personality, an interest in nutrition and wellness, and a burning desire to provide your family with a secure, comfortable lifestyle, you may be our candidate.

We will assist each step of the way in helping you to duplicate what we have accomplished. Also, if you are a genuine growth-minded entrepreneur, or a diversified investor, you may be a candidate for our multi-unit program. There is virtually no limit on the earnings that can be attained in our industry through multiple clinic ownership.

Your main work would be to implement a successful, proven system of supporting your clients' self-esteem and confidence. Your client may have been through every imaginable fad diet, group training, and exercise regimen only to lose a few pounds and then gain it all back. We bring a different perspective. We deal with the cause, not the effect. Beverly Hills' individual counseling approach matches up the client with a partner who helps and supports them in losing their target weight and keeping it off. Your work would involve continued training of your counselors and to instill a positive atmosphere for your clients and counselors.

The total investment can range from about $50K to $80K or so. If you wish to use one of the available financing sources you would need a minimum of $25,000 liquid cash.