Search Tools
Franchise Research
| | |
| --- | --- |
| | Bandana's Bar B.Q. |

Overview
A Tradition of fine food and family recipes for over four generations.


At the heart of the Bandana's story is a dedicated family of restaurateurs, dating back over a century and four generations. David Seitz represents the third generation, while today, his son Jonathon works at his side in this proud family tradition. David learned the slow, southern style smoking process for barbeque as a boy in Jacksonville, Florida. That's where he perfected the blend of that slow smoking process and his family's recipe of unique flavor enhancing dry rubs. This combination requires 11 to 14 hours in the smoker, to produce our signature, Bandana's Bar-B-Q taste. Only American hardwoods are used in this unique process because David knows how much the smoke compliments the ultimate taste of his barbeque. David Seitz introduced southern style barbeque to St. Louis, MO in 1996. The reception was overwhelming. Today, Bandana's has grown to a force of 17 stores in the St. Louis area.
Products & Services
Bandana's- Bar-B-Q is Southern Style BBQ - seasoned with a "dry rub" and cooked sauceless, then hand-cut to order straight from the smoker. All Bandana's pork, beef, chicken and ribs are specially prepared over a pit of select hardwoods to create our signature smoked flavor. This slow cooking process - 14 hours for pork butts and special beef cuts, 5 hours for ribs and chicken - makes the meat tender and tasty, and gives it a reddish color known as a "smoke line." Our real wood smokers operate 24 hours a day, so you can "smell that smoke" any time you visit Bandana's!
Training & Support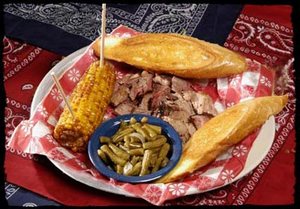 Building recognition of the Bandana's Bar-B-Q name and reputation is an important part of the business. To this end, you will spend $10,000 on Grand Opening Advertising promotion. You will also contribute 1.5% of your gross sales to an advertising and development fund designated to provide promotional benefits for every member of the franchise system. An additional .5% will be used for national advertising in the future.

You and two of your employees will participate in an initial training course of approximately 5 weeks duration depending on your experience. This course provides instruction in kitchen duties, customer service techniques, and administrative procedures involved in running a Bandana's Bar-B-Q Restaurant. You may also be invited to attend refresher-training seminars from time to time.

As a Bandana's Bar-B-Q franchise owner, you will receive periodic visits from your franchise representative, who will provide guidance and quality control, and answer any questions you may have. You will also receive a copy of the Bandana's Bar-B-Q Confidential Operations Manual, which covers the policies and procedures involved in running your business. As the manual is updated, revisions will be made available to you. And, of course, we'll only be a telephone call away for answers to any questions that may arise during the day-to-day operation of your business.
Why Bandana's Bar B.Q.?
We Cook It Slow But Serve It Fast


We really know how to slow cook great tasting barbecue just the way barbecue lovers like it. And we serve it in a fun and friendly environment that appeals to both business people at lunch, and families anytime. Kids love our clean and casual interiors but parents appreciate our fast service. We experience more table turns per day than restaurant industry standards. We can provide a pleasant dining experience for a table of four and have them back on the road within 30 minutes. Faster table turns translate into more sales per mealtime period. Our servers realize more income from these fast turns, and that makes them more loyal. Bandana's has a lower turnover rate than industry averages.



Carry Out Represents 25% Of Our Total Income


Carry out means Big Profits at Bandana's. That's a nice business to have. Without tables to serve and bus, each meal represents an easier profit. Customers can call ahead or just stop by on their way home to pick up our delicious food in 20 minutes. Our barbecue is the ideal Carry Out meal. Our "To Go" orders are packed in insulated Styrofoam containers that keep them warm on the trip home. Our restaurants have reserved parking, so Carry Out patrons are in and out in a flash.



We Use Catering As Our Primary Sampling Device and It's Profitable


In 2003, our St. Louis stores had sales over $2 million in catering business. So you can imagine how seriously we take this service. For this reason, each Bandana's Bar-B-Q Restaurant has a staff of employees that work specifically for the catering side of the business. We've catered office parties and social gatherings for Boeing, Edward Jones, Enterprise Rent-A-Car, Energizer Battery Company, Monsanto and the University of Missouri. Everybody enjoys barbecued food, but they really love Bandana's. We like to think of our catering business as our primary sampling device. Invariably, some questions about Bandana's and our great tasting food will come up at these events and we want our people to tell the appropriate brand stories that support the award-winning Bandana's brand.