Search Tools
Franchise Research
Baja Sol Tortilla Grill

Get Into the Sun



Business Type
Franchise
Total Investment
$166,000 to $400,000
Number of Units
10
In Business Since
1995
* For Current Info See:
Franchise Disclosure Document

Overview
Baja Sol Restaurants capitalize on today's consumers' maturing tastes within the Mexican/Latin food segment. Our focus is on healthy products that taste great, combining bold flavors with tried and true favorites. Top quality produce. Choice meats and seafoods. Salsas made fresh daily from our secret recipes. A commitment to excellence in customer service. Fresh, contemporary environments. Baja Sol Restaurants deliver all of this and more to a public searching for alternatives to boring casual and quick service dining.

But Baja Sol Restaurants are more than a great customer experience. With four concepts to choose from, Baja Sol restaurants are a terrific way to open and build your own business. Since its opening in 1995, Baja Sol has pushed the envelope to develop new ways of reaching the market and expanding profit potential.

Exclusive values. Families make up the largest share of our customers. It is important to us to offer great value for our customers in a family-friendly environment that keeps customers coming back for more.

Full buffet of house recipe salsas and fresh tortilla chips included free with every entrée.

Fresh shrimp and fish dishes that very few other fast casual concepts offer.

Kids meals programs designed to increase customer frequency.

Flexibility. We offer four levels in our concept to appeal to the broadest customer base and fit almost every market niche.

Our Cantina offers full service casual dining with liquor, in a footprint that allows for either in line or freestanding occupancy.

Our Grill offers high quality fast casual dining in a bright, contemporary atmosphere with dine in, take out and catering services.

Our Express offers the most popular fresh Mexican food in the fastest service model ideal for food court locations, college campuses & stadium settings.

Our Baja Joe's Beachfront Grill offers popular Mexican food (burritos, tacos & nachos) combined with burgers, fries and shakes in a fun beach atmosphere.
Products & Services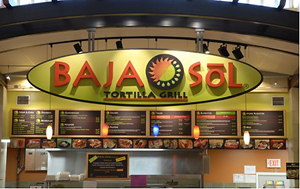 BAJA SOL TORTILLA GRILL


Baja Sol Tortilla Grill offers high quality fast casual dining with dine in, take out and catering services. It's the perfect spot for lunch or a quick easy dinner. Baja Sol Tortilla Grill capitalizes on today's consumers' maturing tastes within the fast-casual market.

It combines the need for speed of service with healthy food that tastes great. Baja Sol Tortilla Grill is about fresh food fast. No microwaves, no trans fats, no lard, no MSG. Tortillas made fresh right before the consumer's eyes. Fresh produce. Sirloin steak and 100% whole chicken breasts. Exclusive salsas and hot tortilla chips made fresh daily that are included free with every entree order. Menu items prepared to order in a family-friendly environment. Baja Sol Tortilla Grill delivers all of this and more to a public searching for alternatives to the traditional quick-service market segment.

Franchisees love Baja Sol Tortilla Grill because of its versatility. The Tortilla Grill works in a strip mall, enclosed mall or even as a stand alone building. Its menu and price points appeal to a broad market segment. It is affordable to open and can be managed by an owner-operator or by an investment group.

BAJA SOL EXPRESS
Baja Sol Express offers the most popular fresh Mexican food in the fastest service model. The Express serves burritos, tacos, quesadillas, nachos and salads with service times geared toward those in a big hurry. As with all of our concepts, exclusive salsas and chips come gratis with every entree order.

Originally developed to serve students at the University of Minnesota with ARAMARK Food Service, Baja Sol Express is ideal for food court locations such as malls, school campuses and stadium settings. Its lower investment level and ease of operations make it an excellent choice for first time franchisees or owner-operators with little or no food service experience.

BAJA JOES BEACHFRONT GRILL
On the Sea of Cortez was once a small scrubby outpost perched on the dunes. Joe, who loved to surf the waves on wooden longboards in ancient times ... like the 60's and 70's, regularly visited this sublime place.

Baja Joe as he became known, found himself drawn to the surf and the sun of the Baja area. He surfed by day and played at night. Baja Joe enjoyed the fresh Mexican food native to the Baja, but missed one thing from his US homeland, a good burger.

So one night, Baja Joe started a bonfire that lit up the sky for miles. At the end of the flame Baja Joe chargrilled a big burger hard and fast on the outside and pink and juicy on the inside. The aroma of the grilled burgers in the night air drew many of his friends, and soon Baja Joe was making burgers for all the Baja visitors and surfers.
Training & Support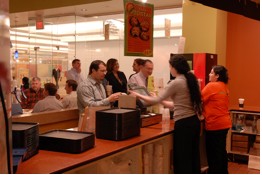 With the intense competition in today's market, it's not enough to simply have a great concept. Baja Sol's leadership team is prepared to provide you with comprehensive support throughout each phase of ownership, from site selection and store design to staff training and marketing support. In addition, we have developed relationships with financial institutions, designers, construction managers and suppliers that you can utilize to make your start up phase as smooth as possible so you can focus on building your business.

Our ownership team combines the hands-on experience of franchisees with the experience of long time business management and growth. Baja Sol brings you the best combination of high level business strategy with on the ground tactics, the best possible combination for success. We provide:

Site assistance and guidance, including pre-qualifying sites, field visits and lease negotiation guidance;

Detailed restaurant design and layout with professional blueprint and construction document review and analysis;

Complete Fixture, Furniture and Equipment (FF&E) lists and specifications;

Pre-approved suppliers and consultants;

Guidance in securing licenses and permits;

Operational and management tools and planning guidance;

Comprehensive pre-opening assistance including pre-opening financial planning guidance, full training package and grand opening operations and marketing support.
Why Baja Sol Tortilla Grill?
A proven system.


Our restaurants have been in business since 1996, and they have succeeded in the face of stiff competition entries over the years. We supply:

Confidential operations and recipe manuals;

Thorough start-up and ongoing training in all aspects of your Baja Sol franchise, including:

Ongoing operational and financial control consultation and training opportunities;

National purchasing programs;

Regular visits from your Regional Support Coordinator.

Commitment to innovation.
From new menu items to state of the art point of sale and business tracking systems, we are constantly looking for ways to improve efficiency, contain costs, increase sales, and increase the bottom line:

Executive Chef on staff to continually improve recipes, train staff and ensure quality and consistency;

State of the art point of sale (POS) and business management systems to improve customer service and kitchen efficiency, allow for maximum corporate support and promote best practices in labor and inventory management, trend analysis and forecasting, and increases in profitability;

Continual Improvement Process in all aspects of operations to stay on top of the trends and ahead of the competition.
Strong brand building.
Often the only difference between success and failure is brand awareness among consumers. We know that by building and marketing a strong brand, we will build financial success. We provide:

Franchisee and corporate supported marketing cooperatives to maximize advertising dollars in our trade areas;

Complete marketing manual with ad slicks, electronic media formats, advertising specifications and guidelines, and helpful tips for you to use at the local level;

Advertising agreements with our suppliers to contribute additional advertising funding based on product usage;

Pre-approved advertising agencies and printers with ad design specifications to take the frustration and guesswork out of local advertising;

Complete system wide marketing plan designed to make the most of our advertising dollars and drive customers to your restaurant.
Are You a Good Fit for Baja Sol Tortilla Grill?
Baja Sol Restaurants provides a variety of opportunities for franchisees. Our ideal goal is to create a system in which anyone, regardless of background or experience, can grow and succeed. Each level builds on the next, so that a person with no experience and relatively limited funds can start at the Express level, for example, and build all the way up to the Cantina level.

Baja Sol Tortilla Grill
No prior experience
$150,000 liquid capital
$400,000 borrowing ability
$25,000 franchise fee



Baja Sol Express
No prior experience
$75,000 in liquid capital
$300,000 borrowing ability
$25,000 franchise fee



Baja Joe's Beachfront Grill


No prior experience
$75,000 in liquid capital
$300,000 in borrowing ability
$25,000 franchise fee