Search Tools
Franchise Research
Bahama Buck's Original Shaved Ice Co.

Escape to Paradise



Business Type
Franchise
Min Liquid Capital
$75,000
$75,000
*
Total Investment
$85,000 to $155,000
Required Net Worth
$300,000
Number of Units
9
In Business Since
1990
* For Current Info See:
Franchise Disclosure Document

Overview
Plan your escape! Lose the suit and tie - put on shorts and flip-flops and get ready to create your own Bahama Buck's tropical getaway.

If you are not familiar with the hottest Original Shaved Ice Company, then you are missing out on much more than just tropical desserts. A Bahama Buck's franchise is your opportunity to capitalize on our unique concept of the ultimate tropical paradise dessert franchise.

Bahama Buck's is the ideal business venture for highly motivated, entrepreneurial individuals who desire a fulfilling family-oriented adventure. Now is the perfect time for you to embark on a journey and benefit from this flavorful franchise opportunity.

Bahama Buck's is putting amazing flavor back into franchising. We have put together everything you need to take control of your future. We provide the concept, design, operating systems, support and training. You provide the energy, people skills, financial qualifications (minimum net worth of $300,000; $75,000 available for investment) and a strong desire to own your own Bahama Buck's franchise.

A Bahama Buck's franchise is your opportunity to capitalize on a fresh, unique concept - a frozen dessert tropical paradise.
Products & Services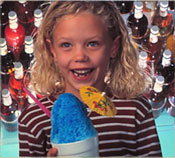 Bahama Buck's, the nation's premier tropical dessert franchise, is a concept so cool – that it's hot! Providing our guest with a "Taste of Paradise", Bahama Buck's is the ultimate tropical dessert experience.

Our signature delight is our premium gourmet shaved ice - shaved ribbons of fluffy snow, generously showered with one of more than 91 Bahama Buck's proprietary gourmet flavors. In addition to our "Greatest Snow on Earth" we offer made-to-order tropical smoothies blended with the freshest ingredients, fruit juices and our gourmet flavors.

Whether it is a zany combination of flavors over perfect snow, or a carefully concocted tropical drink, the atmosphere is always fun. Every drink and gourmet dessert is topped with a smile - it's the Bahama Buck's style.
Training & Support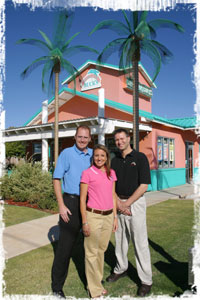 It's the most important part of the process - location, location, location. Our Real Estate Development Team is committed to helping you identify and secure prime real estate beginning with demographic studies and site searches and continuing through the negotiation and acquisition stages. It's not about finding locations, it's about finding the right location.

Bahama Buck's intensive training program ensures that you are ready to hit the ground running when your shop opens. Not only do you complete the classroom and shop operations training at corporate headquarters, but we also send a team to train on-site at your shop before your Grand Opening. Covering everything from inventory and personnel, marketing strategies and business development, we make sure you are equipped to do it right - after all, we want you to be successful.

Bahama Buck's operational and ongoing support is designed to make your store the best it can be. We provide detailed instructions on recruiting, hiring, training and motivating the Avalanche Crew as well as the day-to-day aspects of operating and growing a shop. We are here to help you succeed.

Our support is continuous even after you open your shop. You can participate in Buck's system wide incentive plan that not only benefits sales and payroll goals, but also rewards the Avalanche Crew for exceptional service. Our team is always available to motivate, encourage and walk you through some of the finer points of operating a Bahama Buck's.
Are You a Good Fit for Bahama Buck's Original Shaved Ice Co.?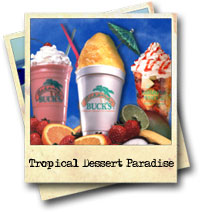 The total cost of acquiring a franchise ranges from $141,000 to $398,000. The type of the facility, the size of the facility, decor, equipment package, location, etc., will affect the cost of the franchise. The initial franchise fee is $29,500 which is included in the total cost of the franchise.

The following qualifications, among others are essential in order to be considered for a franchise:

alignment with Bahama Buck's core values and business philosophy.

an entrepreneurial spirit and a strong desire to succeed.

a strong work ethic combined with good people skills and financial management.

honesty and integrity in business and personal relationships.

willingness to personally devote time and best efforts to the management and operations of Bahama Buck's.

financial qualifications. (Minimum net worth of $300,000; $75,000 liquid available for investment)

Experience is always helpful; but, more than likely, most people have not made a Strawberry Cheesecake "Bahama Rama Mama!" We have a complete training program for franchisees and management personnel.