Search Tools
Franchise Research
American Brake Service

Your Total Car Care Center



Business Type
Franchise
Min Liquid Capital
$132,000
$132,000
*
to $171,000
Number of Units
60
In Business Since
1923
* For Current Info See:
Franchise Disclosure Document

Overview
Establishing a new Tilden Your Total Car Care CenterTM is an important step for both parties. Prospective franchises should thoroughly study all aspects of their new endeavor. Tilden wants to ensure that potential owners meet the requirements for maintaining the established standards.

The Tilden Franchise Program is a great opportunity - carefully planned - already successful - and available to qualified people ready to travel the road to success, by opening a Tilden Your Total Car Care CenterTM. You benefit from a management team whose concept, methods, system, and training were proven and perfected for 75 years before we even considered offering franchises. The Automotive Service Industry is a proven vehicle for success. The industry is expected to gross more than $160 Billion dollars in sales this year. According to the American Market Research Council, the average length of time a person owns a vehicle is now 7.8 years. Currently, there are over 200,000,000 vehicles on the road that are, on average, over seven years old. They need to be serviced and maintained.

The demand for quality service or replacement of brakes, exhaust systems, shocks, suspension, oil changes, engine repairs, and other related services is at an all time high. Tilden Your Total Car Care CenterTM are getting an increased share of the business each and everyday. Since the average American household owns two or more vehicles at any given time, a full service Tilden Your Total Car Care CenterTM generates significant repeat business from loyal, satisfied customers who recommend family members and friends.
Products & Services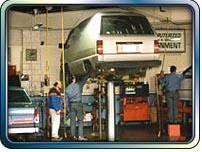 While brake service is the foundation on which the reputation of the company was built, Tilden has evolved as a specialist in complete car maintenance. Our stores perform brakes service, diagnostic service, tune ups, exhaust, fluid maintenance, air conditioning service, alignments, suspension work, oil changes and much more.
Training & Support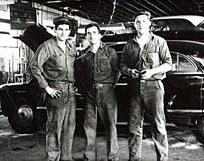 TRAINING AND SUPPORT


Two weeks comprehensive training program at our National Headquarters and Corporate Training Center. Initial training and continual operations, technical, business and management support. Grand opening program includes on site assistance.



MARKETING & ADVERTISING SUPPORT


Working together with other TildenTM franchisees, as a co-op buying group, will enable you to have the media buying power to advertise locally, regionally or nationally. Various marketing strategies and innovative advertising campaigns are continuously being developed to help you increase your sales.



GRAND OPENING PROGRAM


You will receive a powerful grand opening print campaign including press releases and camera ready ad slicks and related materials for use in your local newspapers. Brochures explaining your services will also be provided for you to reproduce and distribute.



SITE SELECTION


We provide you with assistance in selecting the best high traffic site available in your area of preference and help negotiate the best possible lease.
Why American Brake Service?
YOU CAN COUNT ON US!


TildenTM provides you with everything you need to reach your full potential including an extensive two week training program for you, your manager and an additional employee. Our team of experienced operations personnel will train your team in the technical, mechanical, operational, business and management aspects of running a successful Tilden Your Total Car Care Center™.



LOW INVENTORY/GROUP PURCHASING POWER


You will be able to run an effective operation with minimal inventory. Because of our group purchasing power and status as a national account, you will be able to access automotive parts from nationally contracted parts suppliers who offer a superior combination of parts availability, rapid delivery and competitive prices to our franchisees.



DISCOUNTS ON SUPPLIES AND EQUIPMENT


As part of the TildenTM family you are eligible to receive sizable discounts on the latest equipment, parts and supplies. Our National Account status with major manufacturers and suppliers carries with it inherent cost savings and pricing advantages.



FLEET ACCOUNTS


The corporate office will assist you in soliciting and securing Regional and/or National Fleet Accounts and as our network expands, these accounts will be shared according to your exclusive territory.



EXCLUSIVE TERRITORY


Each franchisee is awarded an exclusive territory, mutually agreed to and no other Tilden Your Total Car Care Center will be placed within your protected territory.



SIGNAGE


When you become a Tilden franchisee, we will assist you in the layout and design of your center with an upscale contemporary look, that creates an exciting and inviting atmosphere. All Tilden Your Total Car Care Centers will have the same corporate image which will make them easily identifiable to our customers who visit these centers throughout America.



FRANCHISING DOES WORK


Franchising is considered one of the most dynamic and effective systems for distribution of goods and services known today. It combines the entrepreneurial drive and ambition of a small businessman with the experience, reputation, purchasing power, advertising, marketing advantages, and name recognition of a large company. The result is usually a rewarding partnership for both parties involved.

When you enter into the franchise world, you immediately access years of business experience without attending the college of "hard knocks." You deal with a product or service that has been proven in the marketplace, or a name that people are already familiar with. The "system" of running your business has been established, enabling you to have a smooth running operation from the beginning. Mistakes can cost you money. Our system, experience and successful Business Format is geared toward reducing or eliminating your mistakes.

When you purchase a franchise you are joining a team. The members of that team have mutual goals. Together they work to increase sales and reduce the common expenses. You also gain expertise in site selection, lease negotiation, store design and store construction. These areas can take years of experience to become proficient in. We're with you every step of the way.

Today, franchises are under stringent laws which protect the franchisee's interest. As a result, today's franchise offers a more secure investment than ever before. Government statistics show that failure rates of franchises are significantly lower than those of individuals starting a new business on their own.



PROBING YOUR PROFIT POTENTIAL


The potential sales and profitability of a Tilden Your Total Car Care Center is naturally a major concern to any prospective franchisee. To determine this information, we encourage you to contact as many existing owners as you wish, and talk to them about how they are doing. In this way, you can make your own first-hand evaluation of our franchise program.

At TildenTM we have a firm policy that no employee of the company can provide you with projections as to your potential sales, earnings or profitability. This policy adheres to FTC guidelines as outlined in Article XIX of our Franchise Agreement and eliminates possible misunderstandings which lead to better long-term relationships.

Instead, our standard procedure is to provide you with the name, address and telephone number of every franchise owner in our system. This information is given to you during our first personal meeting and prior to purchasing your franchise. This enables you to go directly to TildenTM franchise owners for straight facts. Of course, it is not mandatory for franchisees to provide exact figures, but most of them are willing to give you a good idea of how they are doing and relate if they are satisfied with TildenTM.

Without a doubt, Tilden gives you the best means to get the facts you need in the most honest and direct fashion. We feel, if you investigate, you'll invest in opening a Tilden Your Total Car Care Center in your local area.
Are You a Good Fit for American Brake Service?
General automotive knowledge is recommended and you must be an owner/operator. Tilden has found that its most successful franchisees are involved with the day to day operations of their store. Your full time involvement gives you a greater chance for success.