Search Tools
Franchise Research
7 Valleys Custom Blends

Farm Fresh Tobacco



Business Type
Franchise
Total Investment
$128,000 to $204,000
Number of Units
5
In Business Since
1993
* For Current Info See:
Franchise Disclosure Document

Overview
When you purchase a Custom Blends franchise, you are buying our system. This system took over 13 years to develop. Our proven system allows our franchisees to become independent owners and operators of their own retail tobacco store. Our all-natural chemical free tobacco allows those that do smoke to smoke smart. America is ready to have our concept in their community.

We are looking for hard working professionals and motivated people to join our franchise family. If you are serious about controlling your future and becoming an entrepreneur, our franchise package is for you.

These materials only give you an overview of Custom Blends. From our all-natural chemical free tobacco to the quick return on investment, you need to see us to believe it. Take the time to call and discuss this franchise opportunity.
Products & Services
We bring you close to 50 years combined experience in tobacco retail sales and franchise services. Our team of experts is here to help you get your store open and provide assistance to you during your years as a Custom Blends Franchisee.

Mark & Frances Tucci started Custom Blends in 1993 in York, Pennsylvania. Over the years, and through trial and error, they have created a successful tobacco retail shop specializing in Make Your Own cigarettes using farm fresh, chemical and additive free tobacco. In 2003, they found that this concept was the only one like it in the world and wanted to see other people become self employed and open their own 7 Valleys Custom Blends retail tobacco shop.

Hank Mills is the Director of Quality Control. He has been with Mark and Frances off and on since the beginning of Custom Blends. His extensive knowledge of tobacco is invaluable. He coordinates the construction, build out, and layout of the franchise location.

Chris Tucci is our Information Technology Manager. He designs and controls our web sites, intranets, point of sale systems, and any other technology need. He also coordinates our graphic design needs and handles our live chat help on the customblends.com web site. He will work with you to get your email account going, point of sale system installed, and Internet connectivity.

Diane Tucci is responsible for Customer Service and Nationwide Fulfillment. She takes care of our national and international web based clientele, customer service issues, and coordination of purchasing and receiving.
Training & Support
Your comprehensive training start with 10 days of hands-on and classroom training at our corporate location. This training will get you ready to open and run your own 7 Valleys Custom Blends franchise.

We will combine a review of the operations and training manual with "on the floor" customer interaction. With this in mind you are able to start formulating how you will be managing your own store.

You will also be involved with day-to-day administration work. From balancing the cash drawer to purchasing to scheduling to dealing with vendors, you will understand the "big picture" of running a 7 Valleys Custom Blends franchise.

We will also have training sessions throughout the year for all franchisees to attend. This will keep you up to date on all of the happenings and new and exciting things at 7 Valleys Custom Blends.

One of our Franchise Team members will be on-site with you to help you get your store open. This includes training you and your staff or managers, but will also include helping you receive your opening inventory, working with your computer systems, merchandising, and all other general opening issues.

Our purpose for on-site support is to assist you in getting your store open - it is not to run the store for you. We are there as a support mechanism. Our goal is to support and train you in day-to-day operations.

We will work with you to make sure you open on time and your store looks good and inviting. We will help you make sure all of your customers are introduced to the "make your own/roll your own" concept. We will assist you in making your store as successful as it can be.
Are You a Good Fit for 7 Valleys Custom Blends ?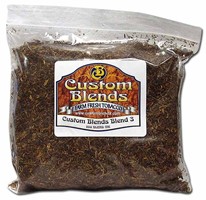 SINGLE STORE


We are looking for independent minded self-starters who have creative abilities to implement and enhance our current system. You should be willing to take calculated risks and work independently within an established system of operation. We need someone who understands that by purchasing a franchise, you are not needing to re-invent the wheel – you understand that it has been invented and you just need to make it go round and round. Our operation requires an understanding of the basic principals of people management. A background of retail management is nice but not necessary.

We also allow for absentee-ownership of our franchise. We have developed technology to allow for a hand-off ownership of our system. You need to monitor day-to-day operations but do not have to "work the counter" 24/7. As long as the systems are in place for you to monitor the store, and as long as you know how to run the store in the absence of your manager, we accept absentee ownership of our franchises.

The estimated initial investment is from $122,225 to $207,000 (check the special pricing below, your actual cost may be MUCH lower). This includes everything needed to open your own 7 Valley's Custom Blends. Actual costs will differ based on variables such as location. Typically, included in the initial investment is a one-time franchise fee of $30,000.



AREA DEVELOPMENT (4+ Stores)


An Area Developer is a person or company that has been allocated a protected area with their commitment of opening 4 or more stores in that area in a given time. A qualified candidate for Area Development is committed to opening 4 or more stores in there protected market within a specific period of time. The Area Developer has 2 years to open four stores and 3 stores each year thereafter.

The advantage to becoming an Area Developer is that you get a protected territory with which to open your stores. No one else will be able to open Custom Blends stores within your area. Additionally, you will have the advantage to target your marketing to several stores rather than just one. This will lower your cost per store for advertising thus you will be able to take advantage of better area advertising coverage.

Financial considerations are different for the Area Developer. The liquid capital necessary for Area Development is higher as well as Net Worth. Specific financial considerations will be discussed in person when we meet for the disclosure. Target markets are available for specific states. The area in which you want to have your Custom Blends franchises will be evaluated and the number of stores for that market will be determined.

The estimated initial investment is from $537,125 to $961,000. This includes everything needed to open your own 7 Valley's Custom Blends. Actual costs will differ based on variances such as location. Included in the initial investment is a one-time franchise fee of $30,000 and the three remaining franchise fees of $24,000 each. Additionally there is an ongoing royalty fee of 6% of gross sales.